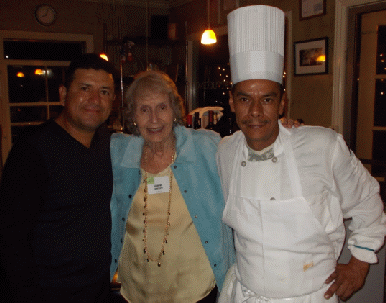 Ventura--LangTwin wines and Cafe Zack cuisine proved a perfect match.
.. By The Editor's Vineyard
The group was Ventura County Chapter ofWine Investigation for Novices and Oenphiles, W.I.N.O. The leader, Jeanne Bartlett, now guiding the group for over three decades. The place Cafe Zack, one of Ventura's finest restaurants. The wines, of LangeTwins Winery and Vineyards of Clarksburg appellation of Lodi, California.
Once again Owners Hector Gomez and Alvonso Bello showed an outstanding menu that perfectly matched the LangeTwins wines Representing LangeWines and explaining them was Casey Chandlier, regional sales manager.
Dinner opened with Shrimp spring rolls with a spicy seafood sauce, the wine a 2013 Estate Sauvignon Blanc. TwinLangs have 7,000 acres of vineyards and grow 21 different varietals so all wines are from their own estate.
Next course was White sea bass with a roasted garlic, sage creme sauce with a 2012 Chardonnay.
A well structured, true to the varietal 2011 Estate Cabernet Sauvignon was a perfect match for the Beef short ribs with a red sauce over mashed potatoes. And still the food arrived, now a Rack of Lamb in a fresh figs-port wine reduction. The wine a 2011 Zinfandel which we thought excellent.
Our dessert was Berry Medley Cobbler with a 2012 Estate Petite Syrah/Petite Verdot blend, the only blended wine served.
Cafe Zack is located at 1095 East Thompson Blvd., Ventura. Telephone 805 643-9445.
Back to Table of Contents..

Last Update:

&copy 2014 Joe Hilbers All Rights Reserved.
Graphic Design by Impact Graphics