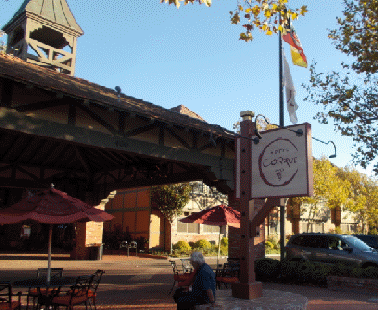 Solvang--It proved the ideal hub for our wine touring"
By The Editor

We were overdue for a trip to the Santa Barbara wine country. We had waited, impatiently, for the summer heat to leave, the harvest to be completed and the clear, crisp Fall days to arrive. This is when the summer crowds are gone, vintners and winemakers, with the grape juice nicely fermenting, can once again get a good night's sleep and have the time to talk about their creations.
The decision was made to make Solvang the hub for our wine tours, tastings, and lodging as it is centrally located to reach many of the 220 wineries that now are included in the five appellations making up the Santa Barbara region. Fall is an excellent time for a visit to Solvang since most of the one and one half million visitors that are attracted to the unique Danish styled community each year have left, at least for awhile.
We arrived in Solvang on a perfect autumn day. En route on Highway 101 it was so clear that the Channel Islands stood out so close it seemed one reach them in a row boat.
Our greeting at Hotel Corque came with the invitation to sit beside a small desk, with a woman and a big smile, for an most appealing form of check-in. At this point we already knew we were in for a most special experience.
Our spacious room included a sliding picture window and included a balcony with chairs and table for two. The view past the pool was to the picturesque mountains that surround Santa Ynez Valley and Solvang. King size bed, large desk for us working folks and many amenities completed the scene.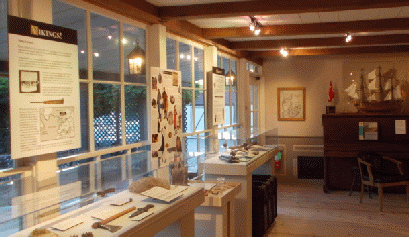 One of our first stops on visiting an area is to the local museum. It is the perfect way to learn about the history of a town, city or region. In Solvang this is the Elverhoj Museum of History and Art. It was just a short walk from our hotel. In fact, one of the best features of Solvang is it invites walking as the best mode of transporting oneself anywhere in town. We were greeted by Executive Director Esther Joacobsen Bates for a briefing of the beginnings of Solvang and its Danish heritage.
Solvang was founded in 1911 by Danish immigrants who, while moving to citizenship in their new country, wanted to retain their cultural links with Denmark. Here are exhibits that date back to the Vikings. Others show the first years in Solvang and how it has matured today to its role as a place that attracts visitors from all over the world.
When the Danes arrived at their new township one set of buildings were there. This is the Santa Ynez Mission which was founded one hundred years earlier. The Mission still stands today as an active Catholic Church with Masses scheduled each day and a long list of other activities.
Elverhoj Museum is located at 1624 Elverhoy Way and open Wednesday through Sunday from 11 a.m. to 4 p.m. For more information call 805 686-1211, on the web at www.elverhoj.org.
The number one visitor activity in the Santa Ynez Valley is wine touring. Exploring vineyards and wineries in the hinterland is relaxing pleasure. The scenery alone is worth the trip moving through lush vineyards with backdrops of sweeping open woodlands marked with ageless California oaks and watching all the mountains that rim every horizon.
Our tour was by the Stage Coach Company which has been showing the wine country to visitors since 2001. Our guide and driver was Kurt Kummerfeldt who has been conducting tours for three years and proved most knowledgeable about Santa Barbara wines as well as the vintners and their styles of varietals and vintages.
Stage Coach has acquired a new fleet of comfortable BMW vans, and ours was only days old and still presented that interesting new vehicle smell.
Our tour started with pickup in Solvang and first stop at Andrew Murray Vineyards which produces Rhone wines from vines that do exceptional well in the Santa Ynez terroir. We opened our tasting with a Viognier Estate grown Rose and then an estate 2012 Cinsault.
For the reds a blend called Esperance made with Grenache, Syrah and Mouvedre and concluding with a 2012 Syrah.
Andrew Murray Vineyards is located at 5095 Zaca Station Road, Los Olivos, Ca. 93441. Telephone 805 686-9604, web www.andrewmurrayvineyards.com.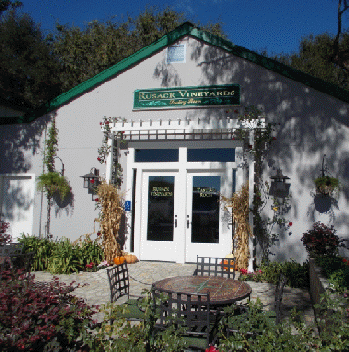 We were blessed with a perfect autumn day for this tour, perfect for a al fresco luncheon on the patio of Rusack Vineyards tasting center. Here we were able to enjoy the wines as accompaniment to club sandwiches and a bucket of Danish Village Bakery cookies bought along from Solvang.
In its winemaking, Rusack takes advantage of the five appellations that make up Santa Barbara vineyards. What makes this terrain so suitable for so many different varietals is the cooling effects of the Pacific Ocean, never far distant, and creating many different micro climates. So our Rusack 2013 Sauvignon Blanc was from Santa Barbara while the 2013 Chardonnay from Santa Maria Valley, the 2012 Pinot Noir from Rita Hills, the 2012 Sangiovese and 2012 Syrah, estate wines from Ballard Canyon.
Our hostess at Rusack was Georgia Hunter who has been pouring and explaining local wines for three decades. Our conversation with her included reminiscences about earlier vintners in Ballard Canyon.
Georgia also poured us a 2012 Zinfandel which was a story to be told. The original Zinfandel vines were discovered on Santa Cruz Island mixed in with Mission grape vines. These were located in the garden of what was once a ranch with a small winery located on the Island.
Cuttings from these original Zinfandel vines were planted in one of the Rusack estate vineyards and what we tasted was the first wines made from these grapes. Zinfandel has always been one of this writer's favorite wines and tasting this vintage was a real treat. Wine Advocate rated it 90 points, we would have rated it even higher.
Rusack Vineyards is located at 1819 Ballard Canyon Road, Solvang, Ca 93463. Telephone 805 688-1278, web wwwrusackvineyards.com.
The last stop on our tour was to Bella Cavalli Farms and Winery with Jeff and Joanne Lockwood as our hosts at their delightful Boots & Bottle Tasting Room. The Lockwoods combine making wines with the caring for the many horses that are also part of the farm. The tasting room includes a most relaxing outdoor patio graced with comfortable lounge chairs where one can view sweeping pastures and grazing horses for an idyllic scene.
Jeff Lockwood enjoys the challenge of making some unusual wines like his Bianco Rosa made from cabernet sauvignon grapes. He likes Spanish grapes and a white wine made with the Albarino varietal. Two other Spanish grapes, Grenache and Tempranillo can be found in his wines. There is also a pleasant dessert wine called Vino Dolce, sweet with interesting flavors.
Bella Cavalli is located only a few miles from Solvang on Highway 246. In fact their address is Bella Cavalli Farms, P.O. Box 437, Solvang, Ca. 93464, on the web at info@bellacavallifarms.com.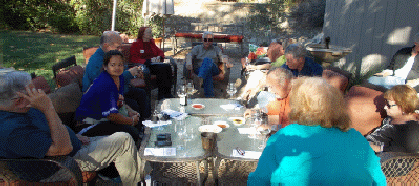 For more information about Stagecoach Wine Tours call 805 686-8347, web www.winetourssantaynez.com.
Solvang has 28 restaurants, all individually owned, and representing just about every ethnic cuisine, and some Danish as well. The city just added its 19th tasting room which makes it easy to sample the wines of many wineries without drives through the Santa Barbara countryside. Sixteen of these are stores representing one winery. Three, including the newly opened 19th, offers wines from several of the region's wineries.
Our culinary adventures were so outstanding that they have earned their own story which will appear in the next issue of Vittles.
Back to Table of Contents..
Last Update:

&copy 2014 Joe Hilbers All Rights Reserved.
Graphic Design by Impact Graphics