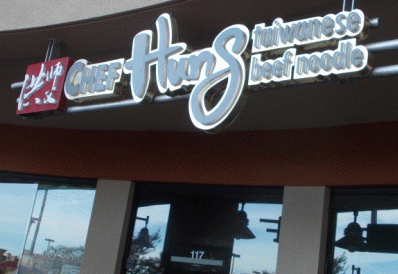 Irvine--Diamond Jamboree Center looks to the Pacific Rim
by Joe Hilbers
We recently visited oriental cities on the Pacific Rim without leaving Orange County. This international center for dining and shopping is the Diamond Jamboree located in the heart of Irvine. This Center has an Asian theme and we were there to experience some of the dining options available.
Ours was a progressive luncheon and with chop sticks in hand we arrived at Chef Hung Taiwanese beef noodle. Chef Hung is a celebrity in Taiwan with his restaurants spread far and wide. Also he is a three time winner of the Beef Noodle competition held in Taipei each year.
Chef Hung's restaurant at the Diamond Jamboree offers a decor of bamboo and other woods from Taiwan. The ambiance is cheerful and the dining room spacious and brightly lit to show the colorful bowls of food that are its fame and trademark.
The menu is well illustrated with a photo of each bowl, entree and side dish as well as an excellent description. There is no mystery here on what the newcomer is ordering.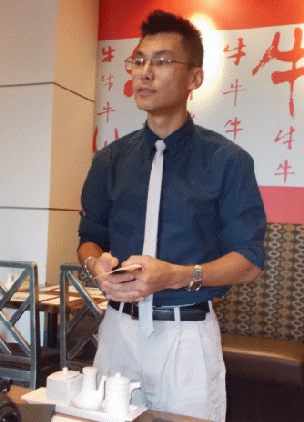 We opened with a shredded, soft dried pork and egg wrap which arrived accompanied by a flavorful cucumber salad and Taiwanese style Kimchi. Also the deep fried chicken wings.
Then it was time to experience the famed Chef Hung noodle bowls. Three different large colorful bowls arrived at our table. There was Champion Beef Shank with Noodle in Soup, Number one on the menu. Number two was Champion Beef Brisket with Noodle in Clear Soup. And Number three was Champion Beef Brisket with Noodle in Tomato Soup.
The noodles in these soups are long in length, and thick so that the diner is provided with a pair of scissors for easier accessibility, especially if you are using chop sticks. A small ladle is provided to enjoy the soup and, if you are helpless like this Writer, a fork as well.
But the diner is king here so you can order your bowl with flat noodle, thin noodle, rice sticks, vermicelli or fire chili soup.
In total there are eighteen noodle dishes. The kitchen here aims to please so you can move on to five rice entrees and five more fried rice/chow mein dishes. There are twenty three side dishes, all nicely illustrated on the menu. We tried the Shredded soft dried pork and egg wrapped in crispy pancake.
And how about beverages. The menu lists twenty three fresh brewed teas. You can order any one of these either cold, hot, no ice, less ice or less sweet. And yes there are also seven milk teas listed. Confused and not wanting to burden the patient waiter further we ordered the plain black tea and it was excellent.
Our dessert was mashed red bean cake which offered a pleasant mildly sweet flavor.
It takes many visits to truly move through the menu at this restaurant. The kitchen is open to view the interesting foods that come forth so efficiently. The service was excellent and during our visit the dining room was full of satisfied diners. Manager Eddie Huang was our guide during our visit and answered all our questions.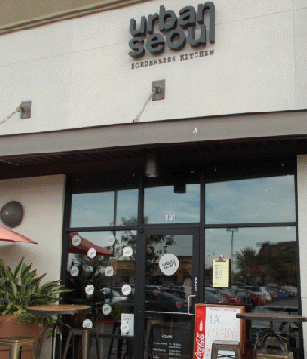 Chef Hung is located at Suite 117, adjacent to the Rotunda in the Diamond Jamboree Shopping Center, 2710 Alton Parkway, Irvine. There is ample off street free parking. Telephone 949 756-0088, web, www.chefhungnoodle.com.
Urban Seoul is a restaurant that proves the cultural versatility of Southern California's population. It appears like a typical American diner upon entering but its decor and food are a perfect fit for the Diamond Jamboree Center It is the concept of a Southern California born restaurateur named Bronnie Lee and his Chef, Kascy Jun.
The menu is divided with urban food and seoul food and mostly a mix of both. Here you can order tacos with a choice of pork belly, rib eye beef, chicken or tofu. If you prefer, a kimchi pancake quesadilla stuffed with chicken, kimchi, cheddar and mozzarella cheese.
This is the kind of restaurant with Monday night football, Taco Tuesday, a daily Happy Hour with craft beers from 5 to 7 p.m. and a kitchen counter as well as tables and patio.
We had to try the gogi slider, marinated rib eye, American cheese, spicy pickled cucumber, kimchi, a secret red sauce on a morning bun. From the seoul food menu we tried the japchae mari, stir fried glass noodles wrapped in seaweed, battered and fried in a spicy sauce. From the urban food menu taco with pork belly, kimchi and queso fresbo.
The menu also lists small plates of Gogi Quesadillas, spicy rice cakes, garlic Edamame or sweet potato fries.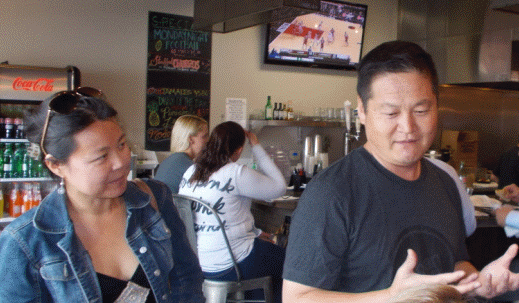 Urban Seoul is one busy restaurant. It was well past noon when we arrived but there were still people waiting to be seated and it was well past two before the restaurant started to empty. We noted the customers were mostly young and of several cultures.
Urban Seoul is located in Diamond Jamboree Center, Site 131. Telephone 949 553-0188, web, www.urban-seoul.com.
If you have a sweet tooth you must not miss 85C Bakery. You certainly can't miss one in Taiwan where there are 230 stores. The store in Diamond Jamboree is one of two in Southern California, the other in Hacienda Heights.
This stop on our progressive dining experience was memorable. The name 85 degrees centigrade recognizes the correct temperature coffee should be served. With 230 locations in Taiwan people there must drink a lot of coffee. Here also to indulge in breads and cakes of every description. Inside the bakery there is row on row of pastries ready to be whisked off onto the tray of delighted customers. Here you select your eye appealing treat for self service or for cakes and larger items at the showcase counter.
There are tables both inside the bakery cafe or outside patio seating. We were offered a huge selection of these pastries baked fresh each day by Store Manager Padi Khoe and Ariel Chen, marketing manager. The list of beverages and coffee is large as well.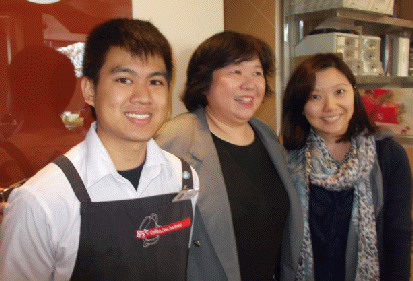 The Diamond Jamboree Center is a perfect fit for Irvine where 38 per cent of the population is Asian. With twenty one restaurants it is a must see for all who like to explore the cuisines and cultures of the Pacific Rim.
Back to Table of Contents..
Last Update:11/29/14
&copy 2014 Joe Hilbers All Rights Reserved.
Graphic Design by Impact Graphics