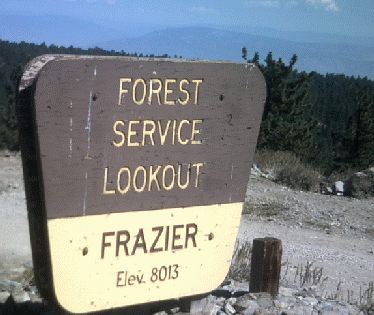 "San Emigdio Range--Atop Frazier Mountain there is much to see" by The Editor
.
We have written about the transverse San Emigdio Range in the past since it has been one of our favorite escapes for decades. Less than two hours from our home in the San Fernando Valley we are in Jeffrey pine forest covered mountains free for leisurely hikes and casual tailgating lunches.
On our most recent visit we once again visited Frazier Mountain. On the lower slopes of this mountain are the communities of Frazier Park, Lebec and Pine Mountain Village. The area has a history dating back to a settlement of the native Chumash Indians. The Frazier name came when two brothers established a gold mine in 1870 on the southern flank of the mountain. Another pioneer in the valley was John Cuddy and much of his original land has become a community of homes as more people move into the area.
The mountain is in Los Padres National Forest and at its 8000 foot summit there is a fire lookout tower now long abandoned. Surrounding it are a whole nest of electronic towers that have expanded in recent years.
A characteristic of most of the San Emigdio mountains is a rounded top often spreading for some distance. This is especially true of Frazier Mountain which has a series of unimproved roads wandering over its reaches.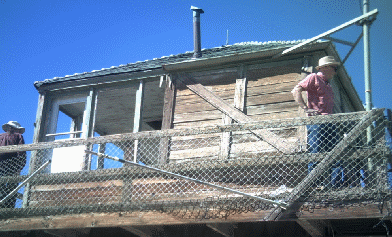 From the fire lookout there are fine views in every directions and on a clear winter day the San Gabriel Mountains can be seen in one direction and the Sierra Nevada range to the east. Also much of the Los Padres Forest including the Sespe Wilderness area.
Frazier Mountain is well covered with forest with some of the Jeffrey pines hundreds of years old. Much is new growth since in earlier times its timber was harvested both for mines and smelters. Remains of earlier mining operations can still be seen on the south side of the mountain from a 4x4 trail.
Access to the Fire lookout on Frazier Mountain is from the Chuchupate Ranger Station. You will pass the Chuchupate Campground and then climb from the valley floor at 4800 feet to the lookout at 8005 feet of elevation.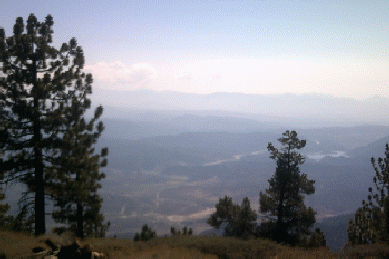 On the day of our recent visit it was over 100 degrees in the Los Angeles basin while a delightful 72 degrees as we tailgated our picnic lunch in the shade of a very large Jeffrey pine tree. The only other people we met was one lone hunter.
Back to Table of Contents

Last Update:2/20/15
&copy 2015 Joe Hilbers All Rights Reserved.
Graphic Design by Impact Graphics