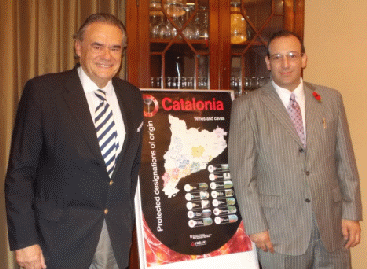 "West Los Angeles--Catalan wines dazzle at Wine House tasting"

by the Editor
If the universe is expanding ever faster so is the wine world. This was proven to us once again when this Writer attended a seminar and tasting of Catalan wines at the Wine House in west Los Angeles recently. Indeed here was a story to be told.
Catalonia occupies a northern region of Spain, some areas along the French border. It has its own language and a history of more than 500 years, has been independent but more often part of conflicting nations and cultures.
Its wine heritage is a story all its own. Its roots date back some 2,300 years and the Phoenicians were there making wine before the arrival of the Romans. The wines were described in detail by a writer in the 14th century, surely one of the first wine journalists.
What truly inspired Catalan winemaking was the introduction of a sparkling wine called Cava in the Penedes region during the last half of the 19th century. Today Penedes is one of the eleven wine appellations in Catalonia. The popularity of Cava made white wine vineyards ever more important. At the tasting we attended nine of the twelve wineries in attendance featured a Cava along with other vintages.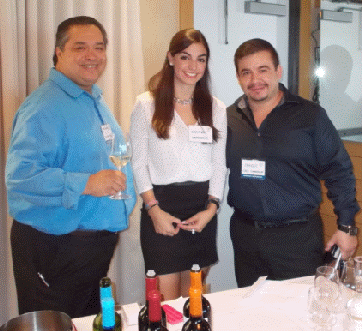 Speaker for the seminar at the Wine House event was Dean Medeiros who has spent a lifetime in filling various roles in the European wine industry. Barcelona is the second largest city in Spain and the capitol of Catalona. Dean told how in the last quarter century Barcelona has proven to be Spain's leader in the introduction of new industry, technology and finance as well as exciting innovations in arts and crafts.
The Catalan wine industry has also been a part of this move to the 21th century with the introduction of modern wine making equipment and the planting of new varietals to its vineyards. While maintaining the traditional grapes for the making of Cava new vineyards have been planted with popular, best selling varietals like Tempranillo, Syrah and Cabernet Sauvignon
Local varietals used in the making of Cava Brut include Macabeu, Xarel-lo, Parellada, and the rose, Garnatxa.
In the past Catalan red wines were described as intense, bold and higher in alcohol. Local red varietals include Monasrell, Cannena, Garnacha, Surmoll and Carignan. With some exceptions most of these local reds are now used in blends of Cabernet Sauvignon and Syrah.
We had the opportunity of meeting some of the vintners and marketing people. We talked with Alex Veen who is sales director for Castgell Del Remei which was established in 1780 and has enjoyed a quality reputation ever since. It produces classic French style red wines using Cabernet Sauvignon, Merlot, and Syrah along with Spanish varietals Tempranillo, Garnacha and Macabeo.
Natalia de la Calle Zancajo, export manager for Canals & Munne was a delight as she told us about their Cava which uses classic local varietals and the Champagnoise Method to produce sparkling wines aged from 20 to 60 months.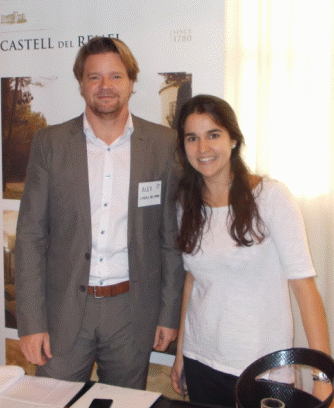 Maria Mata briefed us on how the Mascaro family has been making Cava for three generations. Like many of the Cava producers Mascaro is located in the Penedes appellation where the wine was first made. Besides Reserva Bruts using local white varietals they produce a Cava Brut Rose using the Garnabxa grape.
Almost all the wines produced in Catalonia require Designation of Origin status to distinguish them from other Spanish and European wines. Today there are eleven thousand vine growers and five hundred bottling wineries in the region.
Along with its wines Catalonia has made many innovations with its classic Mediterranean cuisine including a new culinary arts college in Barcelona. Currently 23 restaurants in Catalonia have earned Michelin Stars.
Back to Table of Contents..
Last Update:10/25/14
&copy 2014 Joe Hilbers All Rights Reserved.
Graphic Design by Impact Graphics