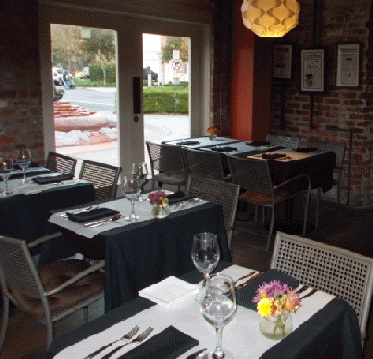 "Chino--Owen's Bistro offers new views of culinary arts"
The expression 'out of the box' is often used today to describe the work of a professional who moves away from the ordinary and main stream to create his or her own creativity and style in accomplishing their goal.
This exactly describes how James Kelly has achieved his success as proprietor-chef of Owen's Bistro in Chino. At Owen's Bistro Kelly delights his customers with an unusual approach to ordinary menu items changing them to something tasteful and unique. So here you find appetizers like Crispy Fried Brussels Sprouts with lemon aioli Parmigiano or beet home fries with scallions, togarshi mayo.
Each morning James Kelly starts his day with a visit to the local Farmer's Market and what he finds fresh from the soil decides what his menu will feature that evening. One of his favorite entrees is the Pan Roasted Pork Tenderloin, but Chef admits that he has many different ways of preparing this to the delight of his regular customers. The night of our visit it arrived with a cherry chutney, wild rice and fried broccoli. When was the last time you saw fried broccoli on a menu?
Owen's Bistro is a true all Kelly enterprise with his wife, Denise, acting as general manager, server and sommelier. The delightful wine bar is also her province and the selection of wines leans to smaller boutique wines from the best known California appellations like Sonoma, Paso Robles, Napa, Santa Barbara and Monterey. Winemaker dinners have played a large role at the restaurant almost from its beginnings eleven years ago. A winemaker dinner, held once a month and always sold out, features a single winery and affords the Chef the opportunity to display his unique talents with emphasis on the art of matching each course with a particular varietal.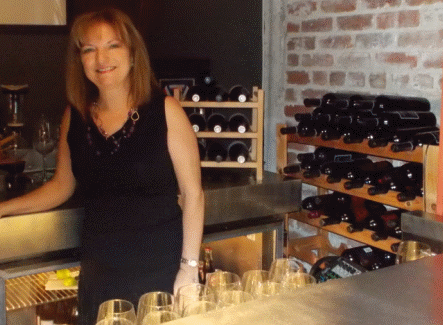 We knew about the success of Owen's Bistro long before our recent visit which was a long time in the making. One year James Kelly was named Chef of the Year by the Southern California Restaurant Writers and another year Denise Kelly was named Manager of the Year by the Writers. The restaurant consistently earns five stars. The reason for our long delay was geography, since where we live in the San Fernando Valley it is 76 miles to Chino. On this visit we had to withstand a thirty minute traffic delay on Highway 210. But it was well worth it.
We told Chef Kelly that we wanted to try small portions of his creations and what followed was the crispy brussels sprouts followed by the suspended salad, another house favorite.
This was flatbread smothered with greens, pecorino and a garlic vinaigrette. Next was Gnocchi Impersonating Scallops with caper brown butter and spinach. In between we were charmed with the pan roasted pork tenderloin. Another entree we tasted was The Camping Trip. This original is salmon cooked on a hot stone with bacon dressing, greens, and forest aroma. The very, very hot stone is included on the platter but warned not to touch.
We also tried the filet mignon medallions on the menu which come with potato puree and vegetables. At this point we had to plead with Chef Kelly to stop. Leaving such interesting entrees like roasted half Jidori chicken, braised short rib or Moroccan Spiced rack of lamb for some other time.
Chef Kelly makes his own desserts and favors unique creations rather than the more traditional offerings on most menus. We sampled two, the Pumpkin Spice cake with vanilla latte icing and the Caramel Apple Tart with oatmeal walnut crust a la mode and we had to fight off our dining companion on this one. Still to try were the Chocolate Waffle with graham cracker ice cream and marshmallow or 12 year old Scotch Butterscotch Panna Cotta with mini vanilla cookies.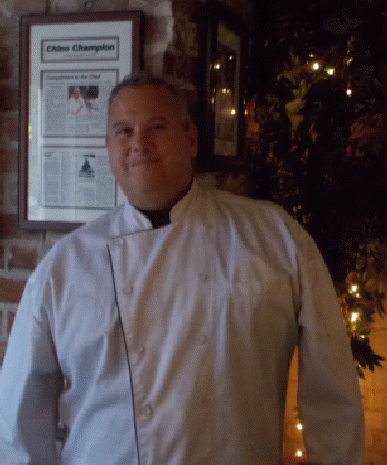 Cooking classes are part of the schedule at Owen's Bistro with Chef Kelly demonstrating the culinary arts that have made the restaurant such a success.
Owen's Bistro is located in the historic center of Chino adjacent to City Hall and surrounding public buildings. Intimate in design and ambiance, entrance is from the square behind the building with free off street parking. The restaurant also offers a spacious patio designed for outdoor dining but with a moveable covering for seasonal changes in the weather.
Address is 5210 D Street in Chino, just a short distance from the 60 Freeway. Telephone 909 628-0452, web www.owensbistro.com. Owen's Bistro is open for dinner only starting at 5:30 p.m., Tuesday through Saturday, Closed Sunday and Monday.
Back to Table of Contents..
Last Update:10/30/14
&copy 2014 Joe Hilbers All Rights Reserved.
Graphic Design by Impact Graphics