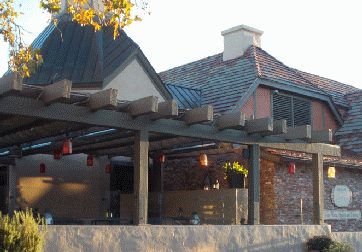 Solvang--"Our culinary experiences were a series of adventures
.. By Joe Hilbers
P>We enjoyed many culinary adventures on our visit to Solvang. We stayed at the Hotel Corque and at their Root 246 Restaurant we had dinner, call it a banquet, with James Colvin, hotel operations manager, as our host.
Here Chef Seth Nelson showed us a menu that opened with house cured meats, cheeses, pickles, mustards and roasted garlic. The meats included a house prepared bacon, prosciuttos styled ham, smoked chicken breast and much more. Our wine with this course was Sandhi Santa Rita Hills 2012 Pinot Noir.
Present to personally describe our wines this evening was Morgan McLaughin, executive director of the Santa Barbara Vintners. Next to arrive were huge bowls of local greens, red wine poached pears, picked grapes and walnut vinaigrette. The white wine with this course was 2012 Cold Heaven Santa Rita Hills by Sanford & Benedict Vineyards.
Our main course were platters of Texas style wagyu brisket and pan roasted breast of chicken, bacon confit thighs, spinach and a herb jus. Our wine, a single Bien Nacido Vineyard 2012 Rusack Estate Syrah. Our desserts were rock & roll doughnuts and s'mores tart and the wine to match, 2010 Huber Late Harvest Dornfelder.
The staff led by Diah Johnson, food and beverage manager, and Waitress Janson Harwood displayed a truly efficient, friendly service. We rated Root 246 as four stars. Root 246 is located adjacent and part of Hotel Corque at 400 Alisal Road, Solvang. Telephone 800 624-5572, web, www.hotelcorque.com.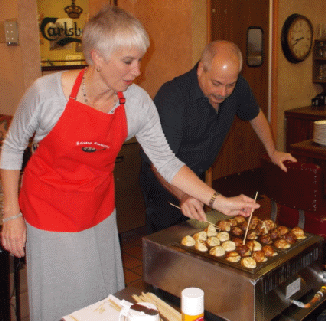 One morning we had breakfast at a Solvang restaurant that has earned a world wide reputation for its version of a very traditional Danish dessert. It is Solvang Restaurant and the dessert 'Arne's Aebleskiver. This is a dough made puff cake served with raspberry jam and a dusting of powered sugar. Legend has it that Vikings made an early version of this on their heated shields.
Owner Jeffrey Paaske is a fourth generation member of a family that arrived to found Solvang in 1911. His father, the late Raymond Paaski, was a B 17 pilot who flew missions over Germany until shot down and made a P.O.W. When he returned after the war he was one of planners of the project that would create Solvang as a replica of an earlier era Danish community. A plan that mushroomed, from beginning in 1947, to the city, as it is known today, with a world wide reputation.
Jeffrey Paaski has owned and operated Solvang Restaurant for 32 years and continues to feature the dessert Aebleskiver every day. For our group it was made before our eyes in a special cast iron pan and we found that they lived up to their reputation. The cast iron pans used for making Aebleskiver are on sale at the restaurant.
The restaurant shows a decor and ambiance that is traditional Danish with wood carvings on booths and open beam ceilings. Solvang Restaurant features a large breakfast and luncheon menu and is open from 6 a.m. to 3 p.m., till 5 p.m. on weekends. Address 1672 Copenhagen Drive, Solvang. Telephone 805 688-4645, web,www:solvangrestaurant.com.
One evening we went Italian with Cecco Restorante. We should point out here that while the architecture in all Danish in Solvang just about every kind of ethnic cuisine can be found.
There are 28 restaurants in Solvang, every one of them with an individual owner. By charter chains are not allowed in the City. Cecco is operated by Owner Chef David Cecchini who shows a menu of antipasti, pizza, pasta as well as meat and fish entrees, all prepared in classic Italian style. The pizzas are prepared in a wood fired oven.
The wine list is extensive with Santa Barbara vintages featured as well as some Italian. There is also a large selection of craft beers. Our dinner opened with the Caprese salad of farmers market tomatoes, buratta and xvoo. Entrees were mixed at our table with some deciding on pizza, the menu listed twelve different mixes of the classic. I selected the spaghetti bolognese and it was served, as I like it, with a ragu of pork, beef and tomato. Dessert was a Chef special chocolate nut based pudding.
Cecco Ristorante is located at 475 1st Street in Solvang and open for lunch 11:30 a.m. to 3 p.m. and dinner 5 p.m. to 10 p.m. Telephone 805 688-8880, web www.ceccoristorante.com.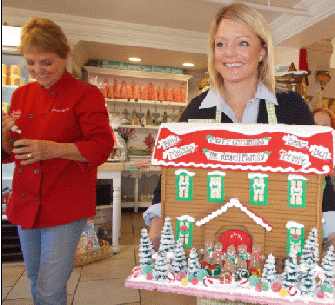 Another morning we had learning sessions with two very talented Solvang culinary artists. It opened at The Solvang Bakery with co-owner Melissa Halme Redell demonstrating how they create handmade gingerbread houses. These have a nation wide following with custom orders fromall parts of the U.S. After breakfast, with a choice of traditional Scandinavian pastries, we had the opportunity to decorate are very own gingerbread men. I was given two gingerbread men and a sugar based frosting and tiny bowls of colorful beads, flakes, etc. What they did not provide me was talent.
My gingerbread men creations when I finished--well, let's not go there. However we were most impressed with Melissa and The Solvang Bakery which is located at 438 Alisal Road. It is a great place for a Continental breakfast. Telephone 805 688-4939, web, www.solvangbakery.com.
Our education continued down the street at Ingeborg's Danish Chocolates. Here we met Ken Jensen who explained the source of the chocolates, both light and dark, and how it mixed with constant stirring. After a demonstration we were given the opportunity to make a number of chocolate dollops on a pan. OK., so I flunked again. However I did leave with the delicious smell of chocolate following me.
Ingeborg's Danish Chocolates is located at 1679 Copenhagen Drive. Telephone 805 688-5612, web, www.ingeborgs.com/. We dare you to try and leave there without some of their products.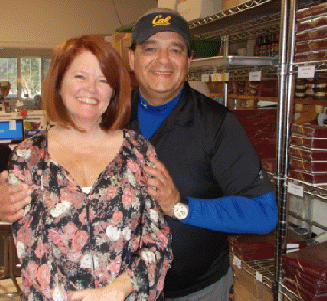 We enjoyed perfect Fall weather on this autumn wine touring adventure. Which made our luncheon at the Alisal River Terrace a most memorable event. The River Terrace is a new addition to the legendary Alisal Guest Ranch Resort, a cattle ranch which became a luxurious resort almost 60 years ago and, in that time, has always increased it appeal as a wonderful hideaway for outdoor activities and relaxation.
The Terrace is adjacent to the Alisal River Golf Course and the views are wonderful, first to the course, then the river valley and framing all the mountains that rim Solvang and the Santa Ynez Valley. Alisal Tortilla soup opened our luncheon at the River Grill with diced chicken, cheddar cheese, cilantro and tortilla chips. We had a choice of entrees which included Turkey /ciabatta sandwich, Albacore tuna salad sandwich or California Cobb salad. I chose the tuna salad with a large choice of breads and it came with red potato salad.
Our dessert was pumpkin cheesecake with gingersnap cruse and caramel topping. Our Hostess was Sherrie Fitzgerald of Alisal Resort.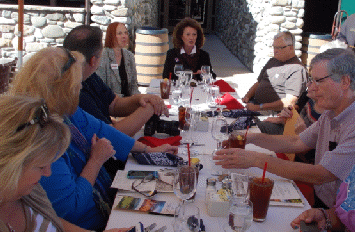 Back to Table of Contents..

Last Update:12/10/14
&copy 2014 Joe Hilbers All Rights Reserved.
Graphic Design by Impact Graphics