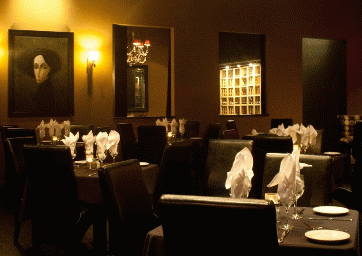 Prime Restaurant brings culinary elegance to Agoura Hills
.. By Ronnie Greenberg
Prime Steakhouse sits in the shadows of old Agoura Hills, an exemplary addition to the area's culinary landscape. You will be delighted to discover this gem known for vibrant flavors, fine wine, and elegant welcoming hospitality.
Owned by the personable Jan Schuster. the restaurant has been open a year and this is her second location. The original restaurant in Ventura has been open almost 7 years. and both restaurants feature the same menu. The menu which began in Ventura was a combination of Jan and her chefs and has evolved over the years. "We are constantly striving to improve, and we sample and create new dishes almost every day," says Jan. "All my chefs have been culinary or have over 10 years experience in fine dining. Both chefs work together and cross train at both restaurants, " stated Jan.
Setting the tone for a first rate dining experience the design, decor and setting of the ambiance was done by Jan who has a big design and construction background. She was the owner builder and with the help of a good friend was able to remodel the building within only 3 months to open right on time. The dining room has romantic candle lit tables dressed with fine linen and topped with sparkling stemware. The handsome expansive granite bar offers comfortable black leather barstools to sit and sip a specialty cocktail or martini.
The menu with several options is ingredient driven using organic when possible, and local and seasonal herbs, fruits and vegetables that are well prepared and presented.
The meats are purchased mostly from Stockyards of Chicago and a little from a specialty company out of Orange County that cuts special steaks per their request. All the meats are Angus top 2/3rds choice,1/3 choice or USDA Prime. These are all the highest standard in the industry. "Each time there's a meat cut we blind taste several samples to pick the best one," Jan states.
" Our most current amazing find is our 18 oz. bone in rib eye USDA. Prime from Stockyards. It is a fabulous cut of meat with great marbling without the typical pieces of fat you would find in a typical rib eye. When you eat it the only thing left on your plate is the bone", boasts Jan.
While prime beef reigns supreme here, other flavorful dishes offered include daily-featured selections of fresh seafood, fresh salads, delicious appetizer selection of innovative fresh sides. The chefs take their cues from timeless dishes and preparations of the classics, and enlivens them with modern techniques and bold flavors. The talented culinary team meticulously prepares each meal with an unrivaled passion.
An all time favorite is the 4 course... Best of Prime served with specialty baked breads for $39. 1st Course includes a choice of tuna tartare with a great kick wasabi and sweet red chile drizzle; chile relleno; lusty black mussels. 2nd course, Caesar salad; baby greens with red onion, walnuts, pear, apple and gorgonzola in a honey balsamic; and the incredible Steak House wedge with hickory bacon tomato, red onion, and blue cheese dressing. 3rd course- The house specialty prime rib served with your choice of blue cheese, marsala, black brandy peppercorn, or homemade cream horseradish; baseball cut top sirloin paired with sauteed Gulf shrimp; pan seared Atlantic salmon with fresh Swiss chard, gala apples and spaghetti squash in the house champagne peppercorn beurre blanc; and chicken Florentine. 4th course features grilled brussel sprouts; smokey six mac and cheese; asparagus spears; creamed spinach; garlic mashed; twice baked potato; and veggie sautee.
There is also a16 oz. USDA tender New York strip;($49.) Australian rack of lamb($49.); Chef's filet mignon, grilled to perfection, ($49.); and a16 oz rib eye steak ($49.) Add savory sweet endings that include mud pie with oreo cookie crust, cappuccino ice cream, peanuts, sliced almonds and whipped cream; homemade creme brulee; bread pudding and Freska mango with vanilla bean ice cream.
An extensive wine list of smooth reds and crisp whites by the stem or the bottle will complement the menu's distinctive flavors. Jan is extraordinarily passionate about wine. She goes to Napa at least 10 times a year, and goes to every tasting she can. "We make sure we are constantly bringing in the best wines at the best prices. The entire staff is wine trained and tested every week."
Hours--Happy Hour is 7 days a week 5-8 p.m. 3-9 p.m. on Sundays. Open for dinner 7 days a week Monday through Thursday 5-10 p.m.; Friday and Saturday 5 to 11 p.m. Sunday 3-9 p.m. along with Happy Hour on the gorgeous outside patio
Calendar of Events--Wednesday- half price wine; Thursday-" Dinner with Frank"- Danny Delurgio brings the finest of Frank Sinatra's songs and style this side of Vegas. 6-9:30 p.m. Friday- Live music by Mike West from 7-10 p.m. Saturday-Encore plays from 7-10 p.m.
There's a private party room that can handle parties of 20-100 ready to embrace any memorable occasion, or family gathering small or large.
Prime Steakhouse is located at 29020 Agoura Road in Agoura Hills, phone for reservations at (818) 292-5111 or www.primesteakvc.com. A second Prime Steakhouse is located in Ventura at 2009 E. Thompson Blvd., phone for reservations at 805-652-1055 or
Back to Table of Contents..

Last Update:1/23/15
&copy 2015 Joe Hilbers All Rights Reserved.
Graphic Design by Impact Graphics