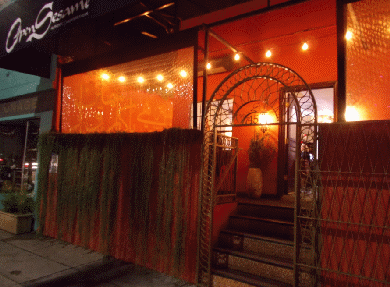 .Open Sesame Restaurant revealed Lebanon cuisine and wines for us.
.. By Joe Hilbers
If you want to continue your exploration of the Mediterranean diet may we suggest you start with the 5000 year old cuisine of Lebanon. A great place to start is the Open Sesame Restaurant located on the west side in Los Angeles. Proprietor-chef Ali Kobeissi introduced his authentic Lebanese cuisine to this location one year ago to immediate success. We were there with a group last evening and most impressed with both the variety and quality of the many appetizers and entrees we tasted.
Open Sesame shows a very large menu with a long list of Mezza/appetizers and here is where we started with fried potatoes, Hummus, Kibbi, fried cauliflower and the Lebanese salad Fattoush.
Then came our mini sized entrees, to taste and enjoy as many as possible. First a charbroiled lamb chop, then grilled tiger shrimp layered on an exciting red sauce. Then Ali's Favorite, sliced top sirloin steak on a layer of spicy roasted tomatoes and onions. Followed by, what proved a favorite for some of us, Chicken Tawook, skewered cubes of marinated,char broiled chicken breast served with garlic sauce and wild cucumber pickles.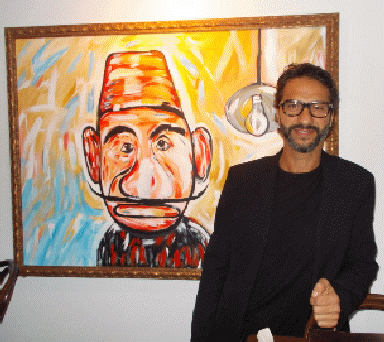 The service was excellent and, if you are a beginner with Lebanese food, the wait staff is knowledgeable and and eager to help. Our dessert was Baklawa, a flaky phyllo pastry filled with pistachios.
Our experience enjoying Lebanese cuisine at Open Sesame also including a wine tasting of wines from Lebanon. Christopher Lavin, regional sales manager for Broadbent Selections, conducted our tasting.
We already knew Christopher from the time he was Sommelier for two of Long Beach's five star restaurants, L'Opera and The Madison. His work at these restaurants earned him "Sommelier of the Year' Award from the Southern California Restaurant Writers. He told us how Lebanon has a history of wine making extending back almost six thousand years. The land was peopled by Phoenicians who were renowned principally for their wide travel and trading. They were shipping Lebanon wine to Egypt two thousand years before Christ.
Also taking part in the tasting was Eddie Simon of Misa Imports.
The first wine, served with our Mezza/appetizers, was Altitudes IXSIR White 2009. It was a blend of Muscat, Viognier, Sauvignon Blanc & Semillon. Another white wine served was a 2012 Chateau Musar, a blend of Viognier, Vermentino and Chardonnay.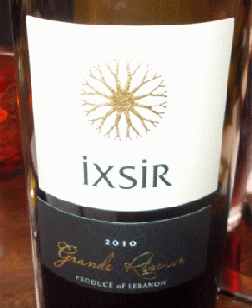 The first red wine served with the entrees was Altitudes IXSIR 2010, a blend of Cabernet Sauvignon, Syrah, Tempranillo and Caldaro. This was followed by another IXSIR vintage, a 2010 Grand Reserve from Syrah and Cabernet Sauvignon grapes. We noted that all the Lebanon wines we tasted were blends and that all had enjoyed much bottle aging.
Our last wine was truly memorable. It was a signature 2003 Chateau Musar Cabernet Sauvignon from the Bekaa Valley, Lebanon's best known wine region, with the name of Winemaker Gaston Hochar on the label. Some of these wines are to be found on Open Sesame's wine list.
Our host, Ali Kobeissi is a veteran restaurateur with two other restaurants located in Long Beach.
Open Sesame is located at 7458 Beverly Blvd., Los Angeles. Open Sunday thru Thursday 11 a.m. to 10 p.m.--on Friday and Saturday from 11 a.m. to 11 p.m. Telephone 323 525-1698. .
Back to Table of Contents..

Last Update:1/10/15 &copy 2015 Joe Hilbers All Rights Reserved.
Graphic Design by Impact Graphics