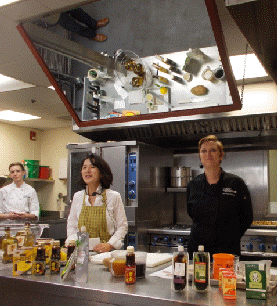 "The trend to convenient packaged foods includes many from Japan"
by The Editor
It is interesting to note that the trend to convenient packaged foods is taking place worldwide.
Once again we were at the New School of Cooking in Culver City to take part in a demonstration of Japanese culinary products.
The event was sponsored by the Japan External Trade Organization, JETRO as a showcase for Japanese food products.
The New School of Cooking has been teaching culinary arts courses for fifteen years and adjacent is the New School of Cooking Cafe which is a coffee bar and pastry shop offering bistro style breakfast and lunches with the pastries baked each day by students.
Guest Chef Carol Cotner Thompson prepared the showcase Japanese specialties that were presented for food professionals and members of the press.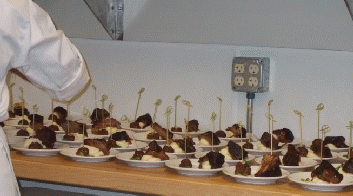 We opened with a Hokkai Yamato processed corn soup mix. Chef Thompson added fresh Dungeness crab, Meyer lemon zest and juice and snipped chives to the soup mix and the result was a wonderful treat, full of flavors and fresh tasting.
Next was braised shortribs with Hokkai Yamato wasabi furikake mashed potatoes. The shortribs were flavored with Ebara Ohgon No Ajio mild BBQ sauce from Ebara Foods. Chef Thompson shared her recipe for these shortribs, which were moist, tender and most flavorful, with this Writer who must try it in his own kitchen. With the shortribs was a spicy meatball which included ebara ohgon no Aji hot BBQ sauce.
Dessert was matcha panna cotta with kuromitsu gel and fresh fruit. Extra flavor was from Yokohama Choshiya yonaguni kuromitsu, an aroma sugar syrup. With this a Den's organic sencha tea was served.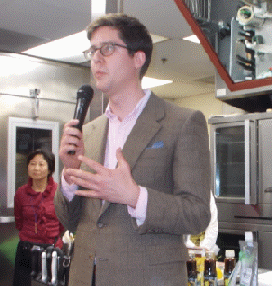 This was another in a series of events by JETRO to introduce Japanese foods and recipes in the USA.
Back to Table of Contents..
Last Update:1/21/15
&copy 2015 Joe Hilbers All Rights Reserved.
Graphic Design by Impact Graphics