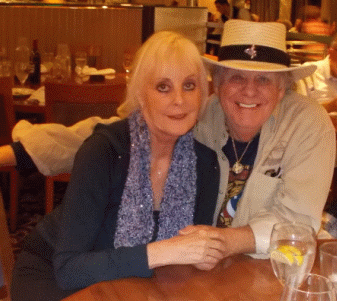 ---
A Long Beach--The Cruise 2 Jam group of Blue Grass folk aboard Carnival Imagination also included disabled veterans as guests by The Editor
It started with an event aboard the Queen Mary in Long Beach and continued aboard the Carnival Imagination bound for Mexico. Besides a large number of Blue Grass musicians for their annual Cruise For Jam, also aboard were some disabled veterans of the Middle East conflicts.
This all came about when Jerry Turner, who first organized Cruise For Jam, decided three years ago to bring some of these veterans and their families along as their guests. Other Veteran help organizations taking part in the concert at Long Beach were Homes of Our Troops, Joshua Chamberlain Society and Tank Chair Charity. You can learn more about these organizations and what they do on the web at Friends2veterans.com.
This was the seventh year that Jerry Turner has conducted his Blue Grass musician get together aboard a Carnival cruise. Three years ago a charity concert was conceived a day early on the Queen Mary. Highlight of the Queen Mary concert the past two years has been a performance by Lisa Haley and the Zydekats. She is a Granny Nominee for Americana/Cajun/Zydeco. This year she joined the Blue Grass group aboard Carnival Imagination as well and gave another series of knockout performances.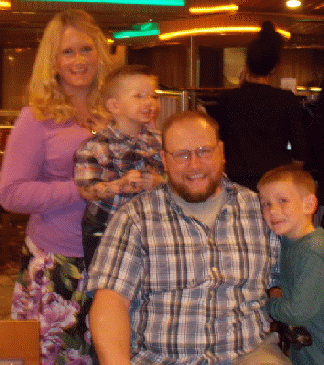 This Writer, who has attended three of the Carnival Blue Grass cruises, this year made it a point to know and interview the disabled veterans who were also aboard.
Jonathan Schumacher is a Marine who lost both legs in a roadside mine explosion while serving in Afghanistan. At that time he was a Corporal with three years in the service. His injury occurred while at home his wife, Courtney, was pregnant with their first child. The injury occurred in 2011 and then there were two years of rehab. Now Jonathan and Courtney have two sons, Ethan and Easton and the family are in a new home in Temecula.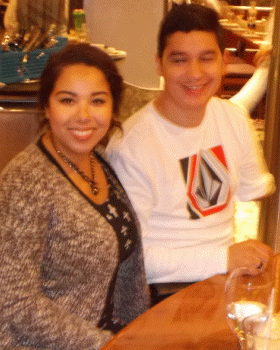 One night we had dinner with Geoffrey and Samantha Quevedo. He was with the U.S. Army on a eight month tour in Afghanistan when he lost his left arm in a fire fight. Originally from Fresno, he was in the service three years and then spent two years in rehab. He met his wife, Samantha when they were high school sweethearts and were married last December. They now reside in Murrietta where Geoffrey attends college.
We also met another U.S. Army veteran, Rallace Fanene. Originally from Hawaii he was a Staff Sergeant with seven years service when during a fire fight he stepped on a mine that left him without his right leg and arm. He became a casualty just two weeks before ending his second fifteen month tour in Iraq in 2008. Rallace was aboard Imagination with his wife, Scarlett and two children, daughter, Nalia and son, Lokepa. The family now reside in Riverside where he is attending college.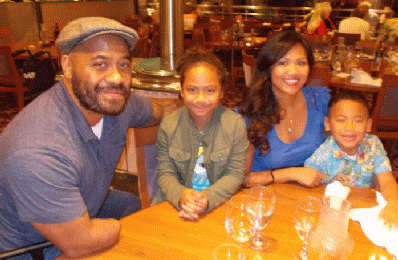 The first veteran to be honored was Nick Drew Mendes who served two tours in Afghanistan. On his second tour he was the victim of a road side bomb. It left him completely paralyzed but after many months in the Long Beach VA hospital he has regained some feeling in parts of his body. Jerry Turner and his Friends2Veterans group brought Nick and his family to the Queen Mary event and then financed his cruise on the Carnival Inspiration two years ago. Since then he has been on every cruise and selects other disabled veterans to join him on Jerry's Friends2veterans program.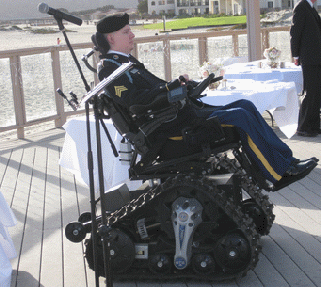 After meeting these men we were filled with admiration for the courage they and their families display in adjusting to handicaps which will be with them the reminder of their lives.
.
.
Back to Table of Contents..
Last Update:2/10/15
&copy 2015 Joe Hilbers All Rights Reserved.
Graphic Design by Impact Graphics