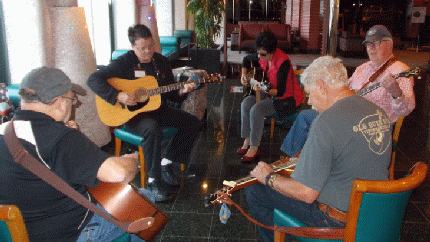 "Long Beach--Bluegrass cruised with Carnival Imagination
.. By Joe Hilbers
Bluegrass music is habit forming, at least it is for this Writer. It all started four years ago quite accidentally. We were on a Carnival cruise to Mexico and discovered we were sharing the ship with one hundred musicians, from many states, all accomplished at picking and jamming bluegrass.
Soon we learned where these casual jamming sessions were being held aboard ship and made it our business to sit in on as many of these events as possible. We also met the man responsible for this bluegrass meeting. He is Jerry Turner who conceived the idea three years previously as a way to gather a group of bluegrass musicians while at the same time bringing seriously disabled veterans of the Middle East conflicts as their guests.
Jerry called it Cruise 2 Jam and when I joined them again aboard Carnival Imagination it was my third cruise and the seventh annual for Turner's group.
This event draws folks from many different states. We chatted with Neil Robins and Marty Maciejenski, both from Arizona. Neil is from Phoenix and plays the guitar and Marty is from Mesa and had his fiddle with him. In all there were fifteen jammers aboard from Arizona and most were well acquainted since they stage bluegrass sessions at home throughout the year.
We also met guitarists George Clig from Ventura and learned that bluegrass meets are held regularly there. This is close to our home so we made arrangements with George to try and attend one of their jamming sessions.

Headlining some of the sessions was Lisa Haley & the Zydekats. She is a Grammy Nominee for Americana/Cajun/Zydeco and this cruise celebrated their 20th anniversary as a band. Aboard ship her performances , with bluegrass musicians supporting, were most lively and added something special to the cruise.
Each year the day before boarding the ship Jerry Turner has organized a ''Picking and Jamming for Veterans'' on the Queen Mary in Long Beach. This is a charity concert and well attended. For the past two years Lisa Haley & the Zydekats have headlined the concert and donated their time and talents.
We again visited with Tim Woods who we had met on a previous cruise. Originally from Montana early on he became interested in both pop and folk music. Now he lives in Spring Valley and has a group called Wood 'n' Lips which includes Grey Gross. They perform at community events in San Diego as well as a club in Santee.
On Imagination Bluegrass groups would form, individual musicians would come and go but the music continued unabated. These sessions took place on various parts of the ship deserted by regular passengers and scheduled events. They get together for these jam sessions, in a most casual manner, and immediately begin performing this music which is truly a part of American's culture and heritage.
Besides these jamming sessions seminars are conducted on various forms of folk and bluegrass and these were very well attended. At one of these seminars we had the opportunity to meet and chat with Jim and Bea Romano who both play the Hammed Dulcimer and are part of the Southern California Dulcimer Heritage. They are from Downey.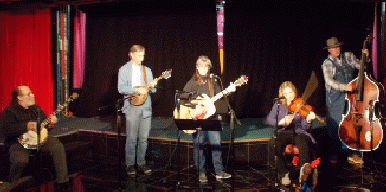 Sweet Tidings Gospel Jam caught our attention with Gene Conley and his wife, Kimberly. Kimberly told us about the upcoming Temecula Bluegrass Festival, an annual event which takes place every March in Old Town.
Rose Scibelli of Escondido told us about the North County Bluegrass & Folk Club. This is a non profit organization which will sponsor a Bluegrass Music Festival later this year. It will take place August 14-15-16 at the Antique Gas & Steam Engine Museum in Vista, California For more information call 858 679-4854, on the web at www.summergrass.net.
Back to Table of Contents..

Last Update:2/6/15
&copy 2015 Joe Hilbers All Rights Reserved.
Graphic Design by Impact Graphics