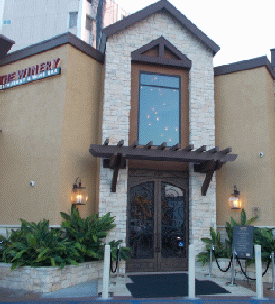 "Newport Beach--The Winery Restauant brings raves from one and all.
.. By Joe Hilbers
We had already heard about the opening of a second Winery Restaurant & Wine Bar in Newport Beach and viewed a visit with some anticipation. Indeed it had already been proclaimed "Restaurant of the Year" by the Orange County Concierge Assn. and the Orange County Register called it "One of Orange County's Best New Restaurants"
After our recent evening at the Winery we can only agree with these plaudits and perhaps add a few of our own.
Entrance from West Coast Highway is to a courtyard with valets ready for your car. The entrance is impressive with two large doors opening to a hall with one wall completely made up of glass enclosed filled wine storage cabinets. These all belong to individuals who have chosen to store their wines in these climate controlled readily available racks. There are one hundred of them from floor to ceiling.
Then the hostess desk and the cocktail lounge and bar. Moving on you reach the dining room with that outstanding view of the marina. The restaurant has its own dock so if you wish to arrive by water you may do so. However we had left our yacht, (rowboat) home that day.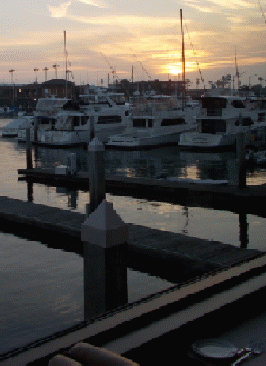 About the only disappointment we had that evening was the sunset. The dining room of this restaurant overlooks the Newport Beach Marina and we arrived just as the sun was about to move behind light clouds in its last decline. We expected a show of light orange and red colors but alas the clouds proved to be rising fog so no color show.
Our solace was a view table and a thoroughly professional waiter named Pat. And to see that all was well Captain Efi Eshet to greet us. We then turned out attention to the menu.
From an appetizer menu that graced items like Colorado Buffalo Carpaccio or oysters on the half shell we ordered the crispy almond dusted calamari. This arrived table style so my dining partner and I could enjoy them together. It contained a marinated cucumber salad and spicy tomato-saffron aioli.
Now back to the menu which requires much to ponder over. There are main courses, the steaks from the grill with a whole variety of sauces and then something called "Take a walk on the Wild Side" These special entrees include New Zealand Venison, Elk, Colorado Buffalo, California Ostrich, Australian Kangaroo, Pheasant, Quail, Squab and Partridge.
We both ordered from the main courses. I chose the jumbo Maine scallops and wild white shrimp which arrived on a bed of Edamame bean risotto and crispy prosciutto. My partner chose the slow braised Angus beef short rib. It came with a Zinfandel reduction, prosciutto wrapped asparagus and carrot infused pearl couscous.
My scallops were so large I needed a knife to cut them into portions. My partner's short ribs so tender that all he needed was his fork.
At an adjoining table of eight there arrived something called a seafood tower which arrived with some ceremony and in layers filled with all types of seafood. Truly the stars are in their courses at this restaurant.
The wine list is a book of its own with listings of hundreds of vintages from many countries.
Like everything else the dessert menu is special. It lists an amazing collection of dessert wines from ice wine, Portugal vintage ports, and Romanian tokay to California muscat. My choice was creme brulee while my partner chose the strawberry fruit sorbet.
About this time Partner and Executive Chef Yvon Goetz came by to give us a complete tour of the restaurant which is on two levels. Upstairs there is a second bar and lounge as well as an all season patio. This overlooks the Marina and is flanked at both ends by fireplaces. This patio appears to be especially popular with women since many were present that evening. Upstairs there is also a private dining room that will seat 60 and also an executive styled private room for parties of up to 24 people.
Both levels contain large climate controlled areas filled with bottles of wine, some five thousand of them. Upstairs there is also a small smoking lounge adjacent to the patio.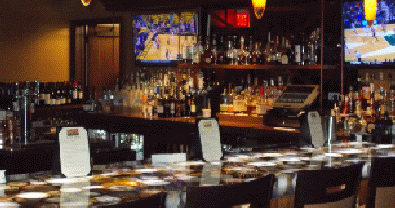 The Winery Restaurant & Wine Bar is located at 3131 West Coast Highway, Newport, Ca. Telephone 949 999-6622. website:thewineryrestaurant.net.
The restaurant is open daily for dinner: Sunday thru Thursday from 5 p.m. to 10 p.m., Friday & Saturday from 5 p.m. to 10:30 p.m. Bar opens daily from 4 p.m. Soon to come is a Sunday Brunch.
This is the second Winery Restaurant opened by a partner team that includes JC Clow, Yvon Goetz and William Lewis. The first opened in 2011 in Tustin. It is located at 2647 Park Avenue in the District at Jamboree Road and Barranca Parkway.
Back to Table of Contents..

Last Update:3/30/12
&copy 2012 Joe Hilbers All Rights Reserved.
Graphic Design by Impact Graphics