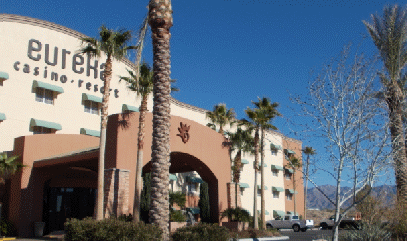 Mesquite, Nevada--A three day MusicFest lured us to this city of outdoor activity and Casino entertainment
.. By Joe Hilbers
Suddenly I was hearing a lot about Mesquite, Nevada. First a friend was telling me about his ski trip to Utah and mentioned on his way home when he reached Mesquite the sky was filled with colorful hot air balloons. Turns out they had a meet there. At a cocktail party a golfer was telling of his outing in Mesquite which has six golf courses and three hotel casinos for fun and entertainment at night. Then a press release passed over my desk telling of an upcoming Mesquite MusicFest which would feature classic shows "just like Vegas used to be".
This was of real interest to me since as a reporter I attended many business conventions, meetings and seminars in Las Vegas during the late nineteen fifties, sixties and early seventies, which is still defined as Vegas' golden era. The hotels on the strip, Dunes, Sahara, Sands, Tropiciana and El Rancho Vegas were all featuring great lounge shows. These were the days of the Rat Pack, Louie Prima, Peggy Lee, Bobby Darin and a host of others.
So this Writer wanted to and did attend the MusicFest. I checked into the Eureka Casino Resort and liked what I saw. The Hotel is divided from the Casino by the parking lot. So it retains a quiet serenity with its private patio and pool areas for guests as well as spa services. Our room was luxurious with views to the lofty mountains that surround the Virgin Valley on every side. The Casino and restaurants were a two minute walk away.
The MusicFest events took place in the showroom of the CasaBlanca Resort which includes hotel, casino, golf and spa. There were three events and we attended all of them.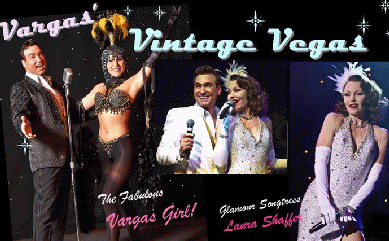 First was Vintage Vegas Live featuring Art Vargas. Art opened the show telling how his quarter century career as a Las Vegas showman was inspired, as a boy, when he was fascinated with the long list of legendary names who performed in Vegas during those golden years. With that he paid homage to Bobby Darin with his rendition of "Mac The Knife". Backing him was a talented group of sidemen including sax, trombone and trumpet with piano, bass and drums.
Then joining him was the lovely Laura Shaffer, gowned spectacularly, to bring back memories of Vegas divas like Peggy Lee and June Christy singing songs like "Why don't you do right" and Big Spender" from the musical Sweet Charity.
The band took over with the music of the big bands with Tommy Dorsey's Opus One. Followed by a richly attired Vegas show girl with a dance that brought back the time of burlesque with "Babe come Home" and "Babe, You've got what it takes." Nineteen fifties high school dance music followed with "Only You" and "Stand By Me". Art Vargas reminded us of the likes of Bing Crosby with "Swinging on a Star" from the film "Going My Way". The band then followed with a medley of theme music from popular TV shows of that era.
Closing a rousing show Art Vargas and Laura Shaffer performed a duet of "That Old Black Magic". There was a goodly amount of grey hair in the audience, including this Writer, and we all responded enthusiastically to the talented performers in Art's troupe. They had indeed brought back many memories for us. The Art Vargas show did take the audience back to those earlier Vegas days of glitter and excitement. The beauty and glamour of the show girls was present and the band faithfully reproduced the music of that era.
When we were seated for the second Mesquite MusicFest event, located at the CasaBlanca Resort showroom, we did not quite know what to expect. It was billed as Roadhouse Legends featuring Vegas singers, dancers and musicians. But Country music does cover a wide spectrum.
In fact it proved to be all the above and much more. The stage was set as a typical road house, tables for eating and a bar at the opposite side. Heading and directing all was a dynamic Christie Copland ably assisted by Dave Hoover.
Getting the show off to a fast start were comely show girls and guys in a true western stomp. Some big name country impersonators then took over. A look alike Kenny Rogers sang "You got to hold them and fold them" with the audience participating. Then "Lady, let me hold you". Then a ballard style Tim McGraw with "Ruby" and "Lady, I want to tell you".
A real fine impersonation of Reba McEntire followed in her robust style. Then with help from the audience "Save a horse, ride a cowboy" Then more ballards like "Grandpa, tell me of the good old days" with video screens showing old photos for visible effect.
Two cowboy poets followed with some corn spun country humor. An acrobat, dressed like an Italian chef, did some amazing balancing acts on cooking pots with Dolly Parton telling him to get back into the kitchen.
Closing was boisterous with the singing of God Bless America by the cast and the Mesquite Methodist Church choir taking part. Then Christie Copland and Dave Hoover led the cast out of the showroom so they could personally greet members of the audience as we filed out.
Wrapping up the 2015 Mesquite MusicFest were three legends from the late 20th century. It was called Killer, Cash & King and portrayed Jerry Lee Lewis, Johnny Cash and Elvis Presley.
The story line is that they are all in Memphis in the early 1970s before their days of fame. Jerry Lee Lewis is performing on his own show when Cash and Elvis drop in and proceed to take over from Jerry. Jerry opens with some 1950 boogie woogie backed by two guitars and drummer as sidemen. Then follows with a robust "Shake it Baby" Then in walks Johnny Cash and they decide on some 1955 hits like "Cry, Cry, Cry" and "Crazy".
Soon Elvis arrives and belts out "Blue, Grey Shoes" followed by "That's all Right" with Johnny Cash joining in. Lee keeps saying its his show, he invented rock n' roll and asks agreement from the sidemen. This topic continues through the whole show.
Then all three join in with "Because your mine" and "I feel all right". Then they move up to 1969 and gospel with "Praise the lord, I saw the light:" and "Ring of Fire".
The three impersonators for the famed trio were excellent, providing realistic performances and the backup musicians professional. There were two performances of Killer, Cash & King, one a matinee the second at night, both in the showroom of the CasaBlanca Resort and Casino. We chose the matinee and our final thought was that all three of the MusicFest events were just right for audiences whose memories dated back four decades to when they were young and had lived through those years.
And like this Writer many in the audience must have wondered where those youthful years had gone.
Mesquite is a good starting place for some of the scenic wonders that are located in southern Nevada and Utah including two national parks and a national recreation area.
One day we set out for the Valley of Fire State Park. It has been decades since our first visit and while the red sandstone rock formations, that named it, are the same, the facilities are much improved. This visit and one to the Museum of Man will be covered in the next Vittles.
We found Mesquite much to our liking. To us it appeared serene, low key and a perfect retreat from a big city. From all the snow birds and peers of my generation we saw and met it is obvious that a good many others share this opinion.
On our entire Mesquite visit we were blessed with cloudless days temperatures in the low seventies during the day. Although it was February winter seemed a distant memory.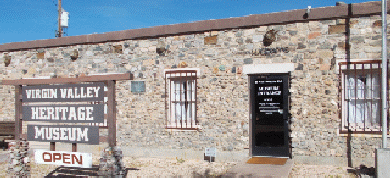 To learn more about the history of Mesquite we visited the Virgin Valley Heritage Museum. Here we met Erika Kita Marley, Museum Coordinator. The Museum is located in a home built in 1921 and is now in the National Register of Historic Places. The Museum opened in 1985 and shows a large collection of utensils, artifacts, photos and furnishings of earlier eras. There is a collection of household items that are exhibited in a parlor, kitchen and bedroom, all furnished to that earlier time.
We stopped to admire some interesting locally done oil painting of the Valley when it was a farming community. There were many trying times and hardships for the early settlers, first with farming and then more successfully with dairies. A name change created Mesquite. After the completion of Interstate 15 in 1970 the town grew rapidly to what it is today.
The museum has an exhibit displaying photographs of construction of Interstate 15 through the Virgin River gorge. At the time it was the most expensive section of interstate ever constructed nation wide.
The Virgin Valley Heritage Museum is located at 10 East Mesquite Blvd. open Tuesday through Saturday from 10 a.m. to 4 p.m. Telephone 702 346-5295, web www.mesquitenv.gov.
There was no shortage of interesting restaurants in Mesquite. For casual meals we used the Mason Street Courtyard at Eureka Resort. We liked its bright contemporary decor to go with excellent menu choices for every time of the day. Besides, being born and raised in San Francisco, we liked the Mason Street theme for a famous street in that city.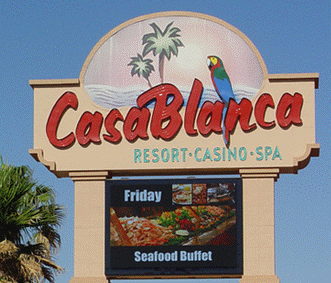 The menu at Casa Case, the casual restaurant at CasaBlanca Resort truly got our attention with having a second menu of Chinese food.. We ordered the combo Chow Mein one day and thought it the best we had in a long while. Katherine's has the decor and menu of a fine restaurant.. For fine dining at the Eureka Resort it was Gregory's Mesquite Grill showing a menu of steaks and Italian cuisine.
We dropped by the Virgin River Casino one day and discovered they still included Keno for play. We learned about this while working as a warehouseman on San Francisco's waterfront while still a teenager. There it was called the Chinese Lottery and we started playing nine spots almost daily, just one of the bad habits we picked up on that summer job.
Mesquite schedules special events on a regular schedule. Prior to the three day MusicFest there was the Mesquite Balloon Festival and the following week the third annual off road weekend which featured world class motocross racers as well as the Eureka Casino Resort sponsored new mega ramp. Mesquite is located 90 miles north of Las Vegas on I 15 and offers special events almost on a weekly basis to go with its several golf courses and upscale Casino resorts. For more information visit www.visitmesquite.com.
Back to Table of Contents..

Last Update:2/16/15
&copy 2015 Joe Hilbers All Rights Reserved.
Graphic Design by Impact Graphics