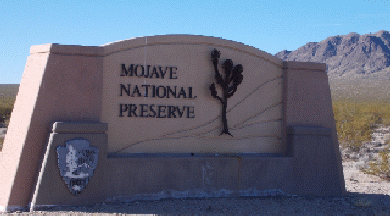 "Mojave Preserve--A perfect place to enjoy desert scenery

by The Editor
On my way home from Mesquite, Nevada I could not resist an opportunity to explore parts of the Mojave National Preserve. The weather that day was perfect for such an excursion. Cloudless skies and air so clear made distant mountains and peaks loom into every view in every direction.
I left Interstate 15 just west of Primm on a road that I have never driven before. It is the Cima Road that was paved and led to what is the largest concentration of Joshua trees. I had it all to myself meeting just two other cars on the 16 miles to Cima which has one building, a general store that was closed that day. Here you also find the Union Pacific Railroad tracks and we did see a very long container train moving slowly since Cima is at a higher elevation.
This higher elevation makes for a more attractive desert with not only the Joshua trees but also sage and mesquite. I made numerous stops to take photos, there was so much to see and particular scenes I might want to attempt a try on canvas.
From Cima the road takes a long descent to Kelso where the old Train Station has been restored and now houses headquarters and Visitor Center for the National Preserve. Here also exhibits and photo murals of what the Preserve has to offer. Some of the exhibits change every three months so there is always something new if you have visited before.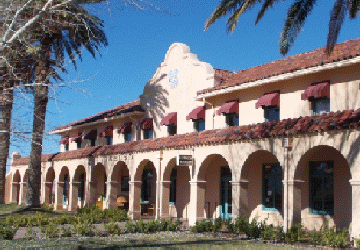 This was my second visit to Kelso since it became a National Preserve. Our first visit several decades earlier.
On the road from Cima to Kelso you pass an intersection with the Mojave Trail. This trail was used by the native American people for centuries before the Spanish entered the New World. Then it was used by the U.S. Army, as a stage coach route and today still exists for visitors who own 4 x 4 vehicles, since it remains by design a dirt track stretching from one end of the Preserve to the other.
After our visit to the Kelso Station we took the road south that meets I 40. On this road you pass the high Kelso sand dunes and then the Granite Mountain Natural Preserve.
Along this road we made another photo stop since in the far distance were snow capped Mt. San Gorgonio and Mt. San Jacinto looming behind two other closer ranges.
While this junket added a good many miles to our journey home we enjoyed every minute of our "detour", delighted with the sense of adventure and isolation that this day provided for us.
Back to Table of Contents..
Last Update:3/9/15
&copy 2015 Joe Hilbers All Rights Reserved.
Graphic Design by Impact Graphics