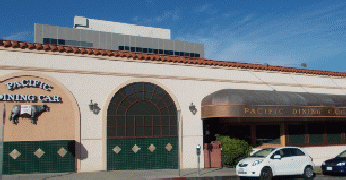 "Santa Monica--The Pacific Dining Car is celebrating a 25th anniversary"

by Joe Hilbers
The Pacific Dining Car, with it century long history, has always been closely tied to that of Los Angeles. In the last decades of the 20th century downtown Los Angeles was practically deserted as workers left for homes in the outer reaches of the City. Visitors staying at downtown hotels marveled at ghostly streets by eight p.m. on any evening.
Fine dining in the evening was left to elegant restaurants located in hotels serving mostly their own guests. One of the few exceptions was the Pacific Dining Car which continued to prosper thanks to its long established reputation for exceptional quality and service.
However since many of its customers also abandoned downtown after business hours for homes on the westside it appeared that a second restaurant located, perhaps in Santa Monica, would be a sound business decision.
So a location was selected on Wilshire Blvd. as it changes addresses from Los Angeles to Santa Monica. The year was 1990 and the building selected was stripped to its bare walls and almost magically a second Pacific Dining Car was in place, a perfect duplicate of the original in almost every respect. Here loyal customers of the downtown Pacific Dining Car found the same elegant decor of etched glass panels, selection of intimate dining rooms, the club like bar and lounge and original paintings gracing the walls.
The menu was the same with the selection of beef steaks that were absolutely the best and the service staff, a legend in its own right, often with familiar faces. The unique concept of being open 24 hours a day, 365 days a year was maintained at the Santa Monica location as well.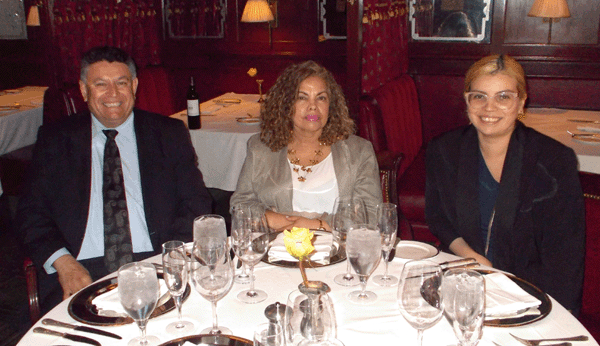 Our evening at Pacific Dining Car in Santa Monica was like a family dinner. This evening we were dining with Isidro Pineda, Santa Monica Manager and his gracious wife, Bertha.
Isidro Pineda's history with the Pacific Dining Car is another of those wonderful success stories that are so much a part of our country. It started thirty eight years ago when he was hired at the downtown restaurant to wash pots and pans. Then over the years moved up to bus boy and then waiter. As a waiter he showed all the attributes required including an excellent memory, an attention to detail and the ability to often anticipate in advance what his customers wanted.
Eight years ago management suggested that he move to the Santa Monica location as manager. This long time relationship between owners and employes is a tradition at Pacific Dining Car and now extends to both restaurants. Isidro took me into the kitchen to meet the chefs-- Sergio Del Villar with 27 years, Ausencio Luqueno with a quarter century of service and Efrain Del Villar, the newcomer with fourteen years. Our waiter, with the unenviable task of serving his boss and two restaurant writers, was Marco with eight years at the restaurant. And we might add that he was perfect that evening.
We first became acquainted with the Pineda family when we met Nadine, his daughter who was representing Pacific Dining Car at the recent Awards Banquet of the Southern California Restaurant Writers. Nadine, personable, attractive and with a warm personality, is an assistant manger and Hostess at the Santa Monica restaurant.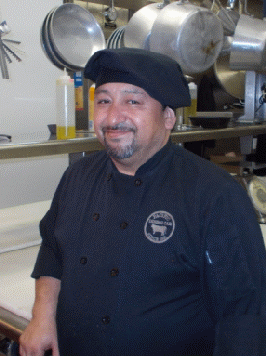 Whatever the time of day the menus at both Pacific Dining Cars are large. The dinner menu opens with a list of appetizers including two unusual items, grilled artichoke and sauteed scallops with lobster sauce. I chose the scallops in a lobster sauce, Mrs. Pineda selected the crab cakes and my dining partner the Manhattan clam chowder, which was the soup of the day.. Mr. Pineda ordered the Heirloom Tomato salad, a special at the restaurant which includes besides the heirloom tomatoes, bocconchini mozzarella, avocado, basil, green olive oil infusion and balsamic vinegar glaze.
Besides the whole listing of the prime beef that the restaurant is famous for there were enticing chicken and seafood entrees. The menu also features some unique steak dishes that the restaurant has made famous through the years including the baseball steak, cowboy steak and Filet Oscar. My dining partner chose the baseball steak which arrived with fresh asparagus. The house special Baseball steak is so popular that it also appears on the late night menu from 11 p.m. to 6 a.m. There are two sizes of prime rib on the menu and I chose the smaller of the two which I thought still most hardy. From a large variety of sides I chose the sweet potato fries. The cream horseradish sauce which accompanied my prime rib was outstanding. Mrs. Pineda had the sauteed Chilean seabass with fondant of fennel and spinach.
The night we were there the bar and lounge seemed to resonate with a club like conviviality. Everyone seemed to know each other and it was a scene seemingly keeping Bartender Edson very busy. Called the Club Car it also enjoys its own menu with items like PDC fried calamari, chicken drummettes, shrimp fra diablo and a PDC mini cheese burger.
We enjoyed two very special wines with our dinner. We started with an Italian Prosecco, extra dry from Il Ceppo. Our Bordeaux red wine was memorable, a 2010 Roc Du Manoir from a winery alongside the Gironde River. It was perfect companion to the steak and prime rib.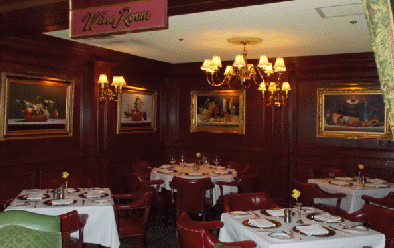 Through the years the Pacific Dining Car added a wine cellar which is continually stocked with fine vintages from both California and European wine producing countries and now has a list of over 100 labels , most from premium domestic and foreign vintners.
The same family has owned Pacific Dining Car through four generations. In downtown Los Angeles Pacific Dining Car opened in 1921 and is located at 1310 West 6th Street.
The Pacific Dining Car in Santa Monica is located at 2700 Wilshire Blvd. in Santa Monica with valet parking and open 24 hours a day, every day of the year. Telephone 310 453-4000. It is now enjoying a 25th anniversary year.
Back to Table of Contents..
Last Update:5/10/15
&copy 2015 Joe Hilbers All Rights Reserved.
Graphic Design by Impact Graphics