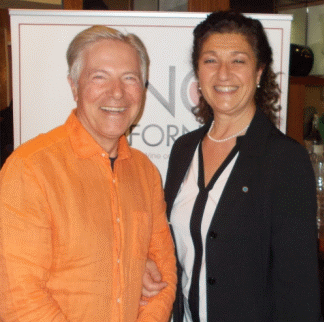 "Santa Monica--Vino California was all about the wines of Italy"
By The Editor
Once again Valentino Restaurant and the tasting of Italian wines proved to be a perfect match. Valentino is celebrating four decades as one of the Southland's premiere dining establishments.
The tasting of Italian wines was conducted with that elan that somehow is always present at affairs Italia.
Entitled Vino California, it was sponsored by the Italy-America Chamber of Commerce West and celebrated Italian wine on the west coast. The mission is to promote trade relations as well as organizing conferences and seminars. Hostess for the Chamber was executive director Letizia Miccoli while Valentino owner Piero Selvaggio greeted guests.
Representatives of fifty two Italian wineries were present at the tasting and included many of Italy's famous wines like Chianti, Valpolicella, Prosecco, Barolo, and Barbaresco.
Famous regions as well like Veneto, Lombardia, Sicilia, Calabria, Toscasna, Umbria and Puglia. Since we have family roots in the Palermo region of Sicily we had to taste a one hundred per cent Nero D'Avolia, a varietal of the area. We have fond memories of our trip to Umbria and so moved to the Cantine Neri table to taste a one hundred per cent Grechetto, one of the region's thousand year old varietals.
We stopped to chat with Giuseppe Brasa representing Bellussi Spumani and tasted Bellussi Brut Prosecco doc made from the Glera varietal. We did a photo opt with Joanie Bonfiglio Kaarapetian representing the SM Wine group and a Vino 'Del Fratelli wines. We loved the label which shows an ancient Roman coin from 46 BC that depicts two legendary brothers. So well known that today they are the Gemini Twins Constellation . And enjoyed our tasting of Fratelli Moscato D'Avola 2012.
So many Italian viticulture regions have a long historical tradition. The Marche region was settled by Benedictine monks in the 9th century and are credited with doing much to further viticulture in that part of Italy. This was all explained to us by Elisabetta Ciardullo, sales manager for Le Coreti Del Farfensi, a family winery that uses a monk on their logo. We learned that Owner Marco Cavalieri is also winemaker and has spent time in California as a consultant.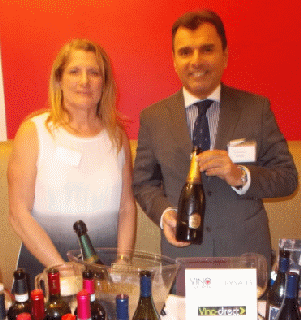 Le Marche region is located on Italy's Adriatic coast and has its own varietals like Passerina and Pecorino for white wines and Montepuilciano for reds.
We met with Valentino owner Piero Selvaggio and complemented him on the excellent buffet of Italian specialties that was presented with the wine
The Veneto region is increasingly being identified with Prosecco, the popular sparkling wines of Italy. Azienda Agricola Corvezzo Winery uses a local grape called Glera for its sparkling wines but also the Raboso varietal. We tasted both the Glera Treviso extra dry as well as a sparkler made with from the Raboso grape.
As usual this Italian tasting was an excellent learning experience.
Back to Table of Contents..
Last Update:5/25/15
&copy 2015 Joe Hilbers All Rights Reserved.
Graphic Design by Impact Graphics