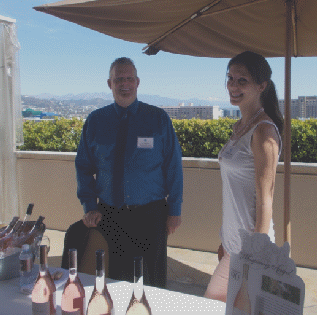 "Beverly Hills--The wines of Provence showed well at L'Ermitage tasting
On our first trip to France we knew very little about Provence or its wines. But on our third trip to that country we spent an entire week in Provence and our appreciation for that part of France bordering on the Mediterranean knew no bounds. But especially we were awed with the Rose wines produced there. On that trip we visited a few wineries and learned how its wine makers have developed the art of producing a superior rose from a number of red varietals.
When we returned home from that trip, while we were convinced on the quality of Provence wines and especially its Roses, they were generally little known and appreciated.
That was over a decade ago and now we can report that all this has changed. For recently we attended a tasting of the 'Vins de Provence' entitled "Simply Iconic" held at the L'Ermitage Beverly Hills which displayed not only the Roses but also some excellent red and white vintages as well.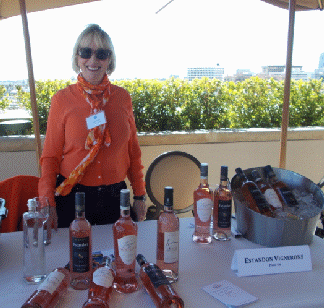 We were not alone in discovering the quality of Provence wines a decade ago. For since then Provence Rose exports have shown double digit growth in the U.S. each year. And with the growing popularity of Rose so has interest in its red and white wines continued to build.
The wines of Provence are all about blending. Nine red varietals are grown in the several appellations of Provence that extend from the shores of the Mediterranean to the foothills of the Alps. And its vintners have a choice of eight white varietals for its white wines.
We met Lawrence Gilliard of Chateau du Galoupet to learn more about some of these wines. Chateau du Galoupet produces a white, red and rose, all Cotes de Provence. One thing that impressed us is the length of time these wines enjoyed in the cellar. The du Galoupet white was from two varietals, Rolle 80 per cent and Semillon 20 per cent. It was a 2013 with almost two years of cellaring. The du Galoupet red was 2012 vintage and from vines over 35 years old, the varietals in the blend included Syrah, Grenache, and Mourvedre. It had one year in barrels and then cellar aging as well. The Chateau du Galoupet Cru Classe Rose was young and fresh and a blend of Grenache, Syrah, Cinsault, Tibouren, Rolle and Mourvedre.
At the Beverly Hills event we tasted whites, reds and roses and enjoyed talking to the vintners who made them. Roses represent over eighty per cent of Provence production each year with the reds and whites making up the rest. The Roses we tasted were mostly young wines but come in many different shades of pink. They have names as to degree of color like light pink, rose petal, coral, cotton candy and so on.
All this winemaking in Provence has gone on for awhile. Actually for 26 centuries which is when those roaming Greeks, of the ancient Mediterranean, founded a colony in Marseilles and introduced grape vines and the art of making wine.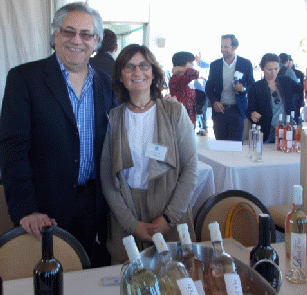 The Beverly Hills tasting also proved an opportunity for us to meet some long time acquaintances, beverage industry leaders including Mark Newman, CEO of Accolade Brands, importers of world class wines and spirits and Ron Ziff , executive director of the California Beverage Retailers Association.
Back to Table of Contents..
Last Update:3/15/15
&copy 2015 Joe Hilbers All Rights Reserved.
Graphic Design by Impact Graphics