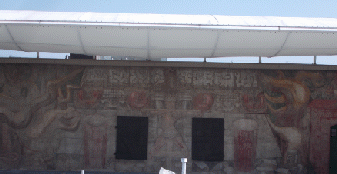 "Los Angeles--There is always something new to see on a trip downtown, like the America Tropical Mural"
by Joe Hilbers
Occasionally we visit downtown Los Angeles just to wander around and make like a tourist. Recently we did just that using Metro Link to Union Station, remembering how we first saw the station as an 18 year old soldier. We refused to count just how many years ago that was.
We walked around El Pueblo Los Angeles and then along Olivera Street and here is where we made our discovery. This was the America Tropical Interpretive Center. It was new to us although we learned later that it has been in place for three years. It tells the story of David Alfaro Siqueiros, considered one of Mexico's best artists of the last century.
The Center tells how in 1932 Siqueiros created a mural on an exterior wall on Olivera Street which he entitled "America Tropical". David Siqueiros, politically was to the far left and his activities in that direction earned him some prison time in Mexico.
The mural on the Olivera Street wall also proved to be controversial and later was whitewashed, covered and all but forgotten. Then as the whitewash peeled and parts of the mural were once more revealed The Getty Conservation Institute and the City decided to restore America Tropical for public viewing. So the Interpretive Center was established which tells the story of the mural, the artist and offers a viewing platform where the mural can once again be viewed.
To us the mural attempts to depict the coming of the white man and how it conflicted with the life of the original people to their ultimate despair and ruin. It shows an Indian peasant crucified on a cross with soldiers aiming their rifles at him, all in a jungle like setting.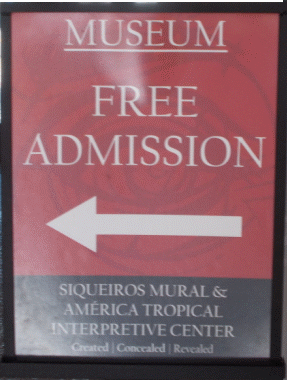 A sign on Olivera Street led us to this new Center where we spent much time chatting with the hostess and then taking photos both inside the Center, the actual mural from the second floor and learning about the life of David Alfaro Siqueiros.
A prominent sign on Olivera Street will lead you to the America Tropical Interpretive Center. Admission is free and it is open Tuesday through Sunday from 10 a.m. to 3 p.m.
More information can be found on the web at americatropical.org.
After leaving Olivera Street we walked up to North Broadway and Chinatown. We had a definite plan here which was to enjoy Chinese Dim Sum for lunch at Ocean Seafood Restaurant. And so it was with our steamed shrimp Har Gow, Park Siu Mai, Chui Chow Fun Gor and steamed BBQ Pork Buns. But don't get us started about Dim Sum.
The Plaza Firehouse dating to 1884 is also located at El Pueblo and our visit there also rates a story. Here we met Host Terrence Butcher who was about to guide a group of sub teen age boys and their Mom through the oldest Firehouse in Los Angeles and so we joined them. On one wall are photos of the first fire chiefs and nearby the classic pole for fast exit by the firemen housed on the second floor.
The first floor has equipment including a chemical engine holding water and bicarbonate of soda. This used horses for mobile power and there are four stalls for the horses that were housed there. There is a photo of 'Blackie', the last horse to be retired by the LAFD in 1921. Blackie moved to the L.A. Zoo and enjoyed a leisurely retirement for another ten years.
When the building was abandoned by LAFD in 1898 it had a colorful life as a saloon, boarding house pool room and more.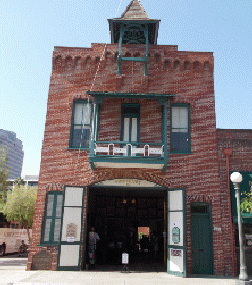 It was in `1953 the State and City combined to create El Pueblo de Los Angeles State Historical Monument of which the fire station was a part. It took considerable effort to restore the building to the fire station it once was but this was accomplished with faithful detail. It was the first building in the historic park to be restored and it was named California Historical Landmark No 730 in October 1960.
We thought Terrence Butcher did an excellent job as guide and host.
Back to Table of Contents..
Last Update:4/28/15
&copy 2015 Joe Hilbers All Rights Reserved.
Graphic Design by Impact Graphics