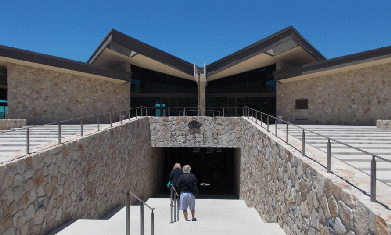 "Baja, Mexico--The history of wine, globally and at Valle de Guadalupe, is well told at Museo de La Vid y El Vino"
By The Editor
We had long wanted to visit the wine museum that has been established in Valle De Guadalupe. The architecture is most striking as a series of structures merged into one.
Inside it tells the 6,000 year history of wine globally as well as its beginnings in Baja California. The Spanish explorer Juan de Dugarte arrived in Baja in 1707. It was in 1791 that vineyards were planted and wine made by the Padres at Mission Santo Tomas de Aquino about 30 miles south of Ensenada.
The first commercial vineyards were planted in the Valley of Santo Tomas in 1849 at Rancho El Tule south of Ensenada. Other exhibits trace the history of wine from it earliest times in Egypt, then Greece and Rome and then to Europe, Italy, France and Spain.
The wine history of Valley de Guadalupe begins when the first grapes were planted in the early 20th century by Russian emigrants, and their role is covered extensively in exhibits.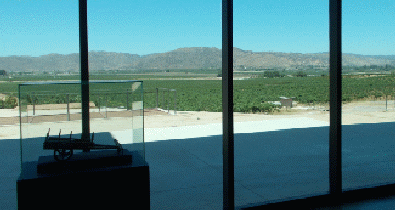 Another exhibit tells the role of Don Angelo Cetto who started planting vineyards and making wine in 1928. And started the current boom to Valley de Guadalupe with vineyards in 1967.
The climate and soil are examined as the leading roles in the development of vineyards and wine making in Guadalupe. Another exhibit describes the actual process of making wine and the role of barrels in production. Here too the role of people like the Enologe, Agronomo and Sommelier.
All writing at the museum is in Spanish so some knowledge of the language is helpful. An interpreter is sometimes available for groups if arrangements are made in advance.
Our knowledge of written Spanish is limited but we managed very well during our visit. Give yourself plenty of time to enjoy this museum. There are also art and photography exhibits as well as a tasting room. The views from museum windows stretch to extensive vineyards and the rugged mountains beyond.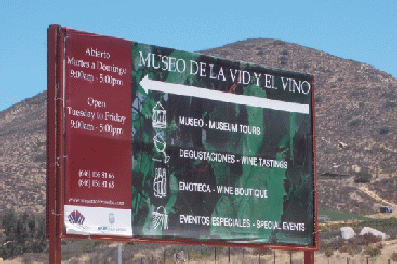 You will find a visit to Museo de la Vid y el Vino most rewarding. It is located adjacent to Highway 3, 24 kilometers east of Ensenada and with its dramatic architecture hard to miss from the highway. It is open Monday thru Friday from 9 a.m. to 5 p.m. For more information call Tel. +52 (646) 156 8166, on the web at www.museodelvinobc.com.
Back to Table of Contents..
Last Update:7/20/15
&copy 2015 Joe Hilbers All Rights Reserved.
Graphic Design by Impact Graphics