<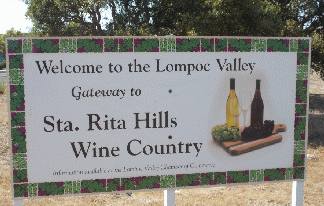 "Lompoc Valley Wine Trail--Trekking to the wine tasting rooms kept us busy"
By The Editor
We so enjoyed our afternoon visit to the Dierberg/Star Lane Tasting Room we did not want to leave. Located in the lush countryside off of Highway 246 we lounged on the patio tasting very special wines while admiring the mountain scenery in the distance. Our hostess, Megan McGinnis, who is a Sommelier, was responsible for our mood of languishing inactivity and sense of well being.
Here we tasted seven wines beginning with a 2014 Star Lane Sauvignon Blanc. Since this is one of our favorite white varietals it was an excellent opening. As we drove up to the Dierberg Winery we noticed an impressive steep hillside vineyard. The 2013 Dierberg Chardonnay we next tasted was from grapes grown on that hillside vineyard and an excellent vintage. Then two exceptional Pinot Noirs, followed by a 2010 Star Lane Cabernet Sauvignon and 2011 Star Lane Cabernet Franc. We observed to Megan, who was most knowledgeable as a sommelier, that bottlings of Cabernet Franc are quite rare. We also tasted a 2012 Syrah. These wines were all from three close by appellations--Happy Canyon, Rita Hills and Santa Maria.
Megan allowed us plenty of time to mull over each wine and was helpful in using a map to point out the location of nearby AVA's for us..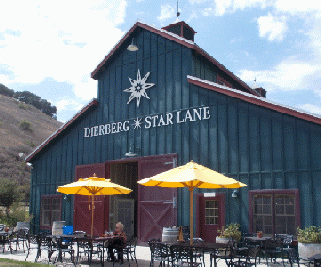 The Dierberg/Star Lane Tasting Room is located at 1280 Drum Canyon Road, Lompoc, Ca 96436. Telephone 866 652-8430. It is open daily from 11 a.m. to 5 p.m. We had a hard time leaving this relaxing atmosphere but then remembered we still had much ground to cover so it was "to rest is not to conquer" using an old mountaineers expression.
At Lompoc's Wine Ghetto we visited Flying Goat Cellars and met Kate Griffith, co- owner and wife of Norman Yost, winemaker and owner. Yost has been making wine, since he graduated from Cal Davis thirty five years ago, in California, Oregon and Australia. Flying Goat makes Pinot Noir and sparkling wines. We started with a 2014 Pinot Gris from the Santa Maria Valley, then moved to four different Pinot Noirs, the first from the YNOT label, a 2013 Pinot Noir from Santa Barbara county.
Lompoc is adjacent to three appellations, Santa Rita Hills AVA, Happy Valley AVA and Santa Maria AVA. We tasted four wines with the Flying Goat label, two from the Santa Rita Hills AVA, one a 2011 from Rancho Santa Rosa Vineyard, the second and our favorite, a 2010 Pinot Noir from Rio Vista Vineyard. Also we particularly liked the 2011 from Dierberg vineyard in Santa Maria which offered the classic earthy flavors of the Pinot Noir varietal.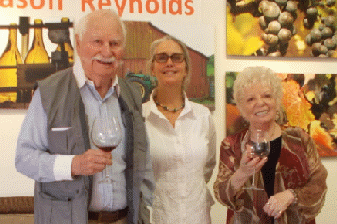 There are also four Flying Goat sparkling wines--a brut cuvee, Rose, Cremant and Blanc de Blanc. Kate Griffith can be found at the Flying Goat Tasting Room at 1520 E. Chestnut Court in Lompoc from Thursday through Monday, 11 a.m. to 4 p.m. Telephone 805 736-9032.
Last Update: 8/3/15
&copy 2015 Joe Hilbers All Rights Reserved.
Graphic Design by Impact Graphics