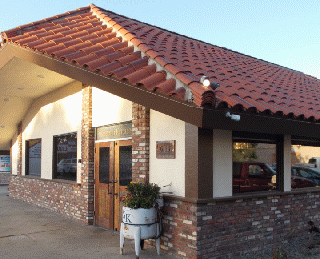 "Lompoc--We found interesting restaurants to match the exciting wines"
by The Editor
For the restaurant writer nothing is more pleasing than to enter a previously unknown restaurant and discover that here everything has been done right.
So it was when we dined at Scratch Kitchen located in Lompoc. New, it had only been open a few months at the time of our visit, but here everything had been carefully planned from decor, ambiance and cuisine. We met with Chef Owner Augusto Caudillo and learned the story of how SK-Scratch Kitchen had come to be.
When the building was being renovated the ceiling revealed a large amount of redwood timber, still in perfect condition. This timber, through careful, artistic craftsmanship became the tables for SK as well as the bar counter and back bar wine racks. Other things also show the uniqueness CK offers like the small old fashioned kitchen pans used to serve the breads and house the centerpiece on each table.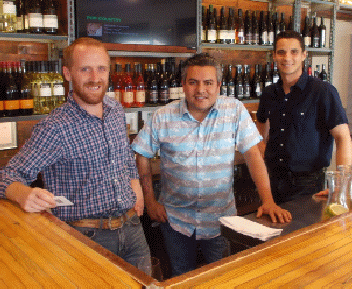 Chef Augusto calls his menu Lompoc regional cuisine and shows contemporary appetizers and entrees with fresh local veggies accompanying dishes like roast lamb ribs or top sirloin steak. The wine and beer at the bar are almost all from local producers, this especially true of their extensive wine list. Many of the vintages from the local Wine Ghetto we had just visited were here to be enjoyed. Menus are printed daily and are handed to the diner on a sheet of thin steel held on with a clothes pin. These details create an ambiance that matches the past with the present. Scratch Kitchen is located at 610 North H Street and open Tuesday through Sunday, closed Monday. From Tuesday to Saturday lunch from 11 a.m. to 3 p.m., dinner 5 p.m. to 10 p.m.. On Sunday there is Brunch from 10 a.m. to 2 p.m., then dinner from 5 p.m. to 10 p.m. Telephone 805 819-0829, web www.scratchkitchen.com.
Our dining adventures continued with a visit one evening to D'Vine Wine Bar & Bistro located in the heart of old town Lompoc. We immediately felt the comfort of D'Vine with its home town atmosphere and ambiance. Oliver Ludden was our host and we chatted with Chef Brad Crawford. Both are Lompoc born and raised and have been friends since high school.
The list of wines and brews is extensive and feature as many local brands as possible. There is live entertainment on Saturday evening and again the talent is local. The bar regularly features both full bottles of wine and some twenty labels by the glass and these change often.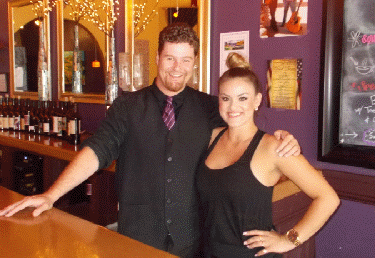 The menu suits a Bistro with appetizers like grilled artichoke and Asian lettuce wrap, a soup of the day and a Panini of the day.. Also several pizzas and a pasta of the day. Prices are modest and the quality excellent. My partner and I had a great "Santa Rita Hills" Pizza with Italian sausage as well as a pesto pasta. So much food we had to decline some tempting desserts.
D'Vine Wine Bar & Bistro is located at 107 West Ocean Avenue in downtown Lompoc with off street free parking. It is open Tuesday through Saturday, closed Sunday and Monday. Hours are Tuesday, Wednesday, Thursday 5 p.m. to 10 p.m.; Friday and Saturday 5 p.m. to 11 p.m. Telephone 805 430-8356, web wwwdivewinebarandbistro.com.
Some restaurants achieve a legend and reputation all their own and Sissy's Uptown Cafe in Lompoc is an excellent example. It is an operation of the Springer Family of more than one generation including Dave, Dorothy, Jon, Alejandra, Janan and Steve.
We had learned about Sissy's famous Coconut Cream Pie before we ever saw the restaurant. So when we did get there for lunch one day the first thing I ordered was the coconut cream pie. With that order and reading through two whole pages of cold and grilled sandwiches I chose a one half turkey and Swiss cheese sandwich and declined the soup or salad that came with it. I was saving my appetite for the pie and it was the right decision.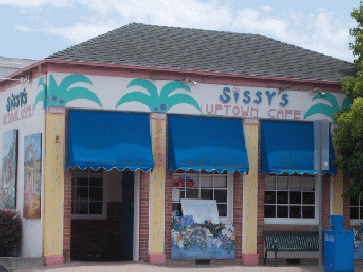 Sissy's is a large operation with two dining rooms as well as retail wine and gift shop with a stock of over 300 wines, most of local AVA origin. In the restaurant over fifteen wines are available by the glass, again most from local vintners.
Sissy's is located at 112 South I Street in Lompoc and open for lunch and dinner Monday thru Saturday, closed Sundays. Lunch from 11 a.m. to 2:30 p.m., dinner 5 p.m. to 8:30 p.m. Telephone 805 735-4877.
Back to Table of Contents..
Last Update:8/6/15
&copy 2015 Joe Hilbers All Rights Reserved.
Graphic Design by Impact Graphics