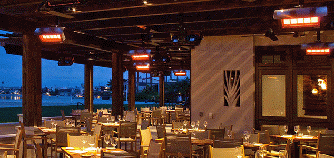 "San Diego--Mission Bay's beach scene offered a variety of culinary experiences"
By The Editor
Our dining experiences on the beach in San Diego were at restaurants we had not visited before and so provided both culinary delight and exploratory interest. Since we were staying at Catamaran Resort Hotel we, of course, experienced both the Oceana Kitchen dining room and the more informal Moray's with its bar and lounge.
The Oceana Kitchen dining room is large, contemporary in decor and ambiance and open to views of Mission Bay. The outside dining area is spacious and very popular at all times of day and night. We liked the graphics and design of the menu which had names like Start, Flatbread, Cold Bar, Sushi and Plates, this last the list of entrees evenly balanced between seafood, Poultry and meat.
My dining partner and I chose seafood both for openings and our main course. She had the Chipotle Shrimp cocktail which came with a radish salad rather than traditional cocktail sauce. I chose the Shrimp Ceviche which included lime marinade, cherry tomatoes and pineapple salsa. Both were original, offered excellent presentation and with an array of flavors. My entree was wild king salmon with sticky rice, my partner the white seabass on a bed of farro, kale, beets and orange.
First we met Manager Patrick Murray who shows a hands on caring approach in making families, many with small children, welcome and with seating for their personal needs. We complemented him on the attentive, efficient and friendly manner of the service staff.
Then we had a chat with Chef de Cuisine Nathan Pell who has twenty years experience despite his youthful appearance. He described the menu as California contemporary and we told him how much we admired the originality displayed in menu choices. All items on the menu are labeled V for vegetarian, VN for Vegan and G for gluten free when appropriate.
For patio and outdoor dining, the bar and lounge there is Moray's which offers lighter fare for any time of day or evening. Fish tacos and flat breads head the list of appetizers. There is sushi and a cold bar dominated with seafood and burgers.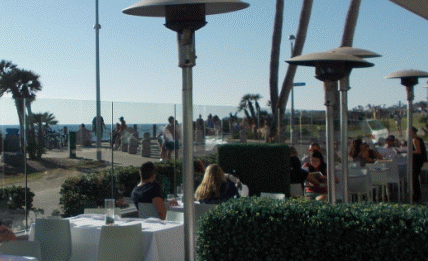 For a seaside restaurant we thought the ambiance and decor of JRDN spectacular. This restaurant, adjacent to the Ocean Boardwalk, offered wonderful views of the ocean and inside a comfortable contemporary decor. Both decor and cuisine made the statement that this is a twenty first century restaurant.
The restaurant is spacious with patio seating adjacent to the Boardwalk and inside a lavish bar and lounge with tables for casual snacks. Then, in an adjacent room, inside dining offering those views of ocean and passersby on the boardwalk.
Jon Stephans, Food & Beverage manager, greeted us and told us something of the history of JRDN, now ten years old. Juan Perez, Director of Food and Beverage, also met with us and outlined the large list of featured wines, craft beers and spirits featured at the restaurant and bar. Describing the California Pacific Rim styled menu and cuisine at the restaurant with us was Sous Chef Brandi Reynolds. We thought her both personable and most knowledgeable and she made our selections from the menu more adventurous.
I opened with a bowl of French onion soup that came in a unique contemporary piece of dinnerware. My dining partner chose the Foie Gras for openers. Then we both chose the deep sea scallops which were served over a kernel corn, beet bed mixed with porta bella mushrooms. The plates, for every course including dessert, were large and most modern in design. Our desserts were Panetta and an original strawberry shortcake, both served on huge flat plates for impressive presentation.
Lunch and dinner are served daily as well as a weekend brunch. The menu is carefully designed for both steak and seafood and sides offering hints of the Pan Pacific styling.
JRDN is located in the Tower 23 Hotel at 4551 Ocean Blvd., Pacific Beach 92109. Telephone 858 270-5736, web www.JRDN.com.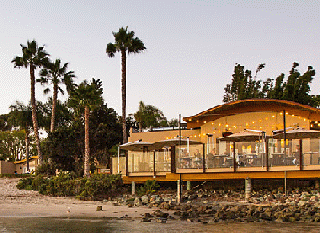 On the map Paradise Point Resort shows as a peninsula surrounded on three sides by Mission Bay. On arrival at the Resort one finds a secluded sanctuary with individual cottages tucked into a wooded wonderland.
We were there to have dinner at the Tidal restaurant. We had learned that Tidal had recently received a complete renovation and now displayed a contemporary decor and ambiance. The restaurant offers a complete bar and lounge, inside dining room and also an extensive patio and deck for cocktails and dining, all offering views of adjacent Mission Bay. We were fortunate to have as our waiter Brent Worley who has been at Tidal fourteen years. He offered us much information about the restaurant and building which was originally a 1960s beach house.
Amy DiBiase, Executive Chef and General Manager, came by to meet with us and we learned about her European background and cuisine which shows Mediterranean influences in some of the appetizers and entrees. On the menu one finds appetizers like Venus Clams and Mediterranean mussels. There are shared plates and my partner and I selected the bay scallop and shrimp cocktail which came with seasonal fruit, jicama, cucumber, Thai basil and taro. It was presented on a long rectangular bowl and most generous portions for two.
The menu is a good balance of meat and seafood with original names like seafood stew with pasta, half chicken confit or wood roasted beef rib eye. There were many tempting and unusual entrees that we would have loved to have tried including chili-kumquarglazed pork cheek, or seared albacore with confit artichoke, bloomsdale spinich and fingerling potato or wood roasted whole fish mkt with braised rapini and roasted garlic, citrus, herb butter.
We both selected the olive oil poached halibut, perfectly presented with Brandade cake, asparagus and whole grain mustard creme fraiche. It proved to be a memorable plate of food and truly displayed Chef Amy DiBiase's talents.
The Paradise Point Resort with Tidal Restaurant is located at 1404 Vacation Road in San Diego 92109. Telephone 858 490-6363, web www.tidalsd.com.
Back to Table of Contents..
Last Update:/20/2015
&copy 2015 Joe Hilbers All Rights Reserved.
Graphic Design by Impact Graphics