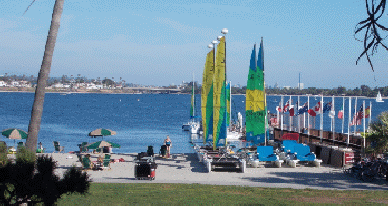 San Diego --Its Beach Scene offers many options for activity and relaxation
.. By Joe Hilbers
We thought that time worn Tee Shirt message "Life is a Beach" deserved further investigation. To this end we needed to select a location for our research. What better place than San Diego with its Pacific Beach, miles long boardwalk and Mission Bay Park, all 4,600 acres of it. And we knew exactly the correct location where this research should be conducted.
It was Catamaran Resort Hotel & Spa and the minute we had checked in we knew we had reached the right decision. Here tucked away in a serene decor of tropical foliage, fish ponds, and wandering aquatic birds Catamaran moves one to a different world. Adjacent to Mission Bay it enjoys a wide sweep of beach and takes full advantage of San Diego's blissful climate as well as its easy access to the Bay's other parks and activities.
Catamaran Resort is geared for the family vacation, short getaway or outing and there are many children about, older folk mostly part of a family group. For us all these children about was a rather gleeful and satisfying experience since we were not involved, smugly thinking "been there, done that, now its their turn". We did observe how well the hotel service staff accommodated what was sometimes a rather hectic family scene.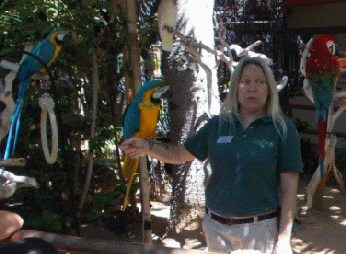 At Catamaran's beach there is a pier where watercraft of all shapes and sizes are available for rental. Everything from paddle boards, kayaks, canoes, peddle and electric powered catamarans and sail boats. On the beach, chairs and umbrellas for those content to sun bathe or watch the constant stream of walkers, joggers, skateboarders and bikers. In the evening the opportunity to cruise Mission Bay aboard the Bahia Belle, a replica of the classic river steam boat with three decks complete with bar, refreshments, music and plain loafing. We enjoyed our cruise one evening watching as boats and paddle boarders moved toward shore, the night rapidly approaching and the complete stillness of the water.
Our room on the second floor was complete with king size bed, all amenities and a balcony for lounging and viewing all the activities described above. It was perfect for watching how the Bay changed through the hours of day and night. It also had flawless WiFi, important for us since we had our notepad along for work sessions.
Each afternoon at the Catamaran Resort Jackie Kohlman and her five exotic birds perform a show that has adults laughing and children transfixed. Describe this performance as colorful for the feathering of the birds is dazzling. Jackie's performers are Bianchi, a Macaw; Chadwick, a cockatoo, Cornell, a South American Macaw: Scooter from Mexico and Mercer. These birds enjoy longevity and Mercer is the oldest, born in 1988, Bianchi, 1990; the youngest Cornell born in 2004. Interestingly all were born in the U.S., most at San Diego Zoo. We met with Jackie after the show to tell her how much we had enjoyed the performance and to learn more about the birds. She and the five birds have been together for twelve years.
One evening there was a luau held on the fronting beach with a buffet and entertainment for over one hundred people. Other evenings an outdoor theater screen is set up and free movies shown for people sitting on beach chairs.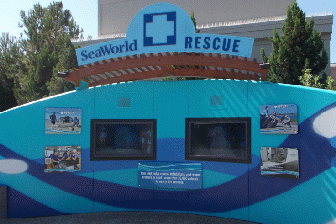 Another joy of Catamaran Resort Hotel is its close location to other parks and places of interest on Mission Bay. Only a few minutes were required to take us to other points of interest.
On the map given to us at SeaWorld in San Diego we counted thirty eight attractions to amuse the thousands of visitors each day. One small exhibit received scant or no attention at all on the day of our visit. It is small and unassuming entitled SeaWorld Rescue. But this led us to learn about this most worthy enterprise.
We met Kevin Robinson, Senior Animal Care Specialist, who is one of a staff of ten talented people that carry out the rescue and care of hundreds of sea animals and birds each year.
Kevin has been doing this at Sea World for thirty eight years. As our guide he showed us the new Critical Care Unit where seals and other sea mammals are brought once they have been discovered lying incapacitated on some beach. At the Care Unit the animal is evaluated and the type of treatment and recuperation prescribed. On an average year over one hundred seals, sea lions and dolphins are cared for each year with a success rate that averages seventy per cent.
This year sea lion pups off the California coast faced disaster when their normal sources of food moved into deeper waters further from the coast. The result was they came ashore weak with malnutrition. Over one thousand of these distressed pups reached Sea World for care creating a crisis for the regular staff. The result was sixty more people were hired for their care.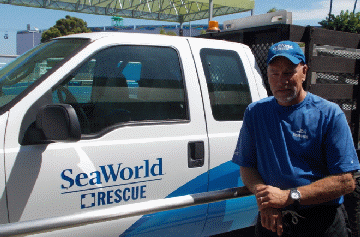 Harm can come to seals and sea lions both through natural and human related causes. Kevin showed us a large selection of fish hooks, lures and spinners that have been swallowed by seals. Occasionally the harm from a person has been intentional. Another hazard for seals is becoming tangled in fishing line which over time can create health effects.
Over a span of fifty one years some 25,000 animals and birds have been restored, rehabilitated and returned to their natural world. This SeaWorld Rescue operation is completely financed from regular attendance revenue. More about the rescue program can be learned on the web at www.seaworldcares.com.
Belmont Park in Mission Beach is just what you expect to find in a beach community, an amusement park. There are the rides, historic Giant Dipper roller coaster currently celebrating its 90th year, the carousel and new attractions like the wave machine and climbing wall.
There are also good things to eat like frozen bananas or cotton candy or hot dog on a stick. For children its all new and exciting, for older folk a look back to their own first amusement park experiences.
Only one block from the beach and Pacific Ocean Belmont offers a great place for a family outing. There are stores to buy beach attire and rentals of surf and body boards, bicycles and umbrellas.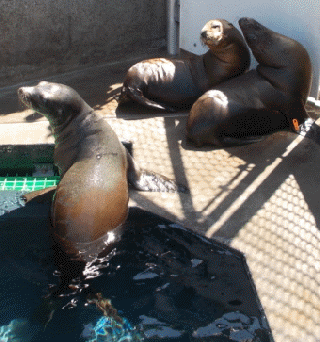 Admission and parking at Belmont Park is free, tickets are sold for the rides. Belmont Park is located at 3105 Mission Blvd. in San Diego 92109. Telephone 858 228-9283, web www.belmontpark.com.
Adjacent to Belmont Park we had a most enjoyable lunch seated on the second level of Cannonball Restaurant with a huge swath of beach and ocean before us.
At street level one sits only a few feet from the Boardwalk passersby. On the second level a more aloof serene view of the busy beach scene. Both levels have their own cocktail bar, lounge and kitchen. We liked the imagative menu featuring items like yellowtail tartare, ahipoke, shrimp agua chile ceviche, fried chicken bao buns, as well as sushi and assortment of rolls. We were impressed with the friendly efficient staff members we met there.
My partner and I, in a less imagative mood, both chose the Cannonball burger and was delighted with our choice.
An all glass elevator takes one to the second level. Besides bar, counter and umbrella tables there are informal gathering areas with fire rings for friendly group togetherness.
Cannonball is located at 3105 Ocean Front Walk, with a second fine dining room a few doors further down the boardwalk. Telephone 858 228-9304.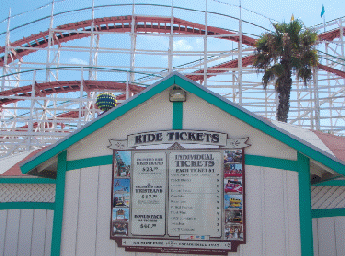 Back to Table of Contents..

Last Update:8/20/15
&copy 2015 Joe Hilbers All Rights Reserved.
Graphic Design by Impact Graphics