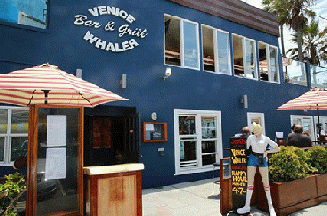 "Venice--A reborn Venice Whaler merges the old with much that is new"
.. By Ronnie Greenberg
The little seaside shack where Washington Boulevard hits the beach in Venice, has been serving local surfers, sunburned tourists, celebrities and whomever else happened to wander in for the last 70 years. When the Venice Whaler first opened in 1944 it was the single-story Crab Seashell Bar. It became a popular hangout in the '60s and '70s, when music legends including the Beach Boys, the Doors and the Beatles came by nightly.
Now with a new Owner, General Manager, Chef de Cuisine, Bar Manager and new dining and cocktail menus, the venerable watering hole is entering a new generation of cool! offering delicious upscale bar food in a casual laid-back environment just steps from the ocean.
New owner Michael Dobson (who is also behind Ma'Kai in Santa Monica and the Red O chain), has brought back the place with an eye toward luring back the locals as well as welcoming new visitors." It's the same old Whaler that everyone loves," says General Manager TJ Williams, "just cleaned up, with better food and better drinks."
After a thorough kitchen renovation, Executive Chef Nick Liberato refocused his new menu on fresh, seasonal produce and ingredients made from scratch."I'm going to the Farmers Market four times a week, but we are not doing anything pretentious here," he says. "We're calling it upscale dive-bar food'."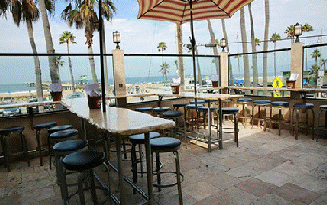 An avid surfer, Liberato describes his Venice Whaler food philosophy as "everything I have embraced as a surfer and chef all over the world condensed into one menu. It's American cuisine with a lot of global influence. That includes a traditional Vietnamese Banh Mi topped with short ribs that cook for eight hours and then fall-apart into perfection; as well as a house-made-flour tortilla Taco Bar where you can get your choice of seafood (grilled or crispy cod, and shrimp), and grilled chicken or chicharron.
The new Venice Whaler menu embraces both bar food and beach food, serving up a bacon-wrapped Spicy Street Dog with chili; and the Whaler Burger alongside Tuna Poke with macadamias and microgreens; and a Shrimp Roll on a brioche roll from local bakery Rustico. Liberato is especially proud of his Clam & Corn Chowder, which is packed with shellfish and huge chucks of bacon and comes in an enormous bowl paired with a grilled sourdough bread. The Westside Salmon which is smoked on a cedar plank along with Kalamata olives, lemon and mixed greens; is paired well with the Grilled Husk of Corn on the Cob with cotija cheese, lime and sesame seed butter, lending itself to a beachside BBQ of smoky goodness. The Eat Your Veggies section of the menu, which offers lighter and healthier dishes including the Grilled Husk of Corn, also includes Roasted Beets with blood orange and pistachio; Asparagus & Burrata, with olive oil and lemon; and an unexpected popular Crispy Brussel Sprouts with pickled Fresno chiles, capers and roasted grapes. The menu will change three to four times a year to reflect what's in season, and Liberato also added a selection of pizza, including the Calidelphia, a nod to Liberato's East Coast and Italian roots, that's topped with clams, Serrano chiles, San Marzano tomatoes and oregano. Another mouthwatering pie is Liberato's Sausage & Slab Bacon topped with Egg. with Castelvetrano olives and mozzarella
Bar director Anthony Settecase who is in charge of the liquor side of the beach bar is the man behind the fresh, tasty, beach-friendly and accessible drinks. He created an amazing list of craft cocktails and artisanal spirits for the new downstairs Crab Shell Bar, and revamped the wimpler "Beach Booze" menu in the upstairs Whaler Bar. Tops on the list are the Moscow Whale, a twist on the classic that can be made with vodka or bourbon along with ginger-citrus syrup and Angostura Bitters in addition to the ginger beach. Other beachy favorites include a traditional Mai Tai, a Mojito, two different hand-crafted Margaritas and a Bloody Mary garnished with a crab claw, in reference to the Original Crab Shell, as well as 14 beets on draft, eight of which hail from California.
For On-The-Go and On-The-Beach Dining you can take away your favorites and more from The Venice Whaler Take Away, the actual window that has been part of the space since the original opening. Starting at 7 a.m. enjoy a Breakfast Sandwich, the Surfers Burrito and some lighter options like the Acai Bowl with fresh sliced banana, local strawberries, house-made granola and a drizzle of honey.
Venice Whaler Hours of Operation are: Monday through Friday: 11 a.m. to 2 a.m. (kitchen switches from the Full Dining Menu to a small Late Night Menu at 10:30 p.m. The Late Night Menu runs until 1 a.m.) Saturday and Sunday 9 a.m. to 2 a.m. (both kitchen and bar stop serving at 1:30 a.m.) Brunch is offered on Saturday's and Sundays, From 9 a.m. to 3 p.m.
The Venice Whaler is located at 10 West Washington Boulevard in Venice. Phone (310) 821-8737 or www.venicewhaler.com
Back to Table of Contents..

Last Update:6/30/15
&copy 2015 Joe Hilbers All Rights Reserved.
Graphic Design by Impact Graphics