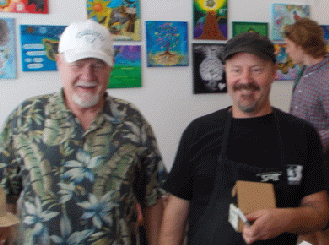 Claremont--The Village has much to offer the visitor
.. By Joe Hilbers
Claremont enjoys unique status since it is known as a college town and home to nine colleges and universities. Its attractions include an outstanding location since it lies at the foothills. of the San Gabriel Range
We were there recently to take part in the city's Restaurant Week where 21 restaurants used the occasion to offer special luncheons and dinners to showcase their Chefs seasonal specialties and local favorite dishes.
One evening we took part in a preview of the upcoming Restaurant Week which took place at the Double Tree Hilton Hotel with most of the City's restaurants showcasing samples of the food they would be featuring during the July 10-19 period.
Most of these restaurants are located at Claremont Village which has been part of the City's hub since its founding. Claremont truly began to flourish with the arrival of the Santa Fe Railroad in 1887. Today the tree lined Village is home to over one hundred and fifty businesses including some restaurants we were there to explore. Better to say that we munched our way through the Village.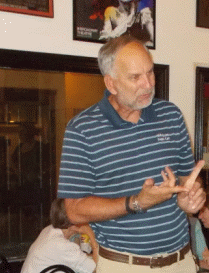 First stop was Some Crust Bakery, in place since 1916 and will celebrate its centennial next year. We met with Larry Feemster and his son Scott, owners of the family business. The Bakery is housed in quarters built in 1889 and open seven days a week with some 38 employes.
Being a college town since its beginnings Claremont has streets named for Ivy colleges like Yale and Harvard. Some Crust is located at 119 Yale Street. Also located on Yale Street is 42nd Street Bagel Cafe. With Fred Zitar as Proprietor here one finds an amazing assortment of twenty two different Bagels with twelve kinds of whipped cream cheeses. Breakfast is served all day and to go with the food there are nineteen expresso bar and specialty drinks.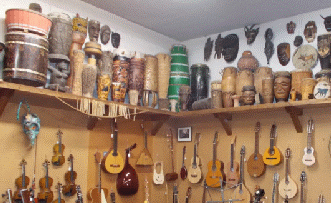 After sampling the products of both Some Crust Bakery and 42nd Street Bagel we needed a foody timeout and so moved into the Folk Music Center. What Owner Ellen Harper had to show us was a wonder. Here there is a collection of musical instruments of every type and variety, some dating back to an earlier time. One whole wall is covered with string guitars of very shape and size. It is located at 220 Yale Avenue and open six days a week, closed Monday. For more information on what the Folk Music Center has to offer check the web at www.folkmusiccenter.com.
Next we moved over to 119 Harvard Avenue for a sampling at the Last Drop Cafe with Owner Mike Manning as host. Here we tasted some of Mike's sandwiches and especially the cookies, this Writer tasted a good many of his chocolate cookies. Last Drop also offers vegan and gluten free options for those that want to watch their diet.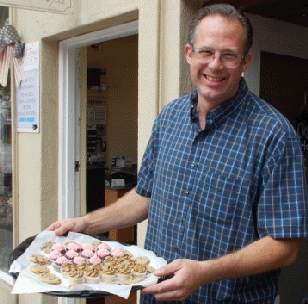 Indian Hill Blvd. divides two sections of Claremont Village, on one side the stately older section and on the other a newer section including the building of the Hotel Casa 425. Located at 425 W. First Street the Hotel offers twenty eight guest rooms, with a California Mission architecture that blends in perfectly with tranquil Claremont Village. The Hotel Casa enjoys the unique status of being considered the only sophisticated boutique hotel in the Inland Empire.
Also in this newer section on First Street the Parking House is located. The Packing House is one of the City's historic buildings. Build in 1922 for shipping local produce it has been converted and renovated to include shops, galleries, restaurants and some live-work lofts.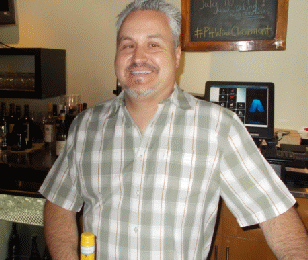 Here we found Packing House Wines which enjoys a nation wide reputation since its opening eight years ago. Owner is Sal Medina who left a career as an educator to become owner of this wine shop and restaurant. Here we enjoyed a wine tasting with Sal explaining each vintage to us. The wines included Sparkling Brut Cava from Spain, a classic Soave from Italy, a Willamette Valley Oregon Pinot Noir and a memorable California Zinfandel.
An inventory of wines from almost all the wine producing countries can be found at The Packing House. Also many vintages are listed with the ratings of "The Wine Spectator" magazine. The contemporary style menu at the Packing House is under the directrion of Executive Chef Noah Lutz.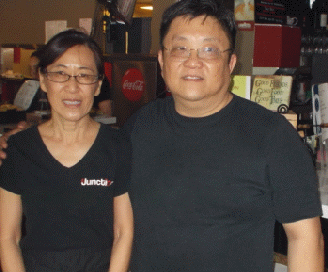 Our luncheon at The Junction was a very special experience. The cuisine here is a fusion of Korean and California with a large selection of contemporary appetizers and entrees. Our group of Writers were offered a grand selection of menu items opening with unique home marinated olives followed with stuffed dates and then an original scallop carpaccio. Next to arrive were escargot with a ginger butter sauce. Then there was a watermelon salad and soft shell crab tacos. Still to come were huge prawns and rosemary infused baby lamb chops.
This feast was presented to us by Owner Johan Lieuw and his lovely wife, Chi. The Junction offers a large, well selected menu with many choices as well as a bar and lounge. It is open seven days a week at 1 N. Indian Hill Blvd., in Claremont. Telephone 909 626-5100, on the web at www.thejunction.us.
Johnan Lieuw is also owner of the Red Hot Kitchen in Loma Linda.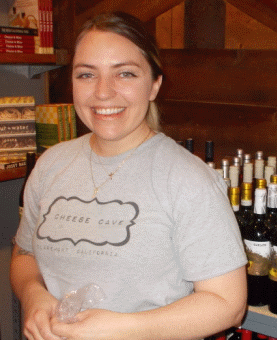 Bt this time we had developed real affection for Claremont Village and especially the people we met. We enjoyed chatting with Marnie Clarke who operates the unique "Cheese Cave", located at 325 Yale avenue with its large selection of cheeses fromf many regions.
We were most interested in what co-owner Kim Peeples had to tell us about the Vom Fass store and its unique concept. Here there is an inventory of hard to find olive oils, spices and a selection of American bourbons, Scotch whisky. and other aged spirits. This was all new to us. Vom Fass is located at 1091 N Indian Hill Blvd. For more information call 909 399-0256, on the web at vonfassclaremont.com.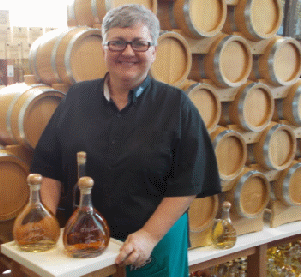 Still on the munching circuit we had to stop by at the I Love P:ie Bake shop and yes to enjoy a tasty berry pie. This is located at 175 North Indian Hill Blvd.
To say we found a lot to like in Claremont is an understatement. But how can one not like a city that has no parking meters.
Back to Table of Contents..

Last Update:7/10/5
&copy 2015 Joe Hilbers All Rights Reserved.
Graphic Design by Impact Graphics