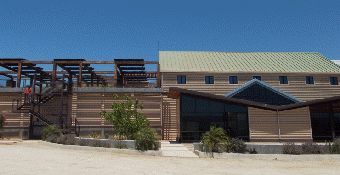 "Baja, Mexico--Valle de Guadalupe offers visitors great wines and scenery"
by The Editor
What does not change in Baja California's Valle De Guadalupe is its physical beauty. Flanked on both sides by scenic bold mountains and ridge lines it is now carpeted with vineyards and olive groves. However changes in other ways are occurring rapidly. On each of our visits we see new vineyards and wineries as well as much other development. Valle de Guadalupe is truly Mexico's premiere wine country and the quality of its wines are receiving every increasing attention world wide. On our most recent visit the first day we visited two new wineries.
First it was Finca La Carrodilla where we were greeted by Fernando Perez Castro, son of the owning family. We were told that the name was chosen by Fernando's mother for an Argentina mystical saint. Developed in a stunning architectural style the winery uses gravity to full extent with the crushing taking place on the top level, then on other levels fermentation and finally aging and bottling.
In a grand, courtly conference room dominated by a stunning chandelier we tasted some of the wines. We were impressed with the 2012 Carrodilla 2012 Cabernet Sauvignon produced from eighteen year old vines and with a year in American oak. The winery used traditional Bordeaux bottles which further enhanced this excellent vintage. This winery uses different labels for different vintages. Canto de Lana was a 2014 blend of Cabernet Sauvignon, Tempranillo and Shiraz. Sicitur ab Astra, a 2011 blend of Merlot, Cabernet Sauvignon and Cabernet Franc.
The first wine we tasted was a 2012 Chenin Blanc. It was one of only a few white wines we actually tasted on this visit and we noted the partiality all the wineries have for the red varietals. The winery is surrounded with vineyards but also scenic gardens and a large area of vegetable cultivation. Guiding us through this area was Agronomist Jimena Rabago.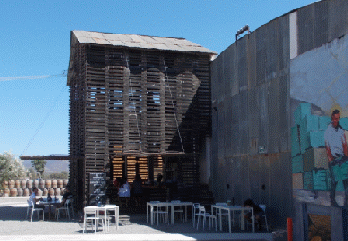 Our visit to Cooperativa was a fascinating experience and would be a joy to anyone who believes and admires recycling. Here one is greeted by a tower created solely of barrel staves. Then there is a building made of wine bottles, one created from old bed springs, followed by one created solely of short scraps of wood, cuttings left from other projects. Owner and Oenologist Hugo D'Actosa. We toured the facility with Enologist Thomas Egli who explained both the production of wine and olive oil.
The first wine we tasted was Hemisferio Tinto, a 2011 blend of Merlot and Petite Sirah. Another red was 5C, a 2009 blend of five varietals, Merlot, Tempranillo, Cabernet Sauvignon, Grenache and Cinsault. This winery includes four hundred acres including vineyards growing fourteen varietals.
Clos de Tres Cantos Winery was our last visit of this day. We were greeted by Owners Joaquin Maya Cusi and Maria Benitez Cantarera. Again this is a new winery with an original, creative architecture made up of a cluster of stone pyramids. Lighting for the stone pyramids includes using wine bottles stacked as windows and skylights. The effect when sunlight strikes the glass is a dazzling display of multiply colors.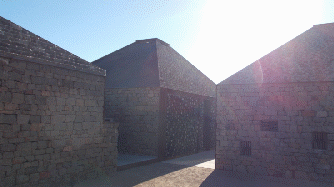 Joaquin and Maria led us through some of the buildings which recede to below ground level and contain the wine making equipment as well as storage for the barrels. Adjacent is a well conceived tasting room offering views to the distant mountains. Here we tasted some most interesting vintages accompanied by a delicious array of appetizers. Currently Clos de Tres Cantos is making wines under labels called Resilencia, Noesis, Duda and Nada. The wines are mostly blends and we started with Clos de Tres Cantos Duda 2013 made with Carignane and Mourvedre, then Tu Misma 2013, a blend of Carignane, Grenache and Mourvedre. Outstanding was Clos de Tres Cantos Rancho Santa Lucia Cabernet Sauvignon.
We did not leave Clos de Tres Cantos before thanking Joaquin and Maria for being such wonderful hosts to our group of writers.
Another day we visited Vina de Liceaga Winery and met Owner Myrna Liceaga. This is one of the showplace wine facilities that are now filling the Valley. Located closer to the coast and Ensenada it has its own valley called San Antonio De Las Minas.
The tasting room is picturesque and extensive extending to a spacious patio as well. Again the wines we tasted here were mostly blends.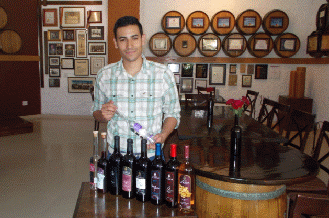 Pouring the wines for us was Is-Boset Acfosta Flores. We started with a Rose called Rosa de Liceaga which was a light wine made with Grenache, Merlot and Syrah grapes. S de Liceaga was a 3013 red wine with 8o per cent Merlot and 20 per cent Cabernet Sauvignon. We gave high points to Melvin, a one hundred per cent Cabernet Sauvignon and very true to the varietal. It is named for one of the Owner's sons. 43/60 was a 2012 blend of Cabernet Sauvignon, Merlot and Syrah.
Vina de Liceaga has eighteen acres of vineyards and thanks to the terroir of Guadalupe Valley a large number of varietals flourish there.
Our visit to Cuatro Cuatros Winery was practically a scenic tour of the region. It is located very close to the Coast and one vineyard actually faces the Pacific Ocean far below. Our hosts were Andres and Martina Blanco who only recently acquired the property and winery. The first vines were planted here in 2006 and also includes some of the few truly hillside plantings in the Valley. Cuatro Cuatros has twenty acres of vineyards.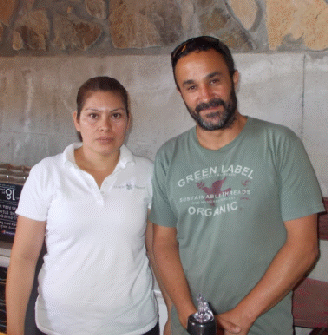 The property includes a hotel and restaurant including a mountain top, open air bar and restaurant. We drove to this hilltop with its spectacular view that sweeps a large part of the Pacific Ocean and coast far below. The hotel has a unique camp style village with tents that include all the amenities of a modern hotel room. The wines we tasted included a Sauvignon Blanc, from a hillside vineyard, which included some time in oak and excellent in both aroma and fruit flavors.
The trip to Valle de Guadalupe is a delight in itself, with a route from Tijuana on Toll Highway l-D. The highway offers excellent views of the Coronado Islands and then rises high into steeply sloping coastal mountains with breathtaking views of a rocky coast reminiscent of Big Sur. At El Sauzai, a suburb of Ensenada there is a junction with Highway 3 east, the road to Tecate and also the gateway to Valle de Guadalupe.
An unusual micro climate has made Valle de Guadalupe Mexico's premier wine country. The valley lies at l,000 foot elevation just l3 miles from the north Baja coastline. An oceanic condition called upwelling keeps the coast between Tijuana and Ensenada unusually cool throughout the summer. The same oceanic condition is responsible for Ventura's and Oceanside's cool summer temperatures north of the border. While summer temperatures may reach l00 degrees in the valley, cool moist marine air arrives on schedule every evening. Some growers use the olive trees as wind breaks for vineyards and produce olives and oil as well.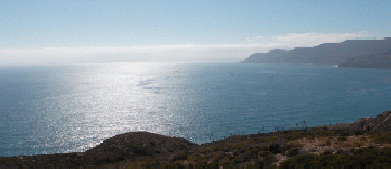 Back to Table of Contents..
Last Update:7/20/15
&copy 2015 Joe Hilbers All Rights Reserved.
Graphic Design by Impact Graphics