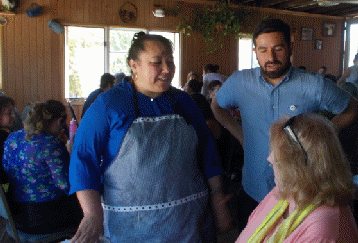 "Baja"s Valle de Guadalupe--Our culinary experiences also proved to be adventurous"
By The Editor
As we moved through Baja California and the Valle De Guadalupe we experienced a good many interesting culinary experiences. We visited La Cocina de Dona Esthela which enjoys an extensive reputation for a specialty called Borrego Tatermado. We tasted this breakfast dish as well as Borrego en su Jugo and Machasa con Huevo. We were surprised on how busy and popular Dona Esthela's restaurant was since it is located in a rural area and some distance from the main highways. Here you can have breakfast at any time of day and watch the tortillas being made before your eyes. It is open daily from 8 a.m. to 6 p.m., located at Junto a Hacienda La Lomita, La Ruta del Vino, BC, Telephone 646 156-8453.
We enjoyed some classic Baja fare at La Cooperrativa where the winery and barrel stave tower is located. Here the menu is "ensalada del dia quesos de la region burritos y paninis entraditas". With this we were served the winery's Estacion Porvenir 2014 vino blanco followed by 5E, a 2009 blend of Merlot, Cabernet Sauvignon Tempranillio, Grenache and Cinsault.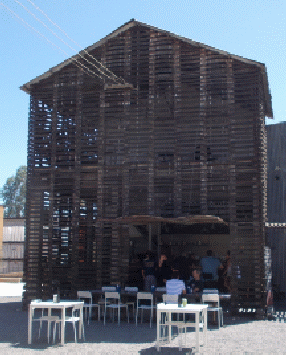 One morning we enjoyed breakfast in downtown Ensenada at El Rey Sol. This restaurant has a long standing reputation. Capitan de Meseros Juan A. Carrizales seated us on the outdoor patio so we could enjoy Ensenada's busy street scene. The rolls here are freshly baked and delicious and the breakfast foods including both traditional and local Mexican. El Rey Sol Restaurant is located at Av. Loez Mateos #1000, Zona Centro Ensenada,BC, Telephone 178-1405.
En route back to Tijuana on scenic Route 10 we stopped at a famous restaurant and watering hole fronting on the ocean. It was La Fonda Hotel Bar Restaurant and here our group had be refreshed by one of its famous Margaritas. However this Writer has long enjoyed a tradition of drinking a Pina Colada on every trip to Mexico and so it was again.
In Tijuana we enjoyed dinner at the Food Garden Market and met Owner Ricardo Nevarez. This showplace establishment includes eleven booths offering a large variety of foods, some Mexican classics, others traditional and ethnic. One booth featured Italian fare and here we chose the Pesto pasta and pizza. Another seven booths offer pastries, chocolates, honey, jams and liqueurs.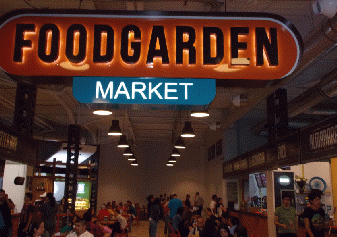 Then it was back to the U.S., our car at Border Station Parking in San Ysidro and home.
Back to Table of Contents..
Last Update:7/24/15
&copy 2015 Joe Hilbers All Rights Reserved.
Graphic Design by Impact Graphics