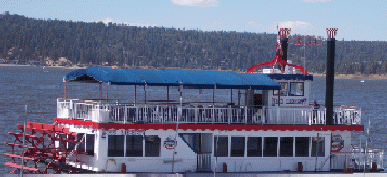 ---
"Big Bear Lake--It is a resort and retreat for all seasons"
By Joe Hilbers
The calendar said it was Fall but in Los Angeles summer did not want to end. However we knew a place where Fall had arrived. It was at Big Bear Lake and those beautiful surrounding mountains. Here temperatures would be moderate and at night a refreshing nip in the air.
Quite accurately Big Bear Lake advertises itself as the four season resort. Each month offers a calendar of special events and our October weekend visit was no different. On arrival in Big Bear Village we sought out the Visitors Bureau to learn what was happening that weekend. As usual it was a full slate with the Oktoberfest, the Trout Bash, and the second annual Scarecrow Festival.
In this contest thirty nine local businesses built and displayed an original scarecrow in front of their store. Locals and visitors alike voted on what scarecrow they liked the most and official ballots were available. The vote was in six categories, most humorous, best traditional, best use of business, spookiest, best use of recycled materials and best reflection of Big Bear. Winners were announced on Halloween Night.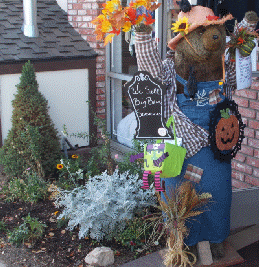 We took photos of some of these original scarecrows before boarding Miss Liberty for a cruise of the lake. Despite our many trips to Big Bear Lake over decades, they were mostly in winter to ski. Our knowledge of Big Bear Lake's early beginnings was slim. Aboard Miss Liberty we had a knowledgeable guide in Captain Jack who told us that the need for irrigation water in the valleys below led to the building of a dam to create Big Bear Lake. This occurred in the last decades of the 19th century. We were surprised on just how large the lake actually is despite being lower because of current drought conditions.
Captain Jack also gave us some facts about the early history of the area and then pointed out some of the large mansions overlooking the lake and who owned them, many of the names familiar as Hollywood celebrities. We noted the many fishing craft on the lake that day taking part in the Trout competition. Miss Liberty tours start at Pine Knot Marina, 439 Pine Knot Avenue at Big Bear Lake. For schedule call 909 866-8129, web wwwpineknotmarina.com.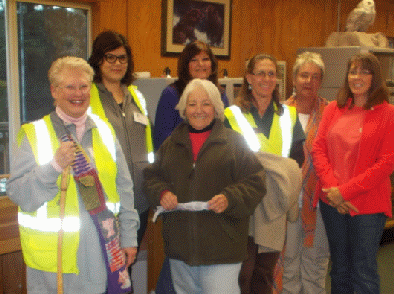 We were more than just pleased with our accommodations at Bear Creek Resort. Here we had our very own cabin which was a complete small home in the woods. The living room with fireplace, stacked with wood, a full kitchen with refrigerator, full range and micro oven, two separate bedrooms and a complete bath. These lodging alone guaranteed a most successful weekend. At night the resort was already decorated with the colorful lights of the upcoming holiday season. Bear Creek Resort is located at 40210 Big Bear Blvd., Big Bear Lake. Telephone 877 428-9335, web www.bearcreek-resort.com.
The Big Bear Alpine Zoo is a wildlife animal sanctuary and rehabilitation center. Established in 1959 it provides a 'home for life' to one hundred and sixty non-releaseable, orphaned animals of eighty nine species.
Every October the Zoo sponsors a Flashlight Safari on Friday and Saturday evenings. This has become a very popular event and the evening we attended there were almost two hundred in attendance, more than half eager children, all clutching a flashlight. Grizzly bears once were plentiful in the San Bernardino Mountains but now are represented by Tutu and her two cubs, banished from Yellowstone National Park for misbehavior and rescued by the Big Bear Sanctuary. Mountain lions, bob cats, deer, coyotes, foxes and raccoons are all residents here.
We met with Shelly Golden, coordinator of the Friends of Big Bear Alpine Zoo as well as some of her docents. Also Shane Smith, one of the full time Zoo caretakers. The Big Bear Alpine Zoo is open year round but in winter hours are determined by weather conditions. For more information check the web at www.bigbearalpinezoo.org, telephone 909 866-9700. Location is 43285 Goldmine Drive, adjacent to Bear Mountain Ski Resort.
The Big Bear Oktoberfest is a tradition at this mountain community. To make the 45th anniversary event special it opened in September and continued each weekend until the German Spooktacular on October 31. On hand to open the event this year was the Franken Power Express Band which came from Germany to perform the traditional Bavarian waltzes and polkas that resound through the Convention Center. The local Express Band was again present and this was the group that entertained us on our visit. We watched the Cripple Creek Cloggers and the spirited log sawing contests.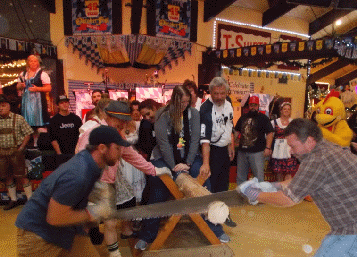 Crown participation is big at Big Bear's Oktobefest and many take to the floor for the chicken dances or join in for a polka or two. No, not us, we were busy eating our bratwurst, potato dumplings and apple strudel with a stein of a fine German pale lager. P>During daytime there is much to do for children as they have games to play, face painting and much more. The evenings are reserved for adults as the entertainment gets more energetic. One of the more robust events is the Oktoberfest Queen contest where the ability is to carry as many full beer steins as possible at one time. We might add that they weigh five pounds apiece.
Our advertures that weekend in Big Bear Lake included two outstanding dining experiences. One evening we were at the Royal Thai Cafe located in the Village and met the Owner Mohan Bist. This restaurant offers a very full menu so we had many choices and finally decided to open with shrimp and vegetable tempura. House specialties included chicken Satay, grilled whole fish as well as choices of BBQ chicken, beef or pork. We decided on the Pad Thai noodles with chicken. This arrived as a huge plate with egg, bean sprouts, green onions and enough food for both my dining partner and I. The menu also has a long list of curries and stir fries. There is also a list of beers and wines. We thought the wait staff attentive and the kitchen staff talented.
Royal Thai is located at 40766 Village Drive in Big Bear Lake. It is open Sunday through Thursday from 11 a.m. to 9 p.m. and on Friday and Saturday 11 a.m. to 10 p.m. Call 909 866-2808, on the web at www.royalthaicafebigbear.com.
Another evening we dined at Peppercorn Grille and we were pleased to find that we had discovered a five star restaurant. We learned that Peppercorn has been at Big Bear Village for ten years offering a continental cuisine with many choices. The wine list is outstanding and cocktails are available.
There is a wide selection of pizza and pastas, as well as several chicken, lamb and pork entrees. There are seven steak selections on the menu and a good choice of seafood as well. At our table two selected the fresh lobster tail while I chose the shrimp and scallop pasta which came with a scampi sauce of roma tomatoes, garlic, capers and parsley over linguine. Our desserts were Tiramisu and an old fashioned root beer float.
This restaurant displays an excellent ambiance and a most caring and friendly wait staff. We noticed the careful, eye pleasing presentation of every entree we saw leaving the kitchen. We would have liked to meet the chef but Peppercorn was very busy the night of our visit so such a meeting was impossible.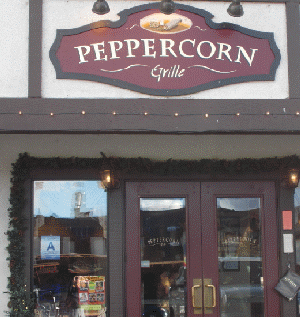 Peppercorn Grille is located at 553 Pine Knot Avenue in the Village at Big Bear Lake. It is open daily from 4 p.m. Telephone 909 866-5405, web www.peppercorngrille.com.

Back to Table of Contents..
Last Update:10/10/15
&copy 2015 Joe Hilbers All Rights Reserved.
Graphic Design by Impact Graphics