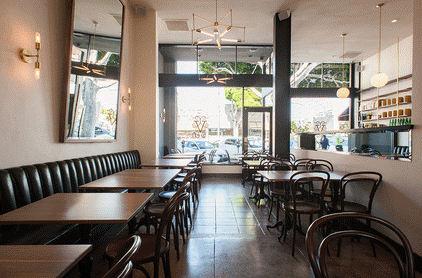 "Los Angeles--Vernetti's offers Larchmont an exciting Italian cuisine "
by Ronnie Greenberg
Offering a bounty of robustly flavored great food, Vernetti is a new addition into the Larchmont Village culinary medley. One of the oldest areas in LA, Larchmont bounded by Melrose, Western and Beverly Boulevard, was originally developed in the late 1800s.
Steve and Joanna Vernetti's eponymous Italian-American restaurant, Vernetti, has opened in the former Girasole space. This popular neighborhood restaurant is a mix of modern and old world European charm featuring old school meets new school Italian. Everything from the clean more modern design , to the menu and retail offerings, has elevated the restaurant while remaining in step with Larchmont's unique close-knit community, which Steven and Joanna along with their three children call home.
The restaurant seats 45 in a welcoming comfortable atmosphere. The architect on the remodel concept was David Thompson, principal and founder of Assembledge+, a company focused on organic and sustainable solutions that are true to their place and time. Co-owner of Vernetti, Joanna Vernetti was the interior designer and wanted to mirror her husband's take on Italian cuisine with the decor. Along with Thompson they sourced all the interior materials and fixtures from various artisans and fabricators to evoke a modernized European bistro aesthetic. Vernetti's tables and bar top are made locally out of reclaimed wood, and the hardware and light fixtures are brass. The expansive, sapphire glass storefront and hanging interior mirrors allow diners to better enjoy the view of Larchmont Boulevard, sunshine to stream in, and details for the interior to pop.
Inspired by a century long history of Italian-American cuisine, Chef Steve Vernetti shares his passion for fresh, delicious Italian food made simply with the best ingredients, and his take on Italian-American cuisine reflecting a lifetime of diverse experiences and training. At six years old his mother taught him to cook on the family's working ranch in Nevada, where they grew their own produce and raised livestock.
As an adult cooking became his vocation and Vernetti honed his art by traveling throughout Europe to Berlin, Paris, Venice, Florence, Amsterdam and Brussels. For seven years he trained with some of the most prominent chefs in London: with Chef Charles Fontaine at Quality Chop House; Le Caprice, Neal Street and Carluccio's; and at Byron restaurant in Hampstead where he was an executive chef.
Chef Steve has expanded his original menu to feature both traditional and inventive dishes made with seasonal ingredients sourced from local purveyors and farmers. Venetti's dinner menu includes: Cedi bean crostini- mint, pecoroino; Baked house made ricotta- acacia honey, sauteed peppered apple, crushed pistachios; Rigantoni spuntature - braised short rib ragu, marrow, crispy greens, toasted tomatoes, breadcrumbs; Gnocchi di spinaci - fresh spinach, house ricotta, butter and sage; Grilled Sea of Cortez octupus- creamy white beans, fennel and cabbage slaw.
The signature Bistecca alla Florentina (for 2) 40 oz dry aged prime porterhouse, baby arugula, shaved parmigano is a house specialty.
To top it off the dessert offers the mouthwatering Cannoli duo- house ricotta cream, candied peel/pistacchio; or the incredible New York cheesecake with passion fruit reduction; Panna Cotta with fresh strawbery composta, or Tiramisu.
For lunch: Meatballs al forno panino-provolone,pomodoro; Slow braised beef filet panino-fontina, market greens sauteed with chili and red wine vinegar; Spaghettini-house goat ricotta, calabrian chili, toasted walnuts, preserved lemon; Mediterranean tuna- cannellini beans, red onions, capers, mixed greens, lemon, olive oil; and mixed greens brodo- torn chicken, house cured fuanicale, poached egg.
For breakfast/brunch; Buttermilk semolina pancakes-stack of 3, maple syrup or blueberrry compote; Frittata- peas, mint, house ricotta, pancetta; Biscuits and gravy- cream gravy, sausage, house made biscuits; and Morning Carbonara- black pepper, guanicale, egg.
Tagliatelle, rigatoni, spaghettini, pappardelle and ravioli are made with Vernetti's Rosito Bisani TR 95 Pasta Extruder, workhorse in Vernetti's new kitchen. Seafood comes from boat-to-table, sustainable sources, and premium meats from a local specialty butcher. A beer and wine license is pending.
Vernetti's retail section feature products that are California grown or sourced from Italian food importers. Items include L'Ultimo Forno pastas and biscotti, Majani chocolates, Romanengo fruit fondants, Biano Cinapoli tomatoes and Pasolivo olive oils.
Vernetti's is located at 225 North Larchmont Boulevard in Los Angeles, phone for reservations at (323)798-5886 or info@vernetti.la. Vernetti is open seven days a week for dinner; 5:30-11 p.m. lunch, 12-3 p.m. breakfast Monday to Friday 9 a.m. to 12 p.m. and weekend brunch 9 a.m. to 2 p.m. last.
Back to Table of Contents..
Last Update:10/18/15
&copy 2015 Joe Hilbers All Rights Reserved.
Graphic Design by Impact Graphics