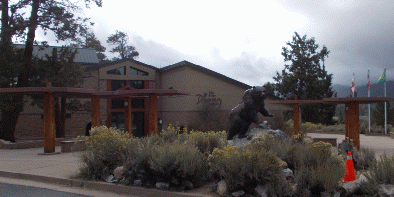 "Big Bear--Our National Forest off-road adventure was pure joy and excitement"
Surrounding Big Bear Lake is the San Bernardino National Forest which offers the people of Southern California outdoor year round recreation. At Big Bear the place to learn what this Forest has to offer is the Discovery Center located on the north side of the lake.
This Forest has a rich history, long a summer home for the native population, then with the coming of the white man a place where gold was discovered in 1855, followed by logging and cattle grazing. The San Bernardino National Forest was established in 1907 and now receives more visitors each year than either Yosemite or Yellowstone National Parks.
The Discovery Center is the perfect place to learn just how many choices visitors have in the forest with camping, hiking, mountain biking, fishing, hunting, off road tracks and three major ski resorts in the winter. Each month the Big Bear Discovery Center offers a schedule of activities, It is open Thursday through Monday form 8:30 a.m. to 4:30 p.m. at 40971 North Shore Drive, Highway 38.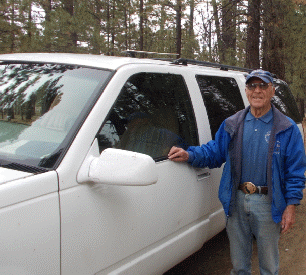 It was here that we met Doug Walton and his Big Bear Off-Road Adventures. He would give us the opportunity to see some of the back country that makes this National Forest so special. He took us on what is called the Gold Fever Trail. Gold was discovered in the San Bernardino Mountains in 1855 and the rush for the metal continued in the region for almost two centuries.
Now the country has recovered but traces of gold mining remain. On this three hour trip over unimproved roads we visited Holcomnb Valley, Polique Canyon, the Hangman's Tree, Pygmy cabin, Ross's Grave and an old stamp mill. On the Cougar Crest Trail we passed the Pacific Crest Trail which extends from the Mexican border to Canada. Then crested at Bertha Peak where the view to the Mojave desert, many thousands of feet below, was breath taking.
This area north of Big Bear Lake was all new to us and we were amazed and pleased with the large diversity of the plant life and timber this day presented. Some of the pinyon pines were the largest and oldest we had ever seen, mixed with junipers and Jeffrey pines.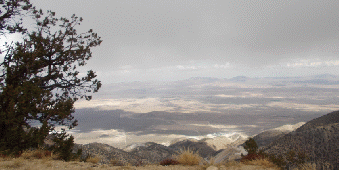 Doug personally drove us on our trip and was a fountain of information on the region, its miners and early settlers. We negotiated the rough tracks comfortably in his GM four wheel van. Doug started his Big Bear Off-Road Adventures in 1996. This after a successful career as owner and guide of a business that organized high end trips for celebrities and corporations in Alaska
On our return to the Discovery Center Doug Walton said he had a good deal more to show us and suggested we return next summer for another adventure. It sounded good to me. Over decades we have spent much time exploring the byways of California but at the end of this tour had to congratulate him on showing us country that was, up to this day, completely unknown to us.
Big Bear Off-Road Adventures tours are available year round with the slogan "any season is 4 wheel drive season'. Call 909 585-1036, web www.offroadadventure.com.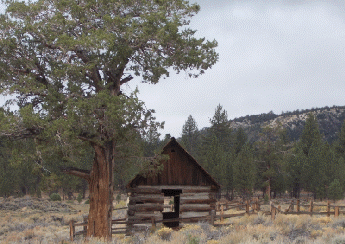 Back to Table of Contents..
Last Update:10/15/15
&copy 2015 Joe Hilbers All Rights Reserved.
Graphic Design by Impact Graphics