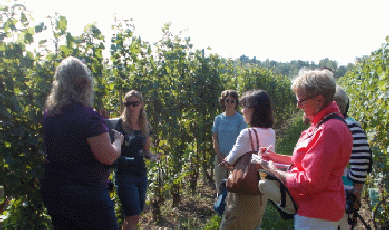 "Montreal, Canada--La Route Des Vins took us to the Eastern Townships wine country"
by The Editor
It appears that now the only place you will not find a 'wine road' is in Antarctic. We seem to find them wherever we go and so it was really no surprise to find on our trip to Montreal, that here too, there is this attraction that has come into being in the last half century.
It is called "La Route Des Vins" and includes twenty eight wineries and has been luring visitors since its founding in 2003. This Wine Road takes one through the Eastern Townships.
We took a whole day to tour this picturesque, lush region that provides produce, wines, cider and year round recreation for Montreal and includes skiing in winter. The landscape is a mix of pasture, woodland, orchards, vineyards and villages seemingly out of a picture book.
Also included on this road are producers of cider, a classic French beverage with a history dating back centuries. Like vintners and vineyard growers everywhere the Montreal group has experimented with various grape varietals which are hardy enough for severe winters while producing good, satisfying wines.
Our first stop was at Vignoble Les Pervenches where we were met by Veronique Hannepin, one of the owners. We learned that here chardonnay has flourished in the local terroir and is producing excellent quality vintages from this varietal Another white wine varietal that does well here is Vidal Blanc and it is bottled as such and also used for blending. In this region harvesting does not start until October on a typical year.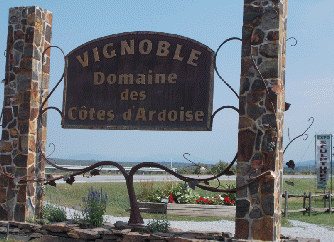 We then passed through the township of Dunham to Domaine des Cotes d''Ardpoise. It was one of the first wineries in the region and is located so that some of the vineyards are on sloping ground. The gardens here are well kept and sculpture by local artists surrounds one on every side. Shade trees add to an idyllic scene and food can be purchased for on-site picnics. Here we tasted seven wines including three white wines and an excellent Demi-sec Riesling.
We were impressed with the Cote d'Ardoise red wine made from the Marechal Foch varietal. The Foch varietal does particularly well in Nova Scotia and Montreal and we were impressed with the Cote d'Ardose giving it the highest point score of the day.
Besides the Riesling other whites we tasted were made with the Vidal Blanc grape and hybrids of it. Domaine des Cotes d'Ardpoise also produces a cider called Cidre & Vins Glace +Cidere Petitant and we thought it excellent.
Still in the Durham region we also visited Union Libre which produces what they term a Fire Cider. This unique cider is an original at Union Libre and pairs well with food. It is also very versatile since we actually made a cocktail using it and lime juice which proved to be a delight. It also has the distinction of aging much longer than most ciders.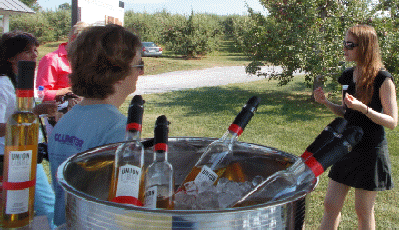 We then left Dunham and explored some beautiful rolling hill forested country passing through Sutton, a larger town and one popular for winter sports at a nearby ski area. Then at Frelighsburg we were met at Domaine Pinnacle by owner and president Charles Crawford. Pinnacle is famous for its Ice Apple Wine, acclaimed everywhere for its quality and unique flavors. This property with 430 acres of trees is located on the southern slope of Pinnacle Peak and overlooks USA's Vermont just a short distance away.
The Ice Apple Wine produced here is offered in several different styles and labels. We tasted eight ciders here including SUD which comes both as a still and sparkling cider. Pinnacle also offers various vintages of Ice Cider under its Pinnacle lable and this 2012 vintage is produced in stainless steel for two years. Pinnacle also has produced the first ever Ice Apple sparkling cider. Two other premium Ice Ciders are produced by Pinnacle , one called Pinnacle Signature and the second Cororeur des Bols 1859 Reserve. These two remarkable ciders are limited to 10,000 bottles annually.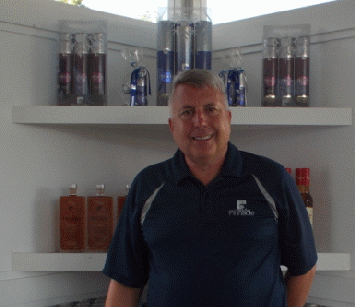 For us this tasting, of not only some excellent wines but remarkable ciders, on La Route Des Vins was a very special event. Tasting ciders and especially Pinnacle's remarkable Ice Apple products was a new and memorable experience for us. But this day had one more exciting experience still to come.
This was when we arrived at Bistro of Auberge & Spa West Brome. Here Chef Ugo Mariotti and Sommelier Benoit Lejeunesse had prepared a very special dinner for our group of Writers. The event opened with Sommelier Benoit offering us champagne while we strolled through the gardens. Then Chef Ugo took over with a menu that included Gaspacho du jardin, then plates of Antipasto followed by home made Gnocchi with freshly carved duck leg. Our dessert was an assortment of sorbets.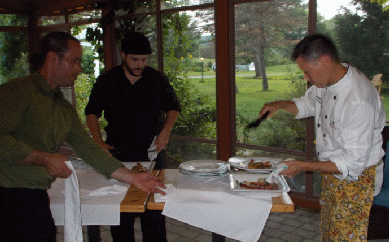 Almost every town in the Brome-Missisquoi region has its own tourist office and maps guiding one through the wine road are readily available.
:Our guided tour was by Forfaits which has been conducting wine country tours for several years.
Back to Table of Contents..
Last Update:9/23/15
&copy 2015 Joe Hilbers All Rights Reserved.
Graphic Design by Impact Graphics