---
"Quebec City, Canada--Here one can look back to the Old World" By Joe Hilbers
A visit to Quebec City is to experience the Old World without leaving the New World. It is, of course, one of the oldest Cities of the Americas, the language is French, as is the architecture of the original stone buildings, and the feeling is of being somewhere in Europe.
Our visit to Quebec was all too short. On a cruise some ports of call seem too long and others too short. Richard Seguin of Quebec City Tourism did his best to show us as much as possible but our ship Holland American Maasdam arrived at 8 a.m. and left that afternoon at 3 p.m.
As we explored the square that is the heart of Old Quebec we noted a date of 1624 and the name of the founder, Jacques Cartier. His name is also prominent on the Parliament Building built in 1887 along with that of A. Champlain.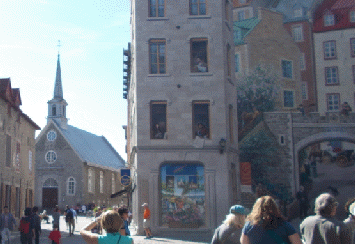 Then there is the Plain of Abraham and Battlefield Park where at the end of the seven year war it was determined that the future would be under a British Flag rather than a French one.
The hill about the City with its classic structures is the post card view we wish to remember. We happily wandered the narrow cobblestone paved streets and alleys and peeked into some of the many quaint shops in what is called Quartier Petit Champlain. . We looked in and photographed Notre Dame-des-Victoires, the oldest stone church on the Continent.
Then we took the Funiculaie du Vieux up the hill that overlooks the City. It is most welcome as the way to escape a hill climb on foot but does not offer much in the way of sightseeing. It was good transportation as a means to see more of the City.
Strolling through Place Royale moves one back to the founding of that place in 1608. For very good reasons Old Quebec is a UNESCO World Heritage Site. We viewed with much interest the old fortifications with its stout stone walls still intact after all the skirmishing between British and French forces in 1759-60.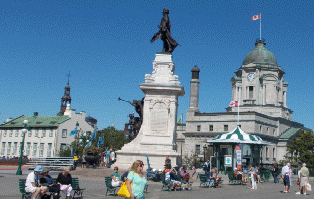 Alas, time passed too quickly and after a traditional French Canadian repast at Panache Restaurant we had to return to Maasdam. We were just one of the almost five million visitors to Quebec City and it ranks as Canada's second most visited destination. Here is a small part of Europe that moved to the New World.
---

Back to Table of Contents..
Last Update:9/25/15
&copy 2015 Joe Hilbers All Rights Reserved.
Graphic Design by Impact Graphics