Medford, Oregon--It proved the perfect hub for exploring southern Oregon's history and wine trails"
By The Editor
Medford proved to be the perfect place to center our explorations of Southern Oregon's wine country. But as so often the case we found that the wine country was only a part of what there was to enjoy both in its cities as well as the surrounding countryside.
Using Medford as our base of operations we stayed at the Inn of the Commons located in the heart of the historic downtown district. The Inn of the Commons combines the convenience of a motel, with your car at your doorstep, and all the amenities of an excellent hotel. Larks, the comfortable bar, lounge and restaurant, was there as well as the excellent continental breakfast for guests that varied its many offerings each morning.
Medford is the county seat and we found evidence of much new construction as well as renovation of existing properties. We liked the way older downtown buildings were finding new life as taverns and restaurants.
Nearby Jacksonville, Oregon presented us, as history buffs, with the kind of story we love. Founded in 1851 with the discovery of gold, it soon became a classic western booming, bustling mining town that quickly grew and displayed the mineral wealth that flowed through it. Then when the railroad arrived it passed Jacksonville by being routed ten miles away through what became Medford. As the mining declined so did Jacksonville and that decline lasted a full century.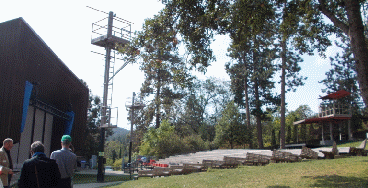 But in 1960 a man named Robbie Collins got the idea that historic Jacksonville should be preserved. He had the City named a National Historic Landmark, the first town in America so named, and rallied the local citizens to restore as many of the towns historic downtown buildings and private homes to their original state. The result is that Jacksonville has achieved a new beginning as a tourist destination and center for summer concerts and theater. At Brett Park the outdoor Performance Garden offers a variety of events with seating for over two hundred and a back lawn for many more viewers. Each year there is a classic festival and the concerts offer celebrity stars.
Our visit began with a look at the Jacksonville Cemetery founded in 1860. The Cemetery, its own way, tells much about the past and original settlers. Whole family plots are here, many describing the birthplace, always somewhere in the eastern U.S., then settlement in southern Oregon as immigrants who made the trek west on the Oregon Trail.
Many Civil War veterans, from both sides of the conflict, are buried here, over 350 in total. Most came west after the war to build new lives and now rest side by side, the conflict laid aside.
The cemetery has continued to be used to the present day and care and preservation of the grounds has been continued by the City and volunteers. One is struck with how many children were lost early in their lives before the era of modern medicine, since their graves are so numerous here.
Back in the center of Jacksonville we got aboard the Jacksonville Trolley and our guide took us past homes of prominent citizens of a bygone era. Here is where Judge Colvig lived, and here where the City's banker, C.C. Beekman, built his home. Their homes and many more have been restored to display once again their original splendor.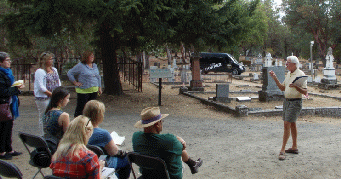 Fire was always a real hazard in communities that depended on wood for construction. Fire swept through the downtown area in 1870 and when reconstruction took place the City decreed that business buildings must be made of brick and it is these that grace downtown Jacksonville today.
Today Jacksonville's future still depends on what comes from the earth. At first it was gold taken from below the earth, today that earth grows the vines that have created a new destiny for the region. It is the wine produced from these vines , the quality of which has brought national fame to the region. Here spread around Medford and Jacksonville are the wine roads that take one to the many wineries.
There is the Applegate Valley Wine Trail and the Bear Creek Wine Trail as well as the Wine Trail of the Upper Rogue. They are all reached only a few miles from Jacksonville and Medford.
The Jacksonville Inn is itself a landmark, built in 1861. It includes a dinner house, lounge, hotel, wine & gift shop and specialty catering. We were there for an exciting luncheon as guests of Proprietors Jerry and Linda Evans. Our lunch included a salmon plate with portions baked, as a salmon roll and cold with caviar, dessert was a Pumpkin mousse. Everything about the Inn places it as a five star dining establishment.
We also visited the Quady North tasting room located in downtown Jacksonville. We met with Darius Price who described his interest in Grenache and how now the winery has four wines from this varietal. One is named Bomba, a red wine and Grenache Blanc, made as a white wine.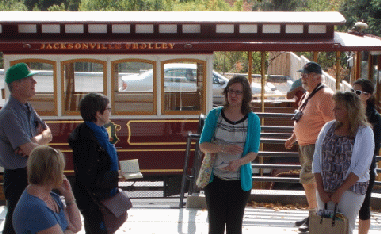 Also located in downtown Jacksonville is South Stage Cellars Tasting Room and Wine Garden in a brick building dating back to 1865. The grapes for South Stage wines are from Quail Run Vineyards, the largest wine grape grower in Southern Oregon. The result is a dazzling array of sixteen varietals. We tasted a Carmenere, Malbec, Merlot and Albarino and whites like Viognier and Riesling, an award winner.
One of the first things we noted when we started visiting the wineries was how short the distance was between them. Traveling time is often minutes between one winery and the next.
A first ever for us was the visit to a flour mill, the Butte Creek Mill at Eagle Point. This water powered mill began operation in 1872 and is still operating today. We were fascinated with the mill and the technology and machinery used in its construction and how well it had held up for so many years.
It adjoins Little Butte Creek which has been supplying the water for these many years. We watched as flour flowed from the giant grinding stones into sacks just as it has been doing for one hundred and thirty three years. We met with Owner Bob Russell and just wished that we could have spent more time with him. He is the perfect historian and besides the mill proprietor of two adjoining stores, the country store where flour products from the mill can be purchased and an antique store. Here we could have spent hours since Bob has acquired so much memorabilia from the past. Here there is an old country barber shop, the inside offices of a late 1800s bank and the back bar that served several generations.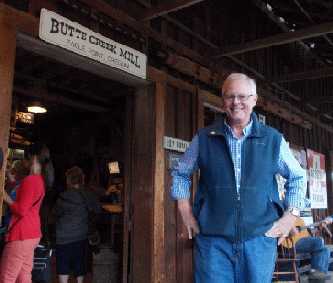 That evening we experienced a wonderful dinner served adjacent to Little Butte Creek. This dinner was catered by the culinary staff of Jacksonville Inn with a menu that we must tell about here.
First course was fresh shucked oyster with grilled fingerling potatoes, our wine Abacela Albarino. Second course diver scallops with apple fennel and caviar, the wine Pebblestone Viognier. Third course, Duck confit sliders with Asian slaw and sirracha aioli, the wine Jaxon Tempranillo. Fourth course was grilled beef tenderloin with potato puree and port belly demi-glace with Folin Syrah.
Fifth course was Rogue Creamery smokey blue cheese cake with hazelnut crust and Cockoo's Nest Semi-sparkling Muscat. Then the surprise as Dutch Oven prepared Cinnamon Rolls were served. This was all prepared by the culinary staff of Jacksonville Inn including Manager and Events Specialist Platon Mantheakis, who also acted as Maitre'd and Sommelier at our Butte Creek dinner, as well as Executive Chef Tre Hansen an d Catering and Pastry Chef Janeane Morrison.
It proved a memorable event to conclude our visit to Southern Oregon.
Much more about our traverses on two of the wine trails will follow in the next issue of Vittles.
Back to Table of Contents..
Last Update:9/25/15
&copy 2015 Joe Hilbers All Rights Reserved.
Graphic Design by Impact Graphics