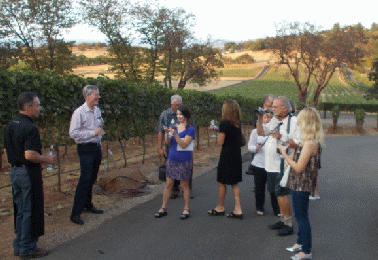 Medford--The Southern Oregon Wine Trails show lush vineards and fine wines.
.. By Joe Hilbers
In moving among Southern Oregon's wineries we were on both the Bear Creek Wine Trail and Wine Trail of the Upper Rogue. First stop on the Bear Creek route, just minutes from Jacksonville, we visited Dancin Vineyards. Owners Dan and Cindy Marca have created an Italian styled garden and patio surrounding their tasting room that has the visitor transported to Northern Italy.
As to the vineyards and wines here it is all about Pinot Noir and Chardonnay. Dan personally conducted our tour of the Pinot Noir vineyard planted on a northwest facing slope relieving it of some summer sun. The winery has been designed so that gravity flow controls all operations. Dancin Vineyards feature several different Pinot Noir clones, all to be made into their own individually crafted vintage. Several have earned the winery national recognition with Wine Enthusiast Cellar Selections.
Good wine deserves good food and this has not been neglected at Dancin. The kitchen here has achieved laurels for its stuffed mushrooms as well as some unusual pizzas. At the time of our visit the patio was full of people enjoying the food and the ambiance. We enjoyed the mushrooms and one pizza new to us with a mac & cheese topping. The Pinot Noirs all have their own names like Sepette, Farandale, Ballarinia and Adagio. The two chardonnays we tasted were Capricco and Chasse, both of high quality.
Dancin Vineyards is at 2,000 feet elevation on the Upper Rogue and one of eleven wineries on the Bear Creek Wine Trail.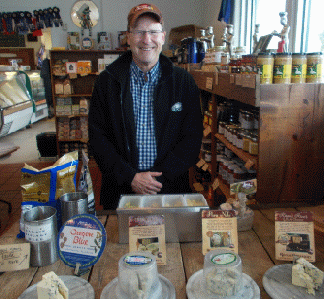 However we did not spend all our time tasting wine. Other food products in southern Oregon have also achieved fame including Rogue Creamery which has been producing handcrafted blue and cheddar cheeses for eighty years. We were met by Francis Plowman at the Cheese shop who related how Rogue River Blue and Smokey Blue cheeses have achieved international attention as far away as Great Britain and Australia. On the average Rogue Creamery is showcasing about nine blue cheeses and eight cheddars along with special items like beer cheese and Crater Lake Blue.
Plowman also told of the Farm at Grants Pass where the one hundred and twenty cows provide the milk for the cheese and that robot milking machines and computers match for individual attention to each cow.
Rogue Cheeses can be ordered over the Internet and Whole Foods now carry them in their stores nationally. And yes, we had the opportunity to sample some of the cheeses which were indeed delicious.
Also located at Central Point is Lillie Belle Farms Chocolates and here Chocolaier Jeff Shepherd explained how he got into the business originally and how it has grown to what it is today. He started making chocolate in his garage fourteen years ago and has been in his present location for eight years. He now employes ten people and is selling his sweets all over the world. His sea salt caramels are an award winner. Did we ever sample some of Jeff's chocolates, well it was just part of the visit.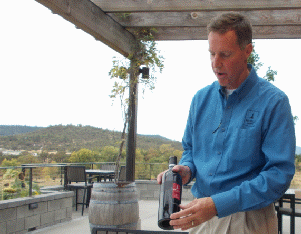 Kriselle Cellars, its spectacular showplace tasting room, and vineyards are located on a ridge overlooking the Rogue River and surrounding countryside. It is located on the Upper Rogue River Wine Trail at White City. Owner and Winemaker is Scott Steingrober and the surrounding vineyards include varietals like Cabernet Sauvignon, Tempranillo, Malbec, Sauvignon Blanc, Sangiovese, and Cabernet Franc.
The tasting room with its massive open beams and ambiance remind one of a grand ski lodge. It includes a large patio with fireplaces and sweeping views of vineyards and the countryside beyond. Here our group of Writers were treated to a grand luncheon while tasting wines like an excellent 2014 Sauvignon Blanc and a 2014 Viognier, that earned a gold medal at the San Francisco Wine Competition. We also were impressed with the 2012 DiTani, a blend of Cabernet Franc, Cabernet Sauvignon, Malbec and Tempranillo. Kriselle Cellars includes 200 acres with thirty in vineyards with eight varietals.
Kriselle Cellars in a summer destination for visitors offering wine, food and live music on weekends.
Del Rio Vineyards is also on the Upper Rogue River Wine Trail and has a fascinating history. It is on the site of the Rock Point Stage Hotel established in 1864 and in 1865 became the first telegraph station in the region.
Del Rio is now one of the largest wineries in southern Oregon with three hundred acres of vineyards, many on sloping hillsides. At the time of our visit the winery was fully engaged in harvest and we saw an actual crushing of white grapes at one of the presses. The owner is a fourth generation farmer named Rob Wallace and winemaker is Jean-Michel Guerande who moved from his native Loire Valley to learn just what the terroir at Gold Hill, Oregon had to offer. Among the wines we tasted were a 2012 Del Rio Claret of Malbec and Cabernet Franc and a 2013 Cabernet Sauvignon.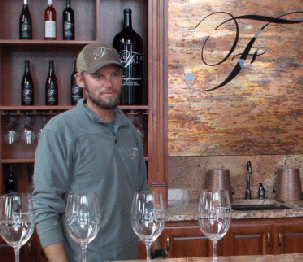 Also located at Gold Hill is Folin Cellars and here we met with Owner Rob Folin, who generously took time away from his harvest, to show us some of his wines. Rhone wines take center stage here with 25 acres of vineyards growing seven varietals including Viognier, Grenache, Syrah and Mourvedre as well as Tempranillo. Among the wines we tasted were a 2014 Viognier, a 2013 Grenache and 2012 Misio, a blend of Grenache, Syrah and Mourvedre.
Pebblestone Cellars tasting room is located in Medford and was opened five years ago.. The vineyards include 26 acres and the winery opened twelve years ago in Phoenix on Highway 99. Here we tasted two white wines, 2014 Pinot Gris and 2014 Viognier, varietals that received attention at the San Francisco competition.
Ashley Cates was our hostess when we visited Agate Ridge Vineyard located at Eagle Point. The tasting room is in a charming 1910 cottage surrounded by thirty acres of vineyards. Here we particularly liked the 2012 Pinot Noir and 2012 Semillon-Sauvignon Blanc blend and high praise for the 2011 DK Reserve, a blend of Petite Syrah. Syrah and Grenache.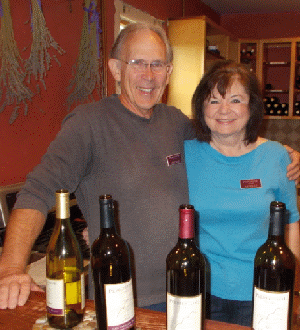 Our wine tours were by Wine Hopper Tours and our guide and driver, Allan Simmons, proved not only knowledgeable but a very patient man.
Back to Table of Contents..
Last Update:9/29/15
&copy 2015 Joe Hilbers All Rights Reserved.
Graphic Design by Impact Graphics