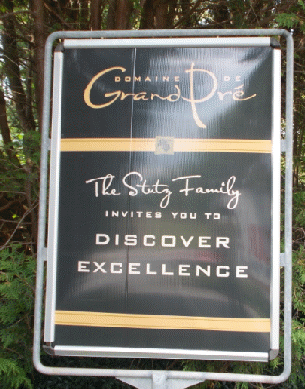 "Nova Scotia--A return visit to Domaine de Grand Pre showed a work in progress"
By The Editor.
The unexpected often provides pleasure. So it was on our brief visit in Nova Scotia, leaving our cruise ship Maasdam for one day.. While exploring the region surrounding Halifax we found ourselves once again in the wine country. Here along the shore and highland skirting the bay of Fundy can be found lush vineyards and an ever increasing number of wineries.
It had been four years since we were last here and we remember well our visit to Domaine de Grand Pre and our meeting with its owner Hanspeter Stutz. Originally from Switzerland Stutz purchased the oldest winery in the Province in 1993 and has never looked back since then. Hanspeter has created a showplace winery in the Annapolis Valley with thirty four acres of vines, mostly hybrid varietals that adopt well to the Nova Scotia terroir.
When we met Stutz this time our first question was "what have you been doing since our first visit?" With this he moved us to the elaborate tasting room and handed us a list of twenty four wines, with a newly added sparkling wine and some sweet wines including a Marechal Foch Port and two unique wines made from apples.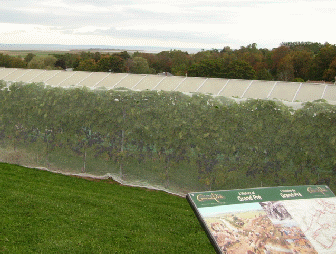 The Marechal Foch varietal plays a major role in the red wines produced here. It makes a complex wine and a companion grape, Cabernet Foch, is often blended in to the wines since it adds structure and a lasting finish.
We tasted some of these wines including the Haskap Sparkling made from a varietal new to Nova Scotia. White wines do well in the Annapolis Valley including a local varietal called L'Acadie Blanc and Riesling offer unusual complexity here. Tidal Bay is unique to Nova Scotia and reigns as its premiere white wine.
We were not surprised by the many new vintages and styles of wines currently being produced at Domaine de Grand Pre. Hanspeter Stutz and his son Jurg, a trained Oenologist, have displayed enterprise and innovation since the day they opened the winery in 2000.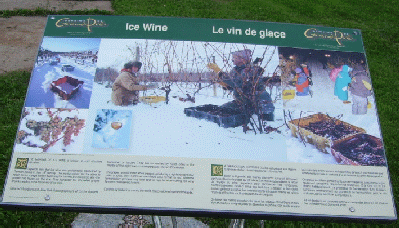 Our guide was once again Pam Wamback of Nova Scotia Tourism and it was a real pleasure to see her again and follow her path to interesting stories.
Back to Table of Contents

Last Update:9/30/15
&copy 2015 Joe Hilbers All Rights Reserved.
Graphic Design by Impact Graphics