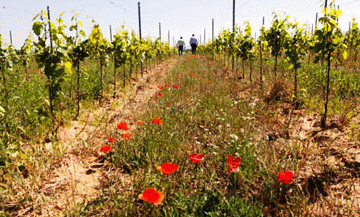 ---
Sicily wines--New era shows style and quality of Sicilian vintages By Joe Hilbers
Sicily has a fascinating wine history dating back to the time 2500 BC when colonizing Greeks first settled there. The Island, like some much of Italy, offers more than one culture, differences in art and cuisine and in climate as well. The first wine grapes were carried to the island by the Greeks and vineyards and winemaking have been a part of the Sicilian economy ever since. The Romans looked to Sicily as a source of wine and wrote about it. Two of Sicilian native varietals are actually described in Roman text named as Mamertino and Falanghina, both red grapes.
In the 21th century Sicilian winemakers and vineyard owners have moved the Island to a new era using both original native and more modern varietals. Most of the vineyards and wineries are family owned with relatively small acreage. Much of this new era of wine centers around Nero d'Avola, a native red grape now found throughout the Island. It initially is thought to originate in Siracusa.
Now these old varietals have taken on a new life and the result is these Sicilian wines have achieved new attention from Americans and are increasingly to be found in U.S. restaurants and retail outlets.
We thought our tasting of Stemmari 2014 Nero d' Avola was an excellent vintage of this Sicilian favorite red wine. Stemmari is located in Sambuca di Sicilia in the Province of Agrigento which is close to the Mederitterean. This grape perfers a climate with more moisture and a little less sunlight. The color is a deep red and violet and tannins appear milder than with other red varietals.
Another Nero d' Avola we enjoyed was a 2013 Tenuta Rapitala. Tenuta Rapitala Estate is located in the northwest corner of Sicily in the Belice Valley. After an earthquake the winery was restored in 1968 by Huges Gatinais. The winery is represented in the U.S. by Frederic k Wildman & Sons Importers. The wines are crafted to capture the flavors of native Sicilian varietals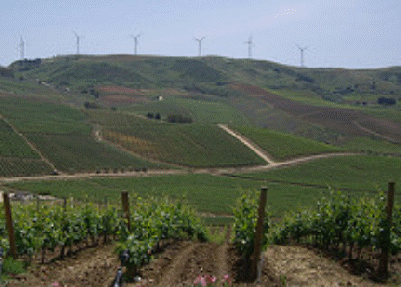 My interest in Sicilian wines stems mostly from the fact that my mother was born in Trabia, coming to the U.S. when she was three years old with her Mother and five year old sister. I very much regret that I never learned why my grandfather decided to leave Sicily and immigrate to the U.S.,at first leaving his wife and children in Tribia. This he did until he had earned enough money laying track for the San Francisco Railroad Company to have his wife and children follow him to San Francisco.
I never did learn his reasons for leaving Sicily or how he earned a living there. Actually I did not get to know him truly well since I was still a teenager when he died and children generally just take family history for granted.
Not all attention is paid to the red wines. Two native Sicilian white grapes are Grillo and Caltaratto.
The classic white wine varietal, Grillo, is native to Sicily and is often compared with Pinot Grigio or Sauvignon Blanc. Today it is sometimes blended with chardonnay but as often stands on its own as a cocktail styled wine. Some white wine blends are made with Grillo and Caltaratto.
These wines are registered as DOC Sicilia. Until recently few wines from Sicily reached the U.S. but that is changing and more of its vintages are now reaching American markets and being featured in restaurant wine lists and at retail outlets.
To learn more about Sicily and Sicilia DOC wines check the web at Wines of Sicily.
---

Back to Table of Contents..
Last Update:12/1/15
&copy 2015 Joe Hilbers All Rights Reserved.
Graphic Design by Impact Graphics