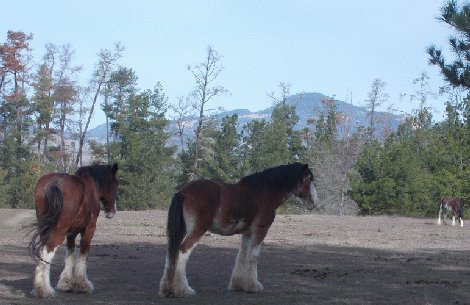 ""
California Central Coast--We found much to explore on Highway one Discovery Route

We decided the California Highway One Discovery Route was well named. This when we pulled into Harmony, Population 17, elevation 178 feet. Although born in California and having spent most of my years in the State this town was new to us.
In Harmony we stopped at the Visitor Center and met charming Aarika Wells who acts as hostess at the Center. She told us something of the history of Harmony which began as a center for local dairy farmers in the early 20th century. She also told us of an interesting project currently underway to finance the Harmony bell tower. She asks visitors to send her pre-1982 pennies which were made of copper. The Visitor Center is at 2180 Old Creamery Road in Harmony.
While in Harmony we also visited Harmony Cellars and met Chuck Mulligan, owner and winemaker and his wife, Kim. This was the first stop for us on the Pacific Coast Wine Trail and one of ten wineries located along Highway One. Our story about Harmony Cellars and Chuck Mulligan as well as the other six wineries we visited on this tour will be the subject of a separate story in Vittles. This is also true for some of the restaurants and culinary delights the Central Coast has to offer.
Nothing adds more to a pastoral scene, whether photo or painting, than including a few grazing horses. This came to life for us when we were fortunate to be taken on a tour of Covell California Clydesdales, Cambia Pines by the sea Ranch by Owner Ralph Melvin. The Ranch includes 2000 acres as well as the largest privately owned stand of the endangered Monterey Pine. Also one of the best herds of Clydesdale horses in the nation. Here the horses roam the ranch freely among forest and rolling meadows often with in sight of the Pacific Ocean.
This is also the story of one man's life long interest and love of horses. Somehow Ralph Melvin has always managed to make horses part of his life and career and in the lives of his children as well. We roamed the ranch on a clear late autumn day that offered stunning views of the coastal range of mountains on one side and the Pacific Ocean on the other. Soon as we moved over hill and meadow the horses began to appear, sometimes singularly others in groups of two or three. They all have names and wander close to the car to say hello from the man they know so well.
Fortunately Ralph Melvin loves to share both the ranch and horses with visitors and tours are available either for single persons or for groups up to forty. Riding and driving lessons are available as well as weddings and private events which can include a steak dinner, hay ride or barn dance. The Covell Clydesdales are also featured in many civic events and celebrations.
To find out how to schedule a Ranch tour and the pricing call 805 927-3398, e mail covellsclydesdales@yahoo.com.
To say we were pleased with our stay at FogCatcher Inn in Cambria is an understatement. Our room was a stone throw from the ocean which used up a good deal of our time watching waves, surfers, sunsets and other folk enjoying all of the above. A click of the switch and my fire place was ablaze with light and heat. There was a desk placed by a window overlook the ocean often a good distraction from the notepad which now seems to be an inevitable part of travel. A FogCatcher WiFi comes with the room and available throughout ones stay.
I always seem to have need of my car close at hand. Here it was right outside my door,. As I write this I have just returned from a wonderful breakfast of omelet, sausage and sweet rolls from the self serve complimentary breakfast available from 7 a.m. to 10 a.m. each morning. There is also a Pool but a much, much bigger body of water just yards away. The room also included refrigerator, micro wave, TV and lots of space.
FogCatcher Inn is located at 6400 Moonstone Beach Drive, Cambria, Ca. 93428. Telephone 895 927-1400. Web www. fogcatcherinn,com.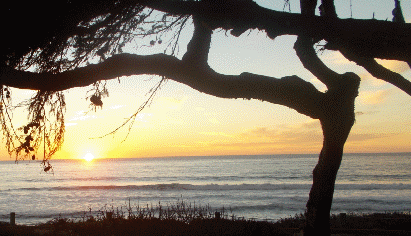 Moonstone Beach Drive follows the ocean shore for a few miles offering views of scenic coast to the far distance. We found the trail adjacent to Moonstone Beach Drive was most rewarding as it offers the ocean close-up and stunning views of the whole coast north.
Moving through downtown Cambria is a look at an earlier time in America. Most of the shops and businesses are small and intimate featuring a single commodity or service. The city is divided in its downtown areas with a East Village and a West Village.
The East Village places Cambria's historic past on display. There is a historical Walking Tour through East Village that links the city's historic past with the present. Many of the homes date as far back as 1875. Both downtown areas offer many small shops and the East hosts four winery tasting rooms as well.
Think family when planning a trip to California's Central Coast on the Highway One Discovery Route. This is especially true at Morro Bay with its many attractions, some designed especially for youngsters. These attractions include the Morro Bay Museum of Natural History in the State Park and then on the Embarcadero. Here there is much to delight children including a Skateboard museum, and a tour aboard the tall ship Lady Washington. This sailing ship built in 1989 is a replica of a historic vessel that was the first to make a landfall on the west coast. It also was the first American ship to visit Hawaii, Hong Kong and Japan. The ship is located at Sub Sea Tours which also offers sub sea tour and rents Kayaks, Canoes and Stand Up Paddle Boards.
The Morro Bay Aquarium is a sure winner with people of all ages. We visited it, said hello to the seals and decided we did not want to mix with the Moray Eels. It is open daily. The adjacent Morro Bay State Park offers camping and a good base for hiking the land surrounding the Bay including famous Morro Rock. We learned that the hike around the Rock is a great place to view the Sea Otters that are native to this part of the Pacific Coast.
The Morro Bay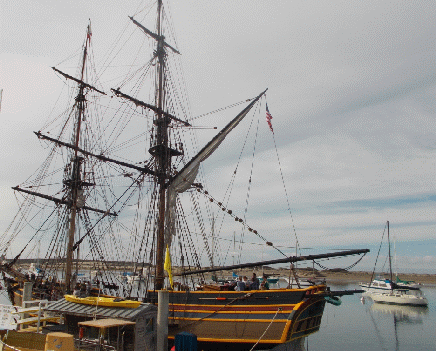 Museum of National History, located in the State Park, is the perfect place for a family visit. The building occupies a rock outcropping offering a magnificent view of the bay, waterfront and towering Morro rock. A well kept trail surrounds the building on what is called White Point.
Inside the natural forces that shaped our planet are all presented in a most clever fashion often with moveable panels that are a great attraction for adults and children alike. Exhibits explain the forces that shape the terrain like volcanoes, earthquakes and erosion. Another describes how change is constant with rain, fog, wind and erosion.
We found the history of the Bay Estuary most interesting and the role ocean waves play along with sand dunes and the tides to create the favorable environment for the many types of animal and marine life that abound in the region.
The museum has a wonderful collection of stuffed birds, both sea and land, all looking most natural. Some of these are located in the auditorium which offers movies, puppet shows for children and many public programs We sat and watched a fifteen minute video on the life of sea otters that are part of the ocean scene on California's Central Coast.
The Morro Bay Museum is the only one in the State Park system devoted to natural history. It is located at 20 State Park Road, Morro Bay, telephone 805 772-2694.
Our stay at Inn at Morro Bay, while brief, was memorable. We had a interesting visit with General Manager Charlie Yates who has enjoyed a lengthy career as a hotelier in Central California. The Inn is a showplace situated on the Bay with many rooms, ours included, with spectacular views of the Rock, Embarcadero, across the bay to the sand dunes and, in the far distance, the coastal mountains.
Many amenities are available including pool, hot tub and massage center. Located in the reception center is the new 60 State Park Restaurant, bar and lounge. The bar and lounge offers many original cocktails as well as a long list of wines and fourteen brews on tap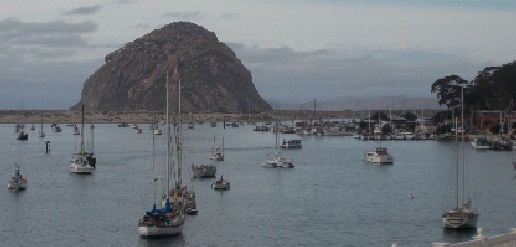 Inn at Morro Bay is located at 60 State Park Road, Morro Bay, Ca 93442, Telephone 805 772-5651. Web wwwinnatmorrobay.com.
Our dining experience at the restaurant will be covered in Vittles story on Central Coast cuisine.
Back to Table of Contents..
Last Update:12/15/15
&copy 2015 Joe Hilbers All Rights Reserved.
Graphic Design by Impact Graphics