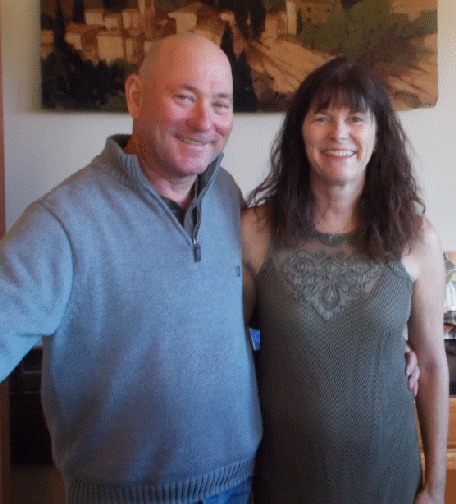 "Pacific Coast Wine Trail--We moved through Harmony, Cambria and Morro Bay seeking its wineries"

by Joe Hilbers
Our adventure along the Pacific Coast Wine Trail began when we left Highway One Discovery Route and pulled into Harmony, population 17. We were here to visit Harmony Cellars and meet Chuck and Kim Mulligan, proprietors. Chuck started us off with a tour of the winery and we were impressed with how scenic and colorful the setting but most important how well designed it was. Chuck has been a winemaker most of his career in Central California and opened his own winery in 1989. The winery and tasting room are on property that has been in Kim's family for generations and first was a dairy farm.
We were impressed with the quality of the wines we tasted. The two Zinfandels we tasted were very true to this California favorite varietal and this was especially true with the 2013 Grandpa Barlogio vintage, named for Kim's Grandfather. We also gave high points to the 2013 Cabernet Sauvignon as well as the 2013 just released Petite Sirah. Chuck tapped into the barrel to taste the soon to be bottled Chardonnay. This has been crafted in traditional Burgundian style with aging some of each vintage in new French oak.
For his white wines Chuck selects grapes from Monterey county. The grapes for the red wines are from vineyards located in the western region of the Paso Robles appellation.
Harmony wines are modestly priced and we thought the wines we tasted true bargains in their price range. The tasting room is open daily from 10 a.m. to 5 p.m. and most comfortable with a gift shop included.
Harmony Cellars is one of the ten wineries on the Pacific Coast Wine Trail and is well marked as you take the Harmony turnoff from Highway One. Address is 3255 Harmony Valley Road, Telephone 805 927-1625, web www.harmonycellars.com.
Harmony started as the co-op facility for the surrounding dairy farms. It is located just a few miles south of Cambria on Highway One.
Next day still on the PCWT we visited Stolo Family Vineyards on the outskirts of Cambria. It is the only one in Cambria that includes 22 acres of vineyards, the winery, tasting room and picnic patio. All this only a few minutes drive from downtown Cambria.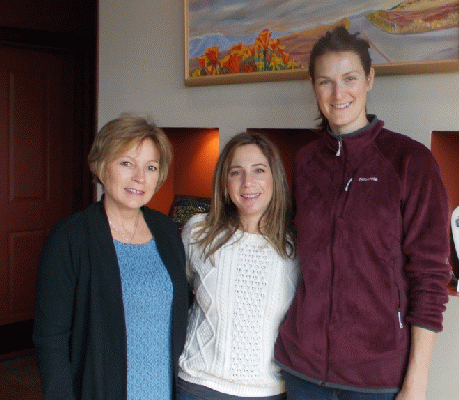 Here we met Maria Stolo Bennetti, who is general manager, Winemaker Nicole Bertotti Pope and Tina Rocci of the tasting room staff. Winemaker Nicole took us on a tour of the modern winery and explained the adjacent vineyard is only three miles from the Pacific Ocean located in the Santa Rosa Valley.
Nicole learned her winemaking skills at Cal Poly. At the Tasting Room we enjoyed an excellent box lunch with Maria and Nicole with an estate 2013 Chardonnay which had just been released. It offered fine flavors and a truly clean finish that we thought made it a perfect cocktail wine. We also were impressed with the 2012 estate Pinot Noir from Creekside Vineyard. With its nearby ocean location Stolo offers true Burgundian style wines. Adjacent to the tasting room and vineyard there is a patio for relaxing picnics while tasting some very good wines. The vineyards are on land that has been in the Stolo family for generations.
Stolo Family Vineyards is located at 3776 Santa Rosa Creek Road in Cambria. The tasting room is open daily from 11:30 a.m. to 5 p.m.. Telephone 805 924-3131. Web www.stolofamilywinery.com.
We have traveled many wine trails but non more conveniently located than PCWT of the Central Coast. Four of the wineries are located on a single block of West Village at Cambria. First we visited Black Hand Cellars and met Owner Tom Banish. Tom's vineyards total 24 acres and are located in San Miguel. His 2014 Sovereignty Sauvignon Blanc is from five different Paso Robles vineyards and w thought most distinctive in aroma and flavor. We also tasted his 2011 Estate Syrah which is called 'The Russian" since it has been aged 36 months in Russian oak barrels. The use of Russian oak was new to us, the wine rich in flavors and color but most smooth on the palate.
Most of Tom's wines are reds and one an interesting blend called Acquittal. Is is a 2012 vintage of 45% Cabernet Sauvignon, 40% Syrah and 15% Tempranillo. It has been barrel aged 33 months in French Oak. A Rhone blend is called Hit'n ?Run.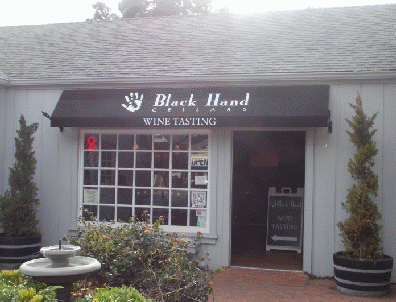 Black Hand Cellars is located at 766 Main Street, West Village, Cambria. It is open daily from 12 to 5 p.m., Telephone 805 927-9463, web www.blackhandcellars.com.
Also located on the remarkable block of Main Street in Cambria is Moonstone Cellars, Twin Coyotes Winery, and Cutuzzola Vineyards. We kicked at the doors of Cutuzzola and Twin Coyotes but both were closed at the time of our visit.
We visited Moonstone Cellars but they were busy hosting a room full of tasters so we decided to leave. However we left our cards and then received an e mail from Co-Owner Nate Bittner. In it he attached a list of his wines as well as details of his Wine Club. Also some material on how Moonstone came about.
Co-owner Todd Clift is also winemaker and started making wine as a hobby in the basement of his home located just blocks from the current tasting room. He became so interested that he decided to make winemaking his business and so went to work at nearby Harmony Cellars for four crush seasons. Then decided to go on his own and founded Moonstone Cellars in 2007. Currently source for the grapes is Monterey and Paso Robles.
He is currently producing whites like Chardonnay, Viogniere and Gewurztraminer and reds like Cabernet Sauvignon, Merlot and Syrah.
Moonstone Cellars is located at 801 Main Street, Cambria and open daily from 11 a.m. to 5 p.m. Telephone 805 927-9466, web www.moonstonecellars.com.
At Morro Bay we were able to visit another winery on the PCWT. Chateau Margene has a tasting room located on the Embarcadero since 2014. There we met personable and knowledgable Cate who told us about the winery which opened in 1997. Also the legend of El Pistolero, an early California settler with a very clouded career. Margene has a whole flight of El Pistolero wines including chardonnay, pinot noir, cabernet sauvignon and meritage. We tasted the 2014 El Pistolero Chardonnay which is from grapes grown at the acclaimed Santa Lucia Highlands.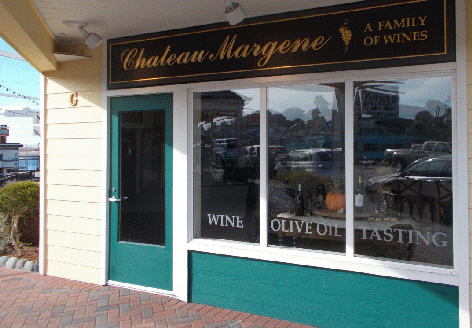 We were awed with the quality of the 2011 El Pistolero Meritage made with 55% cabernet sauvignon, 25% merlot and 20% cabernet franc. We thought it excellent and value plus in its price range and unusual packaging. The wine showed its three years of barel aging with wonderful flavors, mild tannins and a long finish.
The Chateau Margene Tasting Room is located at 845 Embarcadero Road at Morro Bay and open daily from 12 p.m. to 7 p.m. The Winery is located at Creston and there is a tasting room their as well.
Back to Table of Contents..
Last Update:12/25/15
&copy 2015 Joe Hilbers All Rights Reserved.
Graphic Design by Impact Graphics