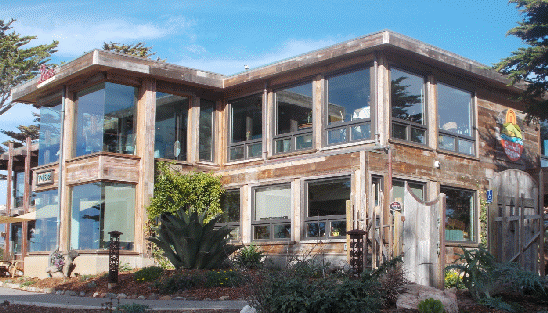 "Central Coast--California cuisine rates high marks on Highway One Route'" By Joe Hilbers
.
Our culinary adventures on California Highway One Discovery Route got off to a great start when we visited Centrally Grown, a bar, restaurant and market just off the highway in Cambria. Here we were met by Dave Robertson, owner and entrepreneur, who has spent most of 2015 redeveloping a property that was once famous in the area. Now complete on the second floor of a most picturesque building is a contemporary styled bar, lounge and restaurant.
The restaurant features a California style cuisine with emphasis on using fresh local products.
We found Dave Robertson an interesting young man who after a 20 year very successful career in the health service industry decided to reinvent the property which was formerly known as Exotic Gardens. The property is extensive with lush landscape surrounding the two story building including a vegetable garden, barbecue area and space for outdoor events. From the restaurant the view includes the Pacific Ocean and coast for many miles as well as the range of mountains to the east.
As we sat for dinner with Dave he told how recycling was very important in the work that took many months in renovating the restaurant. It had once been known as the Hamlet.
We immediately could see that Centrally Grown was a true success story. On the ground floor of the building is a gourmet market featuring local produce and products as well as a large inventory of Central Coast wines.
The menu is somewhat unique, especially with the starters and salads and presentation is taken very seriously here. We had the Arisasnal Cheese and Charcuterie starter which was served on a large wooden plank of wood, as well the Wild mushroom Bruscetta with roasted onion and cauliflower. Our wine a 2013 Niner Sauvignon Blanc.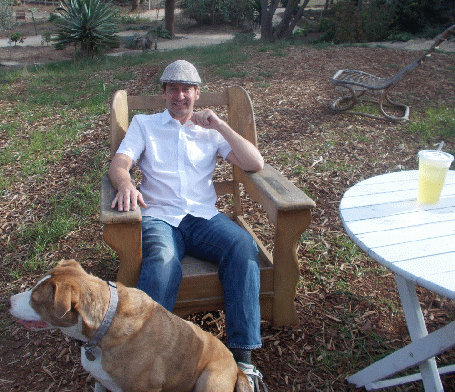 The soups that day were Tomato basil and leek or butternut squash. The entrees all combined with a host of fresh veggies. We selected the Grass Fed Rib Eye with fingerling potatoes, blistered tomatoes and chimichurri. Other entrees included Skuna Bay salmon with cauliflower puree and blistered grapes: another Roasted organic Mary's free range chicken with mascarpone polenta and sage butter. Our wine was 2013 Devollet Pinot Noir.
The dessert menu did get our attention and we selected the Chocolate Olalieberry Mousse with Pistachio dark chocolate cookie, my partner the root beer float with negranti vanilla bean sheeps milk.
Almost every table at the restaurant offers a view of the adjacent Pacific Ocean. The bar is large and well stocked with an array of original cocktails and the wine list with many local wineries featured.
The next afternoon we returned to Centrally Grown to meet with Dave Robertson who showed us the picturesque gardens in daylight and then took us on a tour of the surrounding mountain country.
Centrally Grown is located at 7432 Exotic Garden Drive in Cambria just of Highway 1. It is open for lunch 12 to 3 p.m. and dinner from 5 p.m. to 9 p.m. daily. Sunday brunch from 10 a.m. to 2 p.m. Bar is open seven days a week. For more information call 1 800 717-4379, web www.centrallygrown.com.
Our stay at Inn at Morro Bay was a true delight. We met General Manager Charlie Yates, who has enjoyed a lengthy career as a hotelier in Central California. The Inn is a showplace situated on the Bay and with many rooms offering spectacular views of the Rock, Embarcadero, across the bay sand dunes and in the far distance, the Coastal mountains.
The Inn has achieved an intensive remake and a new restaurant, 60 State Park Restaurant and Lounge, are now located in the reception center. At the restaurant we met with Executive Chef Steve Smeets, who despite his youthful appearance, has already gathered a distinguished background at restaurants both in San Francisco and the Central Coast.
Chef Steve presented us with an assortment of his creations that use the fresh produce available on the central coast. Our appetizers included Beet salad, fried Mac and cheese and crispy California squid. We choose the seabass as our entree which was presented in a white wine sauce surrounded with fresh vegetables and creamed spinach. Everything we ordered is on Steve's regular menu. Our desserts were the strawberry cheesecake and the chocolate lave cake with ice cream.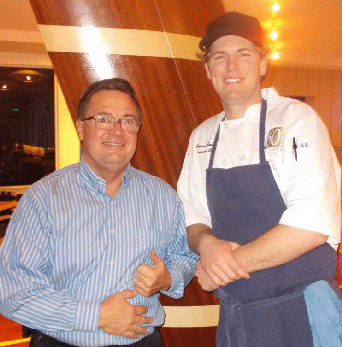 The bar and lounge offer many original cocktails as well as a long list of wines and fourteen brews on tap. The restaurant is open for breakfast and dinner daily. 60 State Park Restaurant and Bar at the Inn at Morro Bay is located at 60 State Park Road in Morro Bay. Tele. 805 772-5681, web www.innatmorrobay.com.
Moving through downtown Cambria is a look at an earlier time in America. While seeking the wine tasting rooms in the West Village we also located Robin's. We already knew this restaurant had established a reputation for being one of the best dining houses in the city. Located in a former home the restaurant is cozy, comfortable both in the dining room but also in the beautifully appointed garden and patio.
What my partner and I immediately noticed was how quiet the dining room was despite several full tables. Here was a true fine dining experience.
The menu is called "hand crafted global cuisine" and it is true to its name. There were starters like crispy Brussels Sprouts, Vietnamese Spring rolls, Calamari and Singapore Chicken Sate. Entrees like grilled loin of lamb, my partner's choice, Pork Osso Bucco, a list of curries and my choice, Ravioli with a garlic cream sauce and sun dried tomato butter. The dessert list was most tempting.
The wine list is selective and offers many of the California Coastal wines but we had already visited some tasting rooms that day and so stayed with water as our beverage.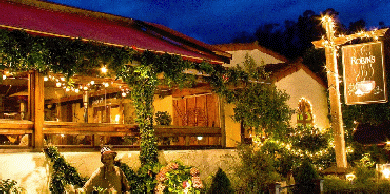 Robin's is located in the quaint West Village at 4095 Burton Drive, Cambria. It is open for lunch and dinner seven days a week with a brunch on Sunday.
My dining partner and I both agreed that Robins's is a four star restaurant
Our wanderings on Morro Bay's Embarcadero created an appetite and just in time for lunch we discovered The Galley Seafood Grill and Bar. Situated as close to the Bay as possible without getting wet we had a wonderful view of that famed rock and tranquil seafaring scene.
We met and chatted with David Peter who has been general manager here for two years. Every table at the Galley offers a view and we found the menu most attractive. Seafood comes first at this restaurant and as much as possible obtained from local waters caught by local fishermen.
We had to try the clam chowder that offers the "same top secret recipe in use since 1966", and indeed it was delicious. This was followed by pan seared scallops with white wine, shallots, garlic and butter accompanied by a side of crispy seasoned fries. The menu here is large and offers seasonal favorites when available. My partner and I both admired the most efficient service we received from our waitress. A well stocked bar completes the scene.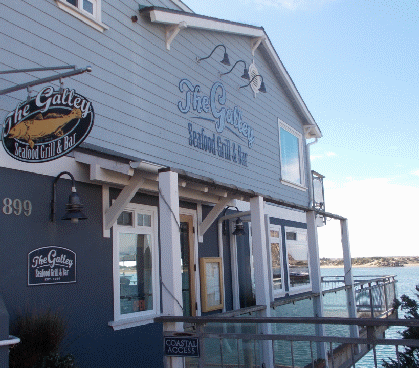 The Galley Seafood Grill and Bar is located at 899 Embarcadero in Morro Bay and is open for lunch and dinner seven days a week. Telephone 805 772-7777, web www.galleymorrobay.com.
Enroute north on Highway one we stopped at Lompoc for lunch at the Scratch Kitchen. We already knew this restaurant and our excellent lunch of crab cakes for my dining partner and my huge sandwich of pulled barbecued beef short rib was what we expected and received. SK Scratch Kitchen is located at 610 North H Street in Lompoc on Highway One, Telephone 805 819-0829.
At Ventura heading home, still on Highway One, we visited Cafe Zack for lunch. We have written about this excellent restaurant in the past so we knew what to expect in the way of superior quality and service. We both ordered the Mahi Mahi and were pleased with what we received and said as much to Owner and Host Hector Gomez. Cafe Zack is located at 1095 E . Thompson Blvd., Ventura. Telephone 805 643-9445.
Back to Table of Contents..
Last Update:12/20/15
&copy 2015 Joe Hilbers All Rights Reserved.
Graphic Design by Impact Graphics