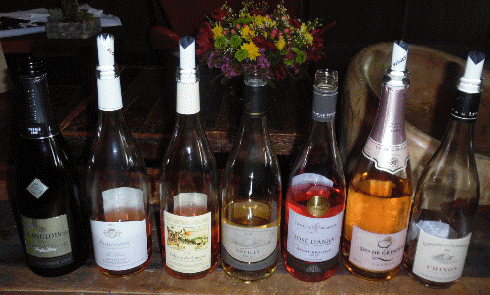 "West Hollywood--We discovered much to like in learning about France's Loire Valley wines

by Joe Hilbers
Ivory on Sunset proved to be the perfect campus for our learning experience on Loire Valley wines. Our professor was Matthew Kaner, Sommelier of the Year in 2013. We were part of a media group, both print and electronic, that had been selected to experience a matching of classic Loire Valley vintages with a five course luncheon prepared by Chef Brian Malarkey.
In France the Loire Valley has achieved fame for its wide range of wines including white, rose, red and sparkling. Especially the sparkling wines since the region is France's second largest producers of these wines after Champagne. The Valley region is also the second largest producer of AOC Rose wines.
Along with our table settings each of us had a map of the Loire Valley region which begins close to the Atlantic Ocean and extends eastward beside the Loire River for a long distance almost to Orleans and Bourges. This gave us the opportunity to place on the map the location of each of the eight wines we were served that day. The Loire River is the longest in France and along its banks there are fifty three appellations. Some of these appellations produce only on type of wine, while others as many as four varietals. In Brittany there have been vineyards since Roman times.
Both by geography and heritage the Loire Valley is often described as the heart of France. The fame of its wines rests largely with the quality of its white wines produced in its many appellations. The varietals generally used in these white wines are Chenin Blanc, Sauvignon Blanc and Melon de Bourgogne. For its red wines the varietals are generally Malbec, Gamay and Cabernet Franc. The range of wines are from dry to sweet.
We opened with a Cremant de Loire Langlois Chateau Brut Sparkling wine for the Hamachi Crudo first course. Our crab salad course included two Roses one Sancerre Domaine Sylvan Bailly 2014 and 2015 Emile Balland Les Beaux Jours. Both of these blush wines included Pinot Noir and Gamay grapes and were from the far eastern end of the Loire region.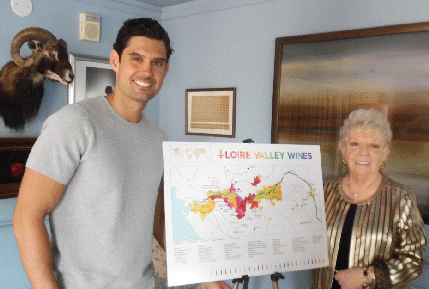 One of the first things we noted that day was how high the quality was on each wine and how moderate the prices. The wines we were served ranged in price from twelve dollars for a Rose to twenty seven dollars for an exceptional sparkling wine. Acting as Host was Benjamin Bourinal of Sopexa USA shown with Ronnie Greenberg, well known west coast writer. <>Course three was Duck Rillettes and our two wines were from opposite ends of the Loire region. One 2014 Reuilly Domaine Cordalillat Rose, the other Bourgrier 2015 Rose d'Anjou.
Our Crispy Rainbow Trout course opened with another sparkling wine, Caves Louis De Grenelle Cuvee-Saumur Corail Brut and Domaine de la Lysardiere 2015 Chinon Rose. Both of these wines were made with Cabernet Franc grapes.
Tart Tatin has always been one our favorite French desserts so we were thrilled to note that it was our dessert this day. It was served with Deligeroy Cremant de Loire Brut Rose sparkling.
The Loire Valley Rose wines we tasted were all young, fresh in aroma and flavors and with relatively mild alcoholic content. Some offered a hint of sweetness which fits the American palate very well.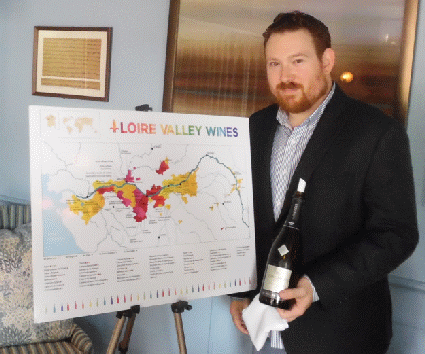 The concept of combining a seminar, tasting and opportunity to actually match the wines to certain foods at an outstanding restaurant proved to be a memorable experience. We thought Matthew Kaner, who owns the award winning Augustine Wine Bar in Sherman Oaks, did a great job in describing the wines, the varietals used and location of the wineries. And we personally thanked him after the event.
The food and service staff at Ivory on Sunset, which is located in the Mondrian Hotel on the Sunset Strip, was outstanding and lived up to its reputation as being a truly upscale restaurant.
Back to Table of Contents..
Last Update:

&copy 2016 Joe Hilbers All Rights Reserved.
Graphic Design by Impact Graphics