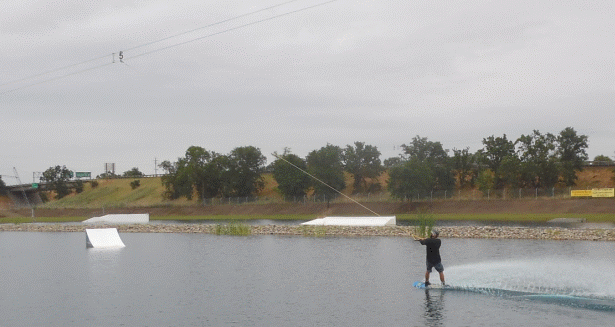 "Yolo County proved to be a perfect match of Town and Country"

by Joe Hilbers
The wonder of California is that no matter how long you live in the State there are always new places to explore and discoveries to be made. This was made evident to us, once again, when we recently had the opportunity to learn more about Yolo County.
As you leave Sacramento heading north on Interstate 5 you will first pass the Sacramento Airport, and then a sign will proclaim that you have entered Yolo County. The surrounding countryside is a mix of orchard and pasture.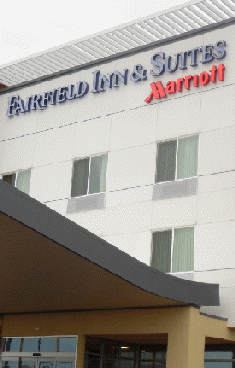 Then another sign will point to Historic Downtown Woodland. This is the Yolo County Seat and moves one from countryside to a bustling community which is a wonderful mix of the old and the new.
On Main Street there is still to be found classic earlier century buildings mostly made of brick. Streets are tree lined and filled with small shops, businesses and restaurants. But further investigation reveals modern retail centers with all the familiar names of today's America.
We thought Yolo County the perfect mix of Town and Country and in Woodland settled in at Marriot's Fairfield Inn. It was new, opened a few months earlier, and located, just off Interstate 5, one in a row of modern hotels. We were here for a two day exploration of just what Yolo County and its idealistic communities can offer the visitor.
Besides Woodland,its major cities include Davis, Clarksburg, Winters and Knights Landing. Davis is home to University of California Davis which enjoys a world wide reputation for its leadership in many subjects. Clarksburg as the center of the thirty two wineries that are part of Yolo County. All these communities were founded in the 1800s as centers of a vast, unbelievably productive agricultural region. And hubs on the railroad line that extends from Mexico to Canada. The railroad is still in place and often seen adjacent to Interstate 5 which now links the county from south to north.
With so much to see and do the Yolo County Visitors Bureau chose, for us, places and events as examples of the extent of activities. For water sports we visited Velocity Island Park in Woodland which offers wakeboarding, something completely new to this Writer. Using overhead cables it whisks the boarder across the water at, to us, seemed dazzling speed. The Park is completely devoted to the sport with a gift shop, rentals, and professional staff for guidance and instruction. The sport uses much the same techniques as snowboarders.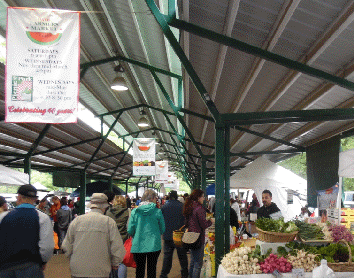 A visit to the Farmers Market in Davis displayed such an assortment of agricultural products that we wondered if there was anything that can not be grown in the combination of rich soil, ample water and perfect climate that is offered in Yolo County. The Davis Farmers Market has a rich history extending over decades and is one of the few that has overhead cover for inclement weather. It is open Saturdays and Wednesdays and includes local wineries.
Davis has a population of 65,000 and a student body of 35,000 enrolled at the University of California Davis. Founded in 1905 UC-Davis enjoys a world wide reputation for its Viticulture and Enology Courses under the Robert Mondavi Institute for Wine and Food and attracts students from almost every wine producing country. The University is also considered the world leader in veterinary medicine.
To see more of the agricultural countryside one day we took a tour of the Capay Valley offering a lush land for growing many different plants but also natural beauty with its rolling hills and flowing Cache Creek. It is also home to the native Americans that occupied the valley before the coming of Europeans and here we found the Seka Hills Olive Mill and Tasting Room. This is part of the Yocha Dehe Winbtun Indian Nation and puts on display how the Tribe continues to contribute to Yolo County in several ways.
Olive trees are only one of sixteen crops under the Tribe's farming operations. But the Seka Hills Olive Mill has become the center for almost all the processing of olive oil in Yolo County. This last year 90 local growers of olives used the Mill to process their oil and often bottle it under their own name there as well.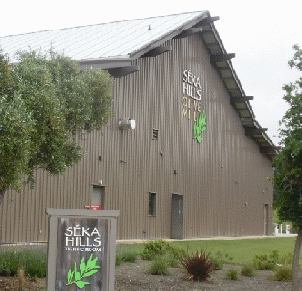 We were awed at the stainless steel equipment, all made and exported from Italy, that the Mill has and uses during the pressing season that extends through the Fall of each year.
Then there was a tasting of olive oils that included five different varieties. Wine tasting is also available at this facility,that besides it industrial use, is beautiful in design both inside as well as the landscaping surrounding it. Nearby is the Cache Creek Casino Resort, also owned by the Yocha Dehe Nation.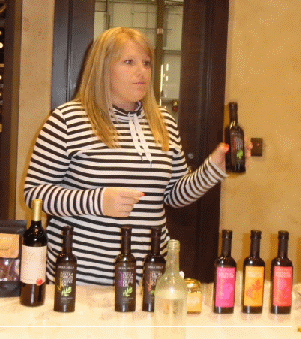 Winters was first settled in 1832 for agriculture before the discovery of gold in nearby Sutters Mill in 1849. We were there to visit Putah Creek Nature Park and learn the story of how one whole community got together to bring about the return of Putah Creek to its original natural state including the reintroduction of salmon. Our visit was also in timing with the dedication of a newly built bridge spanning the Creek. And an opportunity to cross on the original railroad bridge that was built in 1906 and still stands majestically in place for foot and bike traffic.
We had two more stop before leaving the Capay Valley. It was to visit with Fred Manas, owner of Manas Ranch Meat Market, famed for both its peaches and its beef. Here is an old style deli store which features the Ranch's own award winning beef as well as jams and jellies.
As a wine writer we felt right at home when we visited Matchbook Wine Company in Zamora. We were greeted by Owners John and Lane Gigmiere whose winery and vineyards are located in the Dunnigan Hills. Long time vineyard owners the Gigmiere family also gained fame with their Toasted Head Chardonnay. John Gigmiere decided Dunnigan Hills fitted the terroir of Spain's wine regions and now has vineyards of Ribera del Duero , Rioja and Graciano, the traditional varietals for making Tempranillo.
We enjoyed a wonderful lunch with John and Lane Gigmiere and then moved to the winery where we met Winemaker Dan Cederquist. A graduate of nearby UC-Davis he has enjoyed a 25 year career first with Stag's Leap, then DeLoach before joining Matchbook in 2005. We took part in a barrel tasting but what we noted most was how Dan uses the wine barrel as an important tool in producing his outstanding wines. Barrels from many countries and how they are toasted were evident in this winery.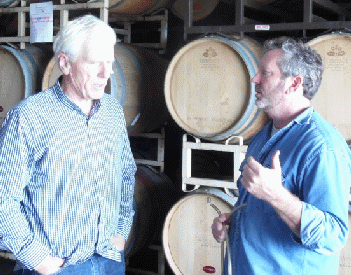 Matchbook wines include Chardonnay, Tempranillo, Syrah and Cabernet Sauvignon. Two chardonnays are bottled under The Arsonist Label and another under Guguiere Mosque label. The Mossback label features wines from the Russian River Valley and Chalk Hill and include Chardonnay, Pinot Noir and Cabernet Sauvignon.
After tasting wines from several different regional wineries we came to the conclusion that there was hardly a varietal that does not do well in Yolo County. Geographically it is separated from Napa and Sonoma by a small range of mountains.
Our stay at Fairfield Inn & Suites by Marriott was very special. We liked the fresh contemporary decor and ambiance of the public areas and our room which was complete with micro wave and refrigerator. The staff was courteous and most helpful and the complimentary hot breakfast was the best we have experienced in some time. It is located close to the Sacramento Airport and most convenient for all the attractions available both in Woodland and the surrounding cities and countryside. For more information call 530 723-5067, web fairfieldinn.com/sacwo..
We quickly discovered that chefs in Yolo County know what to do with the bountiful produce and products grown on their doorstep. We will tell about out culinary adventures in a separate Vittles story.
This is also true for the unusual museums we were able to visit on this trip to a region that blends the past with the present and urban California with the pastoral.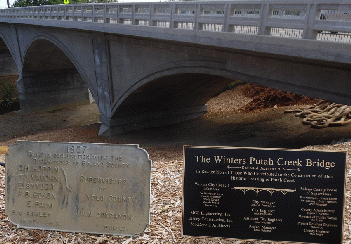 Back to Table of Contents..
Last Update:5/15/16
&copy 20136Joe Hilbers All Rights Reserved.
Graphic Design by Impact Graphics