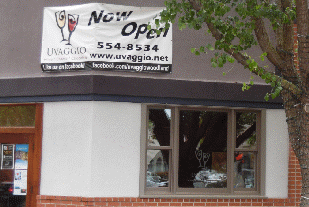 "Yolo County--Thanks to its agricultural bounty culinary arts flourish
.
By The Editor
It would be hard to find an agricultural region more productive than California's Yolo County and our venture into culinary and wine exploration there proved this premise correct. The extent of what is produced and found in Yolo County was graphically demonstrated to us when we toured the Farmers Market in Davis.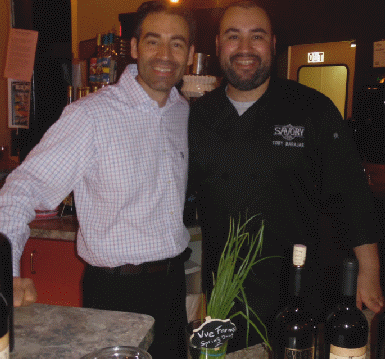 And our visit to Manas Ranch only confirmed this premise when prime beef and award winning fruits and jams were on display for sale.
To find out how this bountiful harvest was transferred to the local culinary scene was one reason for our visit to Woodland, Davis and Winters, major communities in Yolo County.
At Uvaggio Wine Bar we met with Owner Andrew Linden who explained that besides wine tastings the menu provides some brews and taps and bar snacks and desserts. We told him that we were most interested in tasting some of the wines produced in Yolo county which he agreed was a very good idea.
Starting with the whites there was a Seka Hills Viognier, a Berryessa Gap Verdelho and a Twisted River White Raven. For the reds there was a Twisted River Petite Sirah, a Turkovikch red blend called The Boss, a Matchbook Cabernet Sauvignon and a Bogle Vineyards Merlot. Uvaggio Wine Bar is located at 703 Main Street, Woodland,Ca 530 554-8534
One evening we dined at Savory Cafe in Woodland and met with a brother team, Juan and Toby Barajas, members of a family that have been part of Yolo County food production for generations. This brother team has made Savory Cafe a true dining destination with Toby as Chef and Juan as Host and Manager. Originally open for breakfast and lunch the Barajas brothers now serve dinners with an excellent menu featuring as many locally grown ingredients as possible.
Our dinner opened with a fresh beet salad and continued with Steak Diana chosen from a menu that also listed braised lamb shank, grilled brick chicken, home made pasta and double cut pork chops. The wine list is made up almost completely of vintages made by the thirty two wineries in Yolo County. These wineries and vineyards are spread in various areas and the number of varietals grown extensive.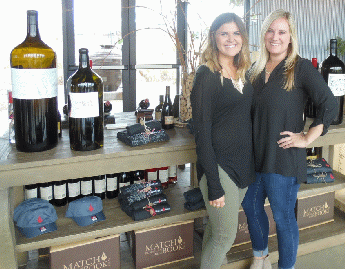 At Savory Cafe that evening there was a special featuring of Turkovich Family Wines which included Viognier, Chnardonnay as whites and Malbec, Tannat and Mourvedre as reds. Savory Cafe is located at 722 A Main Street, Woodland, Ca 530 668-4009.
Our visit to Matchbook Wine Company was part of a 'Heart of Yolo County tour' and included a wonderful lunch with Owners John and Lane Giguiere as our hosts. It included Ceasar and Tri colored rotini pasta salads followed with chicken bacon , pulled pork and turkey avocado wraps. Our wines with lunch were The Arsonist 2014 Chardonnay and 2013 Arsonist Red Blend. Following lunch we toured the winery for some barrel tasting.
Winemaker Dan Cederquist gave us tasting of two Syrahs, both of the same vintage but from different barrels. The barrels were different both in origin and toast. The diffrerence in the two wines was quite remarkable, each showing individual characteristics.
The Dunnigan Hills is a particularly excellent terroir for Syrahs and five different clones of the grape are grown in Matchbook vineyards.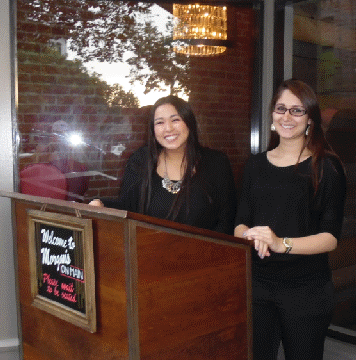 Our dinner was at Morgan's On Main in Woodland, with a menu dedicated to using the produce grown and products produced in Yolo County. There is a large selection of steaks, but I decided on the Shrimp Scampi and my dining partner on the salmon. There are items on this menu like "Chef's Soup with Yolo's fresh food bounty" and "Chef's Fresh Catch of the Day". The wine list is almost completely Yolo produced vintages. Before leaving we had the opportunity to chat with Richard Gay, Restaurant Manager. Morgan's on Main is located at 614 Main Street, Woodland, CA. Telephone 530 4021.
At Lundy's Main Street BBQ, eating is designed as a fun experience for the whole family. Over its 23 years of operation Owner Paul Ludovina has amassed a huge amount of memorabilia which has been used to decorate every wall, ceiling, nook and cranny of the restaurant. For us many of the products and names were of a by gone era and a trip down memory lane.
Ludy's offers a menu with emphasis on platters of bbq meats such as tri-tip, pork and beef ribs and hot link sausage. There are six burgers and the Lundy burger is what we ordered and arrived with heaps of french fries. Braver souls at our table tried the western chili and some of the local brews on tap. Ludy's has also achieved fame for its homemade Peach Cobbler so we all had to sample that and decided its fame was well earned. All food is made as ordered and Ludy's also offers "to go" service. It is located at 667 Main Street in Woodland and offers both inside and patio service. Telephone 530 666-4400.
We noted on our culinary visits that the citizens of Woodland truly enjoy dining and every one of the restaurants we visited was full each evening and often reservations required.
At Kitchen Four Tweny Eight Restaurant, which also included Mojo's Lounge Bar, the menu was large and all at our table took sometime in making decisions. It bills itself as a' farm to fork restaurant' and has received several awards through the years. Starters at our table included Salmon crab cakes, baked Brie and salads like wedge and garden. Entrees included Paparadella Pasta, our choice, rack of lamb, and the daily seafood special. There were also cocktails from the bar and a Matchbook Tempranillo at our table as well and we noted that, like all the restaurants we visited, the emphasis was on the local Yolo wines.
We met with Dylan Madden, General Manager, and told him how impressed we were with the cuisine and the wait staff. Kitchen Twenty Eight is located at 428 First Street in Woodland, Telephone 530 661-0428.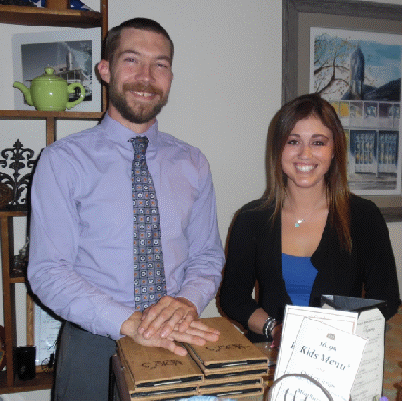 Our lodging at Marriott's Fairfield Inn was a delight and the complimentary hot breakfast which was available each morning was the best we can remember.
Back to Table of Contents..
Last Update:5/16/16
&copy 2016 Joe Hilbers All Rights Reserved.
Graphic Design by Impact Graphics