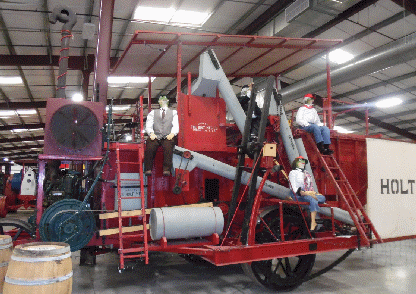 "Yolo County--Its past is remembered with some outstanding museums

by Joe Hilbers
Visitors to California from the east coast are often heard to observe that the State does not appear to have a past. This is especially true in Los Angeles where one noted that everything appeared to have been built yesterday.
However in the smaller towns and cities of the Sacramento Valley the past does meet the present often in buildings standing side by side. Also here many people have roots dating back more than one generation and so take pride in the history, earlier culture and heritage of where they live.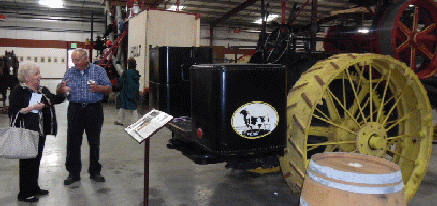 This is very evident in Yolo County situated north of Sacramento. A roadside sign will point you to "Historic Downtown Woodland" and a Main Street that brings the past alive with tree lined streets and red brick buildings that proclaim their link with the past.
So it follows that here is also a place to find some outstanding museums that have captured this past in graphic detail.
On our short exploration of Yolo County we found two that were each most remarkable.
The California Agriculture Museum is located in Woodland and has on display the most complete collection of agricultural machinery to be found anywhere. Here one finds the first machines to replace the horse on a working farm starting with steam driven tractors and combines. Certainly this is the correct location for this museum since the region has a rich successful agricultural history dating back to the early 1800s.
Much of this huge collection is the work of one man, Fred Heidrick Senior who over a period of decades collected agricultural equipment from horse drawn implements to the machine age of tractors, trucks, and harvesters.
As we wandered through the museum we were particularly interested in the first steam driven tractors and harvesters which were huge in size and intricate in design.
We were fortunate to have Bob Dedford as our guide during our tour who had a good many details of interest. We learned it was not until 1931 that the first rubber tires were used on tractors. Also that with some models of tractors only a few hundred were built before design flaws would need to create a new and more adoptable model.
This museum is huge in size and scope and one can spend hours here looking at a Model A truck or 1920s bus or the tractors in every shape and size. Over the years the museum has also served as a great event venue offering a huge banquet hall, garden courtyard and a new grand exposition facility.
A surprise to us was the number of early farm harvesters that were actually built in California.
The California Agriculture Museum is located at 1962 Hays Lane in Woodland, Ca. Hours are 10 a.m. to 5 p.m. Wednesday thru Saturday, from 10 a.m. to 4 p.m. on Sunday, closed Monday and Tuesday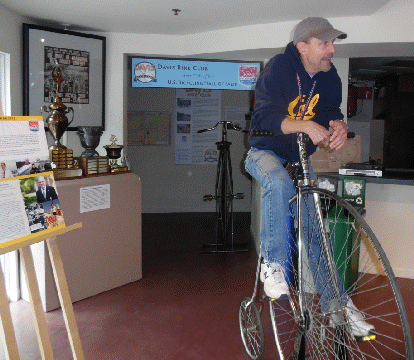 Davis is a college town home to University of California Davis, with enjoys a world wide reputation for its Viticulure and Enology Courses and attracts students from almost every wine producing country. Currently the University has an enrollment of 35,000 which makes a huge impact on Davis's population of 65,000 residents.
While in Davis we visited the U S Bicycling Hall of Fame. Davis could be called the bicycling capital of the United State. Seventeen thousand UC Davis students have bicycles and use them for transportation. While we were there in May it was National Bike Month with a celebration and on July 4th a Bike Criterium and Sidewalk sale.
The Bike Museum shows bicycles from the earliest models which began in England early in the 1800s. The Museum also honors the yearly newcomers named to the Hall of Fame. One of the things we learned was that California was the first state in the nation to officially designate bike paths, this taking place in the 1960s. In the countryside surrounding Davis there are one hundred miles of biking trails.
Currently the Hall of Fame has 65,000 members, nation wide, and the museum also is headquarters for the Davis Bike Club. Ron Reagan was our guide on our tour of the museum and explained how the mechanics of bicycles evolved through the years.
The United States Bicycling Hall of Fame is located at 303 3rd Street, Davis, Ca. Telephone 530 341-3263, web www.usbhof.org. Hours are Wednesday 4 p.m. to 6 p.m., Saturday 10 a.m. to 2 p.m.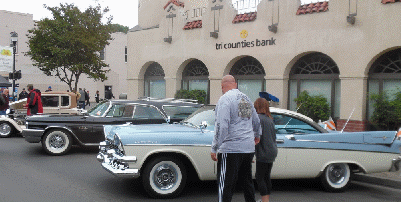 Once a year Woodland's Main Street becomes an auto museum and we were there when the annual car show took place.
That afternoon Main Street in Woodland looked like a time warp as it was lined with three hundred automobiles from earlier decades, and all looking shiny and new.
This has been an annual event in Yolo County and Woodland for thirty years. Main Street was closed, with foot traffic only, as folk, including this Writer, sought out models of cars owned and cherished in another time. I found a T Bird like I once owned and also a Chevy pickup like the one that hauled my cabover camper for some years.
We met with Dave Standard, chairman of the event, who told us this showing has become a tradition in Yolo County with owners and these cars coming to the event from all over the west.. This year the oldest car was a 1913 Buick. Dave had his 1937 Studebaker on display and proudly showed it to us.
In the evening these automobiles come to life and street cruisers take over proving that, besides, looking pretty, they still run as efficiently as ever.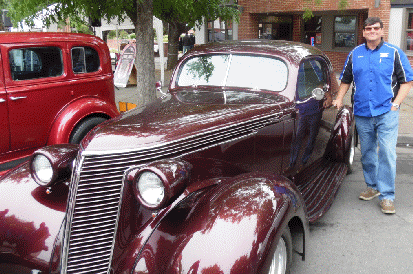 This Street Cruising becomes almost like an impromptu parade with drivers and passengers cheerfully waving to the crowd of spectators as they drive through town.
Back to Table of Contents..
Last Update:<5/19/16
&copy 2016 Joe Hilbers All Rights Reserved.
Graphic Design by Impact Graphics