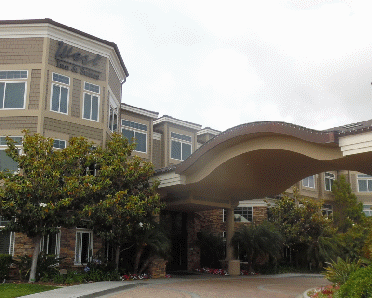 "Carlsbad--Attractions like Legoland and Leo Carrillo Park are to be found here"

By Joe Hilbers
.
We knew in advance how West Inn & Suites in Carlsbad had received awards over the years for its popularity with travelers. And when we checked in for our two day stay we could see why. It enjoys a great location on 4970 Avenida Encinas, one block from Cannon Drive and access to Highway 5 making it a matter of minutes to downtown Carlsbad, the beach, Legoland and much more.
Free parking and Shuttle service are no problem and we immediately noticed the courtesy and friendly attitude of the staff. For us it was the perfect location as we were in Carlsbad, on assignment, to gather material for stories on Legoland, the Museum of Making Music and the Leo Carrillo Ranch Historic Park. The hotel shuttle meant we could leave our car parked at the Inn, give our On-Star direction service a vacation and use the shuttle when we visited Legoland and the Museum of Modern Music.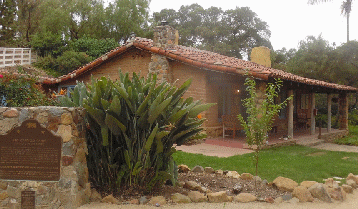 As for Carlsbad we did know how much it has to offer the visitor. We had written about it many times, for a San Diego publication, in writing restaurant reviews and a story on the town's early beginnings.
You have to be carrying some years on you to remember Leo Carrillo. He was a colorful actor during Hollywood's brightest days of memorable stars. Most often in supporting roles the late actor made the transition to television in the 1950s in one of the first color series entitled "The Cisco Kid" which became very popular.
But his biggest legacy is as an environmentalist. All those young people who enjoy surfing and beach activities at Malibu's Leo Carrillo State Beach probably never heard of the man. But the Beach was named in his honor for his many devoted years working to save California's early heritage and wondrous landscape.
He left still another part of his legacy--the Leo Carrillo Ranch Historic Park located in Carlsbad which is now owned and maintained by the City of Carlsbad.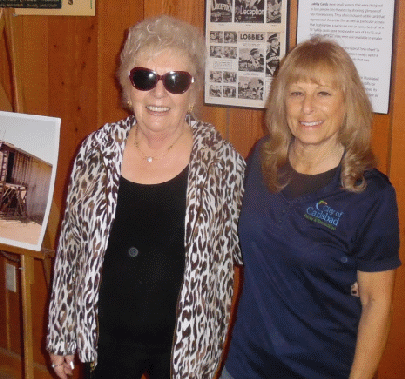 Leo Carrillo's family dated back to the earliest history of California. His great grandfather, Carlos Antonio Carrillo in 1837 became the first provisional Governor of California. Dedicated to restoring the early history of the State, Leo purchased Rancho de los Kistes, 1700 acres in all, in 1937. Located east of the then small town of Carlsbad, he later added another 837 acres and so had a working ranch. Leo's idea was always to make the ranch traditional with the rancheros of early California.
In 1978 the core 27 acres of the 'Ranch of Spanish Daggers' was deeded to the City of Carlsbad as a park for enjoyment of people everywhere. Today the Historic Park includes all the old adobe buildings including Leo's dream Hacienda which was completed in 1939.
Leo Carrillo Ranch Historic Park is located east of Interstate 5 and south of Palomar Airport Road. It is well marked with signs. The Park is open with free admission from Tuesday to Sunday, 9 a.m. to 5 p.m., closed Mondays. For more information call 760 434-2826 or on the web at www.ci.carlsbad,ca.us/cserv/carrillo.com.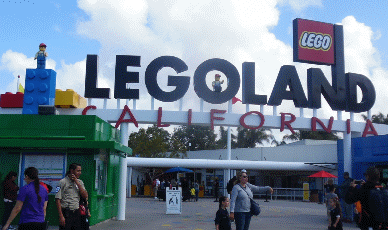 We have this thing about aquariums and we never miss visiting one whether in Newport, Oregon, Camden, New Jersey, Monterey, California or Prince Albert's Oceanographic Museum at Monaco.
So it figures that our first stop at Legoland was the Sea Life Aquarium. This has been designed for children and we passed on some of the passages, narrow crawl spaces and such fearing the Fire Department would have to be called to extricate us. Also we wisely avoided the Discovery Rockpool which came with a swarm of youngsters. However there was still much to see including the exhibits devoted to Sea Horses, Sharks and Rays. We never tire of watching the jellyfish which so emphasize the vastness and diversity of Planet Earth's life forms
We liked the idea of the "Dive Log Book" where older children can record their visit to each exhibit by stamping their personal log book at each "dive station" that are nine in number. Each station tells a story on how valuable and important the oceans and its sea life are to the planet and humans.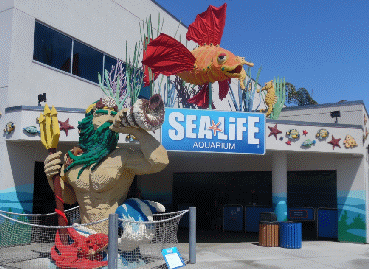 We left the rides and Legoland's other attractions to the children who surrounded us on every side. We were also aware that our advanced age was most noticeable in this envirorment. Actually we felt like an exhibit ourselves on what these children would look like in the last decades of the 21th century.
So quoting Longfellow's poem "like an Arab we folded our tent and silently stole away", by simply calling the West Inn Shuttle to return us to the comforts of the hotel.
The Museum of Making Music will take you through a century of American popular music. Starting with Ragtime, Tin Pan Alley and marching bands, exhibits take your through the songs of World War 1, to 1920s jazz, to Benny Goodman's Swing in the 1940s, to Elvis Prestly and the Beatles.
Here you can actually hear popular tunes from any era by just pressing a button. Also on display are the instruments that made the music as well its history and often the story of the manufacturer. As a life long music lover this Writer still had much to learn from these exhibits. I never realized the first electronic guitar dated back to 1931. Or that the baby boom from 1950 to 1969 developed a huge growth in sales of musical instruments as parents motivated their children (or maybe it was vise versa) to actually produce music.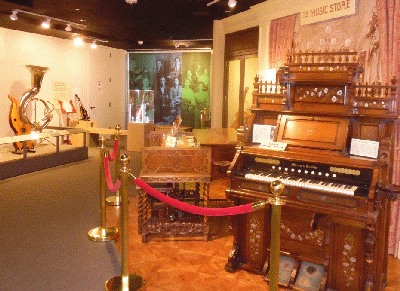 I remember player pianos in my earliest years but learned that it was the advent of radio that spelled their permanent demise. Besides displays of legendary music groups and instruments placards tell the story of how each era developed and then declined. The dramatic periods of 'riches to rags' in the music industry as public tastes changed and technology developed is an intriguing story in itsel
To be seen, are early pianos, the first phonographs, radios, guitars and at last the Moog synthesizer, developed in 1964, as well as the complex models that exist today. In all the museum houses some 450 vintage instruments. Each exhibit has a kiosh where on can hear music of that era.
There is also an interactive area where visitors are allowed to play a variety of musical instruments in the Innovation Studio or at the Global Spotlight touchscreen travel the musical world.
The Museum of Making Music enjoys a lovely setting in Carlsbad, situated on a bluff overlooking the City and Pacific Ocean. It is only a few minutes drive off Interstate 5 at Cannon Road, then to Armada Drive. The Museum is open Tuesday through Sunday from 10 a.m. to 5 p.m., closed Mondays and major holidays. There is an admission fee.. For more information call 760 438-5996 or on the web at www.museumofmakingmusic.org. The Museum also features a monthly calendar of special events and performances. For information or tickets to these special events call 760 304-5844.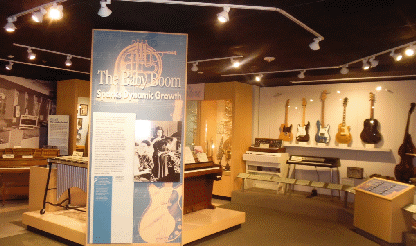 Our visit to Carlsbad and stay at West Inn and Suites included some extraordinary culinary adventures which will be covered extensively in a separate Vittles story. West Inn has two outstanding restaurants, Bistro West for casual dining and West Steak and Seafood for a fine dining experience. We also visited Paon located in Carlbad's Village as well as Oceanside Broiler nestled harborside with views of that city's Marina.
Back to Table of Contents

Last Update:5/30/16
&copy 2016 Joe Hilbers All Rights Reserved.
Graphic Design by Impact Graphics