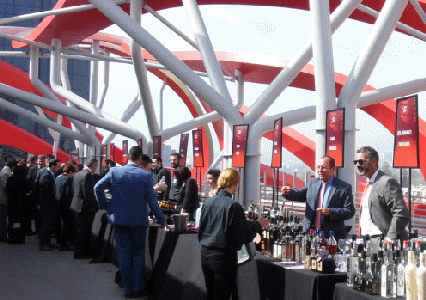 Los Angeles--Kosher wines and foods were showcased at sparkling Petersen Museum event

By Joe Hilbers
.
Our attendance at the recent Kosher Food and Wine Experience was a wonderful opportunity to learn more about wines and winemaking in Israel. The event, held on the top floor of the new Petersen Automotive Museum, included major wine and spirits producers from fifteen countries.
At Tulip Winery booth we met Winemaker David Bar-llan and enjoyed a long discussion with him about the location of both wineries and vineyards. Actually this includes almost every region in the country. The vineyards are in Galilee, Shomron, Samson, Judean Hills and Negev. There are twenty six wineries on the wine map of Israel.
Tulip is located in the Jezreel Valley. One thing we had already noted that all the wineries used well known grape varietals. At Tulip these included Gewurztraminer, Sauvignon Blanc, Cabernet Franc, Merlot, Cabernet Sauvignon, Shiraz , and Petit Verdot.
Also that both with whites and reds blends were much used and popular.
We questioned David Bar-llan as to why there were no native varietals used since the region has a history of winemaking that dates back at least 4,000 years. Indeed David told of the recent discovery of a wine cellar that was 4,000 years old.
David explained that when Islam conquered the country about 750 A.D.. wine making became forbidden and local vineyards destroyed. However recently a group is making a thorough study and investigation to see if some of these ancient grape varietals are still in existence and can be reintroduced.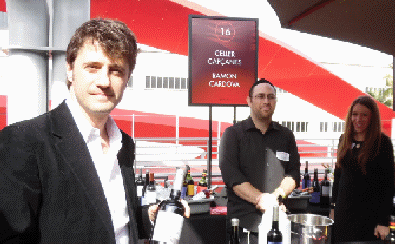 At Domaine du Castel, located in the Judean Hills near Jerusalem, where grapes have been grown and wines made since biblical times, varietals include Chardonnay and Malbec. The first grapes planted in 1988 and the first crush in 1992.
Wines from other countries were also present at KFWELA including several members of the Herzog family with wines both from the Oxnard winery and Baron Herzog. We had the opportunity to meet and chat with Joseph Herzog as well as Winemaker Joe Huiliman.
We also met with Jurgen Wagner, export director for Celler de Capcanes, located south of Barcelona, near the Mediterranean and a region producing wine since the Middle Ages. Capcanes has been producing Kosher wines since 1933 and they include a Rose from Merlot and Syrah, and red blends made with two local varietals, Garnatxa, Samsa as well as Cabernet Sauvignon. One with 100 per cent Garnatxa is produced from bush vines one hundred years old.
The restaurants that provided tasty appetizers and specialties were popular as well, certainly with this Writer. Award winning Tierra Sur, located at the Herzog Winery in Oxnard was there, as well as La Gondola, Shiloh's Steak House, and Ditmas located on Pico Boulevard. Adding to the long food line were catering firms Lieder's and Kehilla Kosher.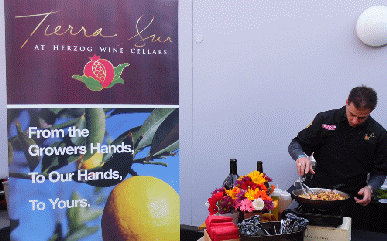 The top floor patio of the Petersen Museum, with both indoor and outdoor areas, was perfect for the KFWELA, which is an annual event.
We did not neglect to spend some time in the Petersen Museum and there will be a future story in Vittles on this museum which now has completely new facilities and so much to offer. For car buffs a dream world.
Back to Table of Contents

Last Update:3/5/16
&copy 2016 Joe Hilbers All Rights Reserved.
Graphic Design by Impact Graphics