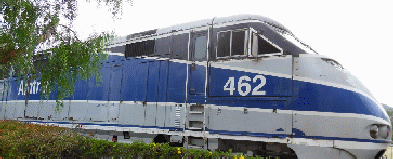 Santa Barbara--It was All Aboard Amtrak for our Car Free Outing in that city .
.. By Joe Hilbers
So much to see and do, so little time. That was the situation we found ourselves in when we embarked on Santa Barbara's Car Free Promotion. It involved leaving your car at home and traveling to Santa Barbara on Amtrak's Surfliner Train. This 2016 promotion invites visitors to travel to Santa Barbara by train. The Car Free offer includes savings on accommodations, wine tasting and activities like sailing cruises and horseback riding. These savings are achieved by the traveler showing his train tickets.
For us it promised and delivered a care free mini vacation, ideal for anyone living in Southern California since Amtrak's Surfliner has a schedule that covers several trains each day leaving in San Diego with a stop at Santa Barbara. For this Writer living in the west San Fernando Valley it meant catching the Train at the Chatsworth Station with free overnight parking and being in Santa Barbara two hours later.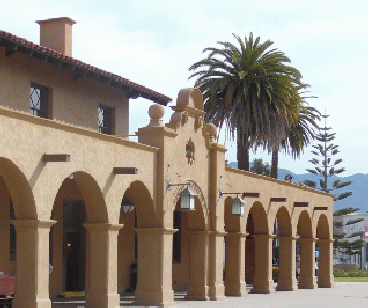 Upon arriving at the scenic Santa Barbara Train Station, still showing the style of its 1926 construction, we walked three blocks to the Hotel Santa Barbara. Like so many buildings in Santa Barbara it was built a year after the 1925 earthquake which destroyed much of the downtown region. After the earthquake new buildings were limited to four or five stories only, a restriction that continues to the present.
The value of this concept can readily be seen by just taking a walk on State Street, the City's main thoroughfare. We have always considered it the prettiest main street in California with its trees, row on row of store front shops offering wares and services of every description. This street invites the walker, stroller, visitor and wanderer with its serene scene and casual ambiance. It is always a delight. A cruise ship was in port during our stay and State Street was full of passengers ashore to enjoy the "Santa Barbara Riviera".
We thoroughly enjoyed our stay at Hotel Santa Barbara. First established in 1876 it had a checkered history ending when it was destroyed in the 1925 earthquake. When rebuilt the hotel was made earthquake proof with unique construction for its time and became a getaway for some famous Hollywood stars including Clark Gable and Leo Carrillo. Then declined but in 1996 a complete renovation created the Hotel Santa Barbara of today. We found it a lovely balance between the past 20th century and the new 21st century. It enjoys a perfect location on State Street and with a rear parking lot for guests cars. Our room had all amenities including a desk for hard working journalists.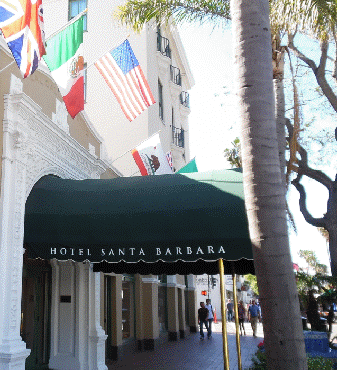 Our Car Free adventure continued with a Santa Barbara Trolley tour that in 90 minutes takes one to many of the most popular visitor destinations. Purchase of a one day ticket allows a second day free. Best of all, if stopped at a must see more site, one can leave the bus and then catch a later bus for return. They operate on the hour from 10 a.m. to 4 p.m. daily. Chuck was our driver and he was a wonder, full of interesting information and most helpful with any of his riders who wanted more information. He was most accommodating to us and much appreciated.
High priority for this Writer was the Santa Barbara Urban Wine Trail. The concept of a wine trail in the heart of the city came about by eight wine makers in 2007. By the time of our visit it has grown to twenty one wineries This wine trail could not be more convenient since it is located just a few short blocks from the Train Station. A pamphlet is available that lists the address of each winery, its hours of operation and includes a map for better orientation.
We started at the Santa Barbara Winery where it all began. For it was in 1962 that it became the first winery in the city. A second winery opened in 2001 and then the concept of urban wineries truly took hold. The area with the wineries is called the Funk Zone.
Here we met Jayson Rodriguez and Kristry Torgeson who explained that the winery's fame rests on its vineyards located in the Santa Rita Hills Appellation. Close to the ocean the region is considered ideal for Pinot Noir and Chardonnay. Also that Santa Barbara Winery has a winemaker, Bruce McGuire, who is considered a pioneer with 35 years experience, and has played a major role in making the Santa Ynez Valley a world class wine region. Santa Barbara Winery has a lot of firsts, as the first in Santa Barbara and the first in what has become the Urban Wine Trail. Also it has been a leader in developing Vineyard Designated wines with the vineyard listed on the label.
Santa Barbara Winery is located at 202 Anacapa Street and the tasting room open from 10 a.m. to 6 p.m., on weekends till 7 p.m.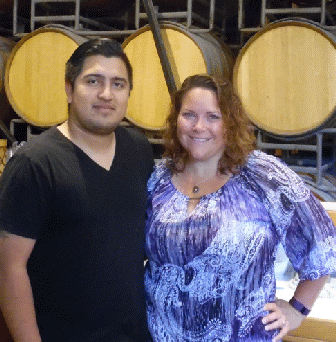 It was with good fortune that we visited Oreana Winery when Owner and Winemaker Daniel Miles was present. Known as "Danny" he is truly 'home grown' having grown up in the Santa Ynez region and learning his craft locally as a winemaker. What was formerly a tire shop in the Funk Zone is now headquarters for the winery and tasting room. We were impressed with the packaging of the wines which includes eight varietals and several different brands including Oreana, Project and Freestyle. One label uses California license plates, both past and present, which stand out well on the wine shelf.
The name Oreana has a past, it was the name local ranchers called a unbranded calf who wandered on their property and considered a 'keeper". Besides its wine Oreana Winery and Tasting Room has established a reputation for its parties and live outdoor music on weekends. It is located at 205 Anacapa Street and open Sunday-Thursday ll a.m. to 6 p.m., Friday and Saturday ll a.m.to 9 p.m.
LaFond Winery and Vineyards is located in Buellton, established in 1972, and one of the first to bring fame to the Santa Rita Hillls Appellation for its Burgundian wines. It is fairly new to the Funk Zone just blocks from the beach. Address is 813 Anacapa Street and it is open daily from 12 p.m. to 6 p.m.
About this time during our visit to the Funk Zone and Urban Wine Trail it was invaded by hosts of thirsty looking cruise ship passengers, ashore for the day, so we fled. Besides we had much more exploration planned.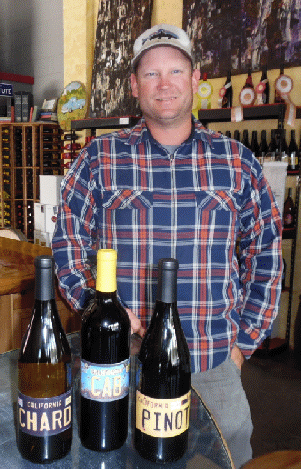 The Trolley Tour is great for car free train travelers since the ticket allows you to get off at any of its stops and then catch a later bus to continue the tour. We took advantage of this and left our bus at the Harbor and Maritime Museum. A visit to this museum was high on the list of things we wanted to see. Its location is perfect being adjacent to the small boat harbor which is also the site of several excellent restaurants.
From a Chumash plank canoe, like those used for thousands of years by the Chumash native Americans, to surfers riding on foam epoxy boards the Marine history of Santa Barbara can be found at this Museum.
The Museum touches on almost every sea and marine activity that has been a part of the community through the centuries. One exhibit chronicles Santa Barbara' long history of surfing from the days of 100 pound redwood plank boards early in the 20th century to the present. There is a pictorial history of some of the city's most prominent surfers and those that made innovative improvements from the boards themselves to the wet suits used.
This is only one of the exhibits that display the City's maritime history. There are wonderful oil paintings of the tall ships that plied the waters of the Pacific just off its shores as well as the commercial fishing industry that thrived through many decades.
There is the Munger Theater located inside a replica of the Charles Wilson lumber schooner. And there is always a movie concerning the sea to watch as part of your visit.
The Channel Islands, just off Santa Barbara' coast, have a history all their own, from early settlement first by the original Chumash Native Americans and later as the site of ranches that existed right up to the time the islands became a National Park. The Islands also have a grim history for ship wrecks. Also the Navy disaster of 1923 when nine U.S. Destroyers ran aground at Honda Point.
Here too an exhibit about Charles Henry Dana and a model of the "Pilgrim" made famous by his book "Two Years Before the Mast". There is a chronicle of the first Spanish explorers to the coast as well as a history of the 19th century otter, seal and whale hunting industries that took place in those years as well as photos and histories of men who made their living killing these marine animals.
On a brighter note are the Environmental exhibits that show both the problems brought about by our present society and the efforts currently being made to seek solutions.
A military exhibit includes a model of the aircraft carrier "USS Ronald Reagan" as well as a submarine periscope which visitors can use to make like a U Boat or U.S. Commander stalking a target.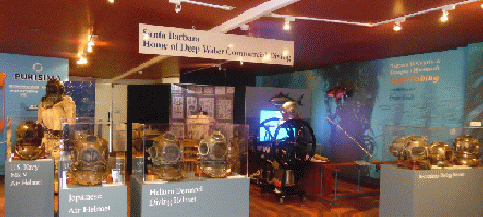 The Santa Barbara Maritime Museum is located at 113 Harbor Way on the waterfront in Santa Barbara's Harbor. It is open six days a week from 10 a.m. to 5 p.m., closed Wednesdays. For more information call 805 962-8404 or on the web at www.sbmm.org.
We have been to Santa Barbara many times but on this Car Free excursion we enjoyed a more laid back approach and often found people watching a most interesting pastime. Our stay at the Hotel Santa Barbara was most convenient for this activity.
We have always considered Santa Barbara's State Street the prettiest main street in California with its trees and row on row of store front shops offering wares and services of every description. This street invites the walker, stroller, visitor and wanderer with its serene scene and casual ambiance.
The 1925 earthquake destroyed much of the downtown region. After the earthquake new buildings were limited to four or five stories only, a restriction that continues to the present. The value of this concept can readily be seen by just taking a walk on State Street
During our stay the Farmers Market was held on several blocks of State Street one evening. We had only to step out of our hotel to become a part of this busy street scene and bustling it was with street musicians entertainment adding to it.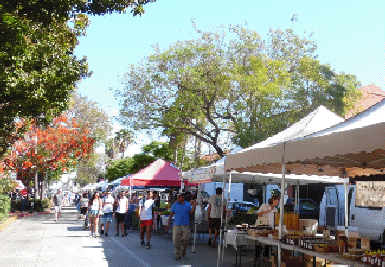 This watch of the street scene was no discovery of ours for State is lined with restaurants, many with open store fronts and patios reaching to the sidewalk. So it was at Patxi's Pizza just a few doors from our hotel. Here was just the place to add refreshments to our new pastime.
Looking over the long list of either deep or thin pizzas we decided on Salsiccia which is available in two sizes. This was garlic-fennel sausage, pepperoni, mozzarella and homemade tomato sauce. Fortunately we chose the smaller size for it was more than ample for the two of us. My dining partner paired it with local Pinot Noir while I went through two glasses of ice tea. Oh, and did I mention the floor show. This was the above described State Street Scene.
The next day we were back again for more Patxi's Pizza and this time to watch a completely new scene. A Princess cruise ship was in port and State Street swarmed with its freed passengers, all of whom seemed to descend on State Street at the same time.
How eager they appeared to be to flee their miniature cabins for the marvelous freedom of land. The Tour busses were jammed as was just about everything else in town.
Another great place for our new pastime was the Santa Barbara Train Station.
You can drive by the Santa Barbara Train Station on State Street for years without truly appreciate its classic style and architecture. But if you are actually using the Station waiting for a train there is time for thought on its place in history .
The original station was destroyed in the 1925 earthquake and one now in place built in 1926.
As we sat in the station for the final stage of our Car Free trip I had thoughts on train travel which I have always liked. In fact I am a confessed train buff. Train stations have an interest all their own and all most individual and unique in appearance and with their place in history.
I will always remember my first visit to Union Station in Los Angeles, its elegant style and most impressive to an eighteen year old soldier away from home and Mother for the first time. And just as impressed when I first entered legendary Victoria Station in London. This is where Sherlock Holmes and Dr. Watson started so many of their adventures.
For me our two hour trip from Santa Barbara back to Chatsworth ended too soon, like I stated earlier I love trains.
Back to Table of Contents..

Last Update:4/10/16
&copy 2016 Joe Hilbers All Rights Reserved.
Graphic Design by Impact Graphics