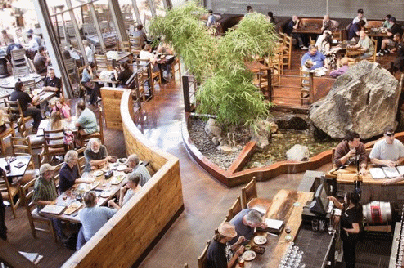 "Escondido----Stone Brewing World Bistro & Gardens has much to offer" .
.. By Joe Hilbers
We had heard a good deal about Stone Brewing World Bistro & Gardens in Escondido long before we had the opportunity to visit it.
Stone Brewery is among the top craft breweries in the country and the World Bistro one of the top attractions, not only in Escondido, but in all of San Diego north county. It is a stopover for tour busses and site of many special events including weddings in its idyllic garden.
The restaurant, patio and gardens are huge and the night of our visit full of happy folk.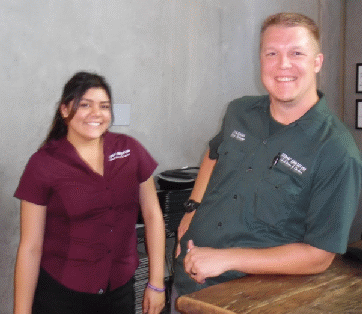 We met with Kyle Jensen, Bistro Manager, and he made some suggestions to us about both Stone and guest beers, no small decision since the list was two large pages long. Guest beers are listed both on tap and in bottles. There was another page filled with wines with a few featured from local wineries.
Then it was time to study the menu. There was a full page of appetizers with names like Angry clams, Quail Knots, pork belly 'char siu', slow roasted baby back ribs and stone style hemp seed pretzels.
Executive Chef is Tausha Lopez has been with World Bistro for six years and shows a California Contemporary style in the kitchen.
The stone-style hemp seed pretzels caught our eye and we ordered some along with the South American ceviche which was marinated tiger shrimp. Also the Quail Knots which arrived as fried quail quarters with garlic, chiles and green onion.
Each of these appetizers comes with a suggested brew. We quaffed a 'Who You Callin' Wussie, an Arrogant-style Pilsner from Escondido. My partner went with the Stone Pale Ale.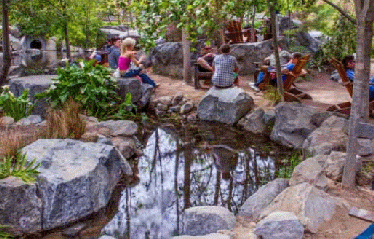 For our entree both my dining partner and I ordered the Salmon Don which was pan seared with sushi rice, carrots, bean sprouts and a Don sauce.
Other entrees included Duck Tinga tacos, Peruvian style chicken and xi'an lamb fun.
We noted, looking at other tables, that there were many wine glasses in sight so we ordered an interesting local wine, Fallbrook 33 Degree North BDX 2012. It offered a big nose, hearty flavors with a smooth finish.
We had overdid it with the appetizers and so had to forego dessert, regretfully after looking at the list of goodies.
We left understanding why World Bistro is considered one of the top draws in Escondido. The wait staff is attentive and helpful in making suggestions on the three page menu. We did note that the kitchen was liberal in adding jalapenos to some of the appetizers and entrees so care is needed in reading ingredients before ordering if spice is not your thing..
Stone Brewing World Bistro is located at 1999 Citracado Parkway, Escondido, Telephone 760 294-7899.
Back to Table of Contents..

Last Update:7/11/16
&copy 2016 Joe Hilbers All Rights Reserved.
Graphic Design by Impact Graphics