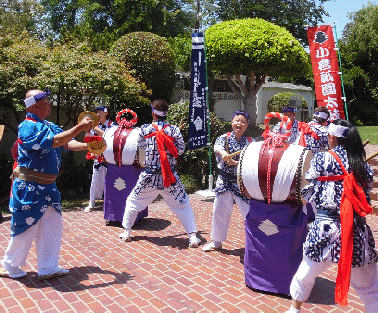 "Los Angeles--New Japanese Green Tea Cafe gets grand introduction"
.
<
By The Editor
Over the past year we have attended several culinary events which have been a segment of Japan's program for introducing some of its traditional foods on a worldwide basis.
The most recent event that we attended took place at the official residence of the Consul General of Japan with Consul General Harry R Horinouchi as host. Entitled 'A taste of Shuhari Matcha Cafe' it was presented by the Cool Japan Fund.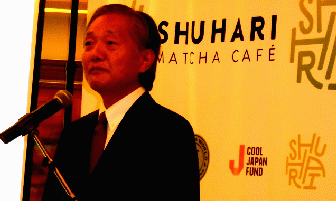 CEO Nobuyuki Ota was present to explain its efforts to introduce Japanese Green Tea and other home products in foreign countries.
Chairman Taku Maeda of Green Tea World USA told of the opening of Shuhari Matcha Cafe as Abbot Kinney's first authentic Japanese matcha cafe that had taken place one day before.
Those of us present were then treated to a tasting of some of the teas and other foods now offered at the Shuhari in Venice. These included sushi style appetizers, sliders as well as assorted sweets and a green tea ice cream.
A Japanese drum corp also was present to entertain us with their interpretation of this traditional Japanese art form.
The Shuhari Matcha Cafe is located at 1522 Abbot Kinney Blvd in Venice. with a menu featuring many Japanese green teas including Matcha , Ichiban and Sen-Cha. Also Sliders like Ume chicken, Yuzu pepper chicken and pork ginger and Avocado Siso and Matcha black suger bread rolls.
Hours are 7 a.m. to 8 p.m., Telephone 24 238-8324, web www.shuharicafe.com.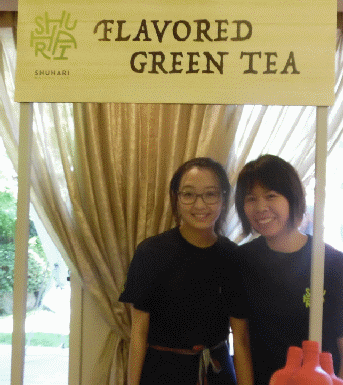 This was one of several events we have attended organized by Jetro, Japan External Trade Organization. They have given us new insight on the variety of Japanese food products now available in the U.S.