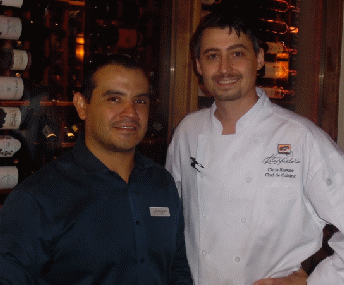 "Phoenix--At the table in Arizona we found both quality and variety"
Our culinary experiences in Phoenix covered a good deal of ground both in miles driven and variety and type of restaurant.
At Wigwam Resort, where we were staying, we enjoyed two dinners that could only be called a gourmet's delight.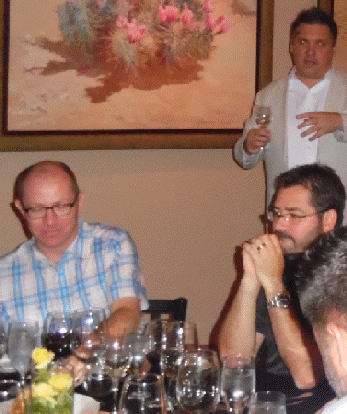 One evening it was at Litchfield's, the upscale dining room where we met Ricardo Camarillo, food and beverage manager, and Chris Knouse, chef de cuisine.
The menu stresses farm to table and local produce and offers a large number of steaks. While munching on a Caesar salad we noted the open kitchen equipped with a wood flamed grill. This served notice that the steaks were cooked over open flame, prepared just the way we like them . So we ordered the smaller of two filet mignon listed and it arrived perfectly done medium rare as ordered.
My dining partner also ordered the filet mignon but also foie gras which was served atop the steak. Also on the plate was a uniquely prepared mac and cheese and fresh asparagus. Our wine, chosen from a very large selection, was 2012 Columbia Valley Genesis Meritage which we found excellent.
The dessert menu was most tempting, especially the bread pudding, but we were done for the evening.
It was our good fortune to learn that each summer Wigwam offers a wine dinner series. There are five dinners scheduled and as it happened one was scheduled during our stay. These are four course dinners especially prepared by Chef Knouse designed to match each course with a separate wine. A representative from a winery attends to describe each vintage. Beringer wines were featured the night we attended and we sat next to Cliff Schupbach of Treasury Wine Estates who described each vintage.
Opening was Yellowfin Tuna with sour orange, avocado, tobiko and soy. The wine 2014 Luminus Chardonnay from Oak Knoll, Napa. We noted to Cliff that we detected some oak and he agreed saying some of the vintage was fermented in oak.
Next was White Pekin Duck with forbidden rice, celery, coconut and molasses. The wine 2013 Beringer 'The Waymaker" Red wine from Paso Robles appellation. The third course was Kurobuta Pork tenderloin with sweet corn, chile and blackberry. The vintage served was 2012 Sonoma's Knights Valley Valley Reserve Cabernet Sauvignon. Cliff explained that Beringer, while still based in Napa, has acquired vineyards both in Paso Robles and Sonoma as well. Fourth course was Cedar River Ribeye with yukon gold potatoes, parsley and balsamic. The wine equalled this tasty steak, Beringer 2012 Private Reserve Cabernet Sauvignon from Napa.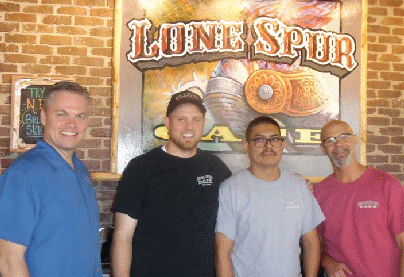 Dessert was peach cobbler pound cake and Chef Chris Knouse then appeared to acknowledge the appreciation of the seventy five wine lovers in attendance. We had already noted that almost all in attendance were locals and regulars at these dinners.
When we said we had variety in restaurants we meant it. One morning we had breakfast at Lone Spur Cafe which in furnishings, decor, ambiance and menu displays Arizona's early days of cowboys and ranching. Bring a healthy appetite to this restaurant with menu offerings like Joe's Special, cowboy size corned beef hash and eggs or pork chops and eggs or perhaps a cowboy sized jumbo Breakfast Burrito.
Since we would not be riding the range that day we settled for the Lone Spur French Toast rolled in corn flakes.
We did meet with Owner Cory Farley, who told us that Lone Spur was new to the City of Peoria and had been open six months. We told him how much we appreciated not only the menu but also the cowboy themed artifacts on the walls and above all some wonderful paintings of the early west. We then rounded up Farley, his district manager Travis Brow, Cook Freddy Garcia and G.M. Mark Herrington for a photo shoot.
Lone Spur Cafe is located at 9780 W Northern Avenue in Peoria. It is open for breakfast and lunch 6:30 a.m. to 2:30 p.m. On Friday a steak dinner is served from 4 p.m. to 8 p.m.
Another day we moved over to Glendale's historic downtown for breakfast at Bitz-ee Mama's which has been pleasing locals since 1972 with authentic Mexican food. Owner Lulu Rodriguez was there to greet us and everyone else who arrived while we were there. Everyone seemed to know everyone else and greeted them as friends making this restaurant a much appreciated neighborhood gathering place.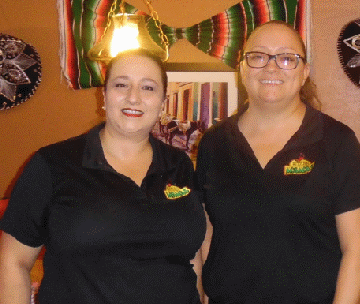 While Mexican in name the menu offers a very American breakfast and here for the second day in a row we ordered the French Toast.
Bitz-ee Mama's is located at 7023 N. 58th Avenue in Glendale. Telephone 623 931-0562.
It was for an evening of dining and entertainment when we arrived at the Arizona Broadway Theatre located in Peoria. Through the course of the year classic musicals and concerts are staged here, this year shows like West Side Story, Carousel, and Fiddler on the Roof. The show we saw was Rock of Ages. These are all dinner shows with the theatre fitted with tables and chairs at every level, all offering a clear view of the stage.
Our dinner was included in the admission price. We opened with well served cocktails, then I had the 'rock star' soup which was actually a Italian wedding soup recipe. From a choice of five entrees we selected the 'Marshall Stack' chicken which arrived as boneless breast layered with roasted pepper, cherry wood smoked bacon and mozzarella. The wine, a Chateau Ste. Michelle Riesling. Service was excellent and we were impressed with the wait staff. Upgraded entrees are also available for those wishing a hearty steak. Dinner was served at 6:30 and the show started promptly at 7:30 p.m.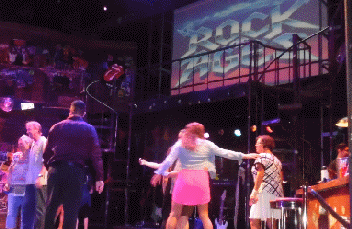 Arizona Broadway Theatre is located at 7701 W Paradise Lane in Peoria. Telephone 623 776-6400, web www.azbroadway.org.
Last Update: 6/26/16
&copy 2016 Joe Hilbers All Rights Reserved.
Graphic Design by Impact Graphics